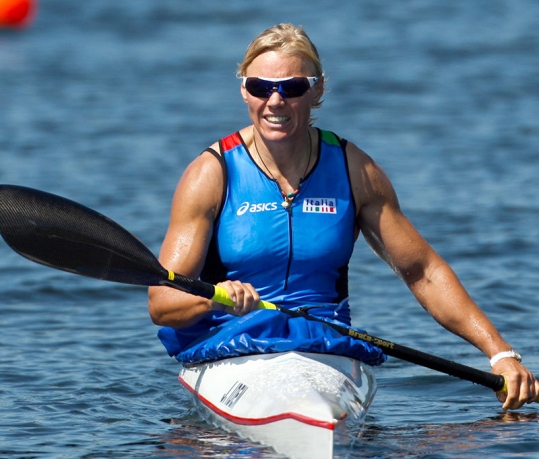 Josefa Idem (ITA)
Italy
Canoe Sprint
Date of birth
23 September 1964
Family
Husband Gugliemo Guerrini, sons Janek and Jonas.
Languages
English, French, German, Italian
Biography
General Interest
Other information
RETIREMENT
She announced her retirement from canoeing in January 2013. (insidethegames.biz, 07 Jan 2013)

GREAT EIGHT
She was the first woman to compete in eight Olympic Games. She competed for her birth country of West Germany in 1984 and 1988 before representing Italy in the next six appearances after her marriage to coach Guglielmo Guerrini. (insidethegames.biz, 05 Jan 2013)

FROM WEST GERMANY TO ITALY
Born in West Germany, she moved to Italy in 1988. She met coach Gugliemo Guerrini and they married in 1990. She became an Italian citizen in 1992 and represented her new nation at the following six Olympic Games from Barcelona 1992 to London 2012. (josefaidem.info, 24 May 2003)

POLITICIAN
She is a senator for the Democratic Party [Partito Democratico] in Italy. She has served as the Minister for Equal Opportunities, Sport and Youth Policy. (Twitter profile, 08 Aug 2016; ilfattoquotidiano.it, 14 Oct 2015)

AUTOBIOGRAPHY
In April 2007 she published her autobiography, which is entitled "Controcorrente" [counter current]. (josefaidem.info, 21 Nov 2007)
International Debut
Competing for
West Germany
Sport Specific Information
When and where did you begin this sport?
She began paddling at age 11.
Results
| Competition | Event | Location | Date | Season | Gender | Result | Rank | Mentions |
| --- | --- | --- | --- | --- | --- | --- | --- | --- |
| World Cup | Individual Kayak | | 7 June 2009 | 2009 | Women | | 8 | |
| World Cup | Individual Kayak | | 29 June 2008 | 2008 | Women | | 1 | |
| European Championships | K1 1000m | Poland, Poznan | 8 July 2000 | 2000 | Women | 4:04.210 | 1 | |
| World Cup | Individual Kayak | | 22 August 2010 | 2010 | Women | | 6 | |
| World Cup | Individual Kayak | | 21 August 2011 | 2011 | Women | | 28 | |
| World Cup | Individual Kayak | | 3 June 2007 | 2007 | Women | | 10 | |
| World Cup | Individual Kayak | | 3 September 2006 | 2006 | Women | | 2 | |
| European Championships | K1 200m | Croatia, Zagreb | 11 July 1999 | 1999 | Women | 41.322 | 1 | |
| European Championships | K1 500m | Croatia, Zagreb | 11 July 1999 | 1999 | Women | 1:51.072 | 1 | |
| European Championships | K2 500m | Bulgaria, Plovdiv | 6 July 1997 | 1997 | Women | 1:50.832 | 3 | |
| World Cup | Individual Kayak | | 3 June 2012 | 2012 | Women | | 24 | Latest result |
| European Championships | K1 1000m | Bulgaria, Plovdiv | 6 July 1997 | 1997 | Women | 3:58.519 | 1 | |
| European Championships | K1 500m | Bulgaria, Plovdiv | 6 July 1997 | 1997 | Women | 1:57.877 | 1 | |
| European Championships | K1 1000m | Croatia, Zagreb | 11 July 1999 | 1999 | Women | 3:55.459 | 1 | |
| European Championships | K1 200m | Bulgaria, Plovdiv | 6 July 1997 | 1997 | Women | 41.018 | 1 | |
| World Cup | Individual Kayak | | 28 July 2002 | 2002 | Women | | 32 | |
| World Cup | Individual Kayak | | 25 June 2000 | 2000 | Women | | 3 | |
| Olympic Games | K1 500m | England, London | 9 August 2012 | 2012 | Women | 1:53.223 | 5 | Latest result |
| Olympic Games | K1 500m | China, Beijing | 23 August 2008 | 2008 | Women | 1:50.677 | 2 | Best result |
| Olympic Games | K1 500m | Greece, Athens | 28 August 2004 | 2004 | Women | 1:49.729 | 2 | Best result |
| Olympic Games | K1 500m | Australia, Sydney | 1 October 2000 | 2000 | Women | 2:13.848 | 1 | Best result |
| Olympic Games | K1 500m | United States, Atlanta, GA | 4 August 1996 | 1996 | Women | 1:48.731 | 3 | Best result |
| Olympic Games | K1 500m | Spain, Barcelona | 7 August 1992 | 1992 | Women | 1:52.78 | 4 | |
| Olympic Games | K1 500m | Korea, Seoul | 30 September 1988 | 1988 | Women | 2:01.80 | 9 | |
| Olympic Games | K4 500m | Korea, Seoul | 1 October 1988 | 1988 | Women | 1:45.62 | 5 | |
| Olympic Games | K2 500m | United States, Los Angeles, CA | 10 August 1984 | 1984 | Women | 1:47.32 | 3 | Best result |
| Olympic Games | K4 500m | United States, Los Angeles, CA | 11 August 1984 | 1984 | Women | 1:42.68 | 5 | |
| World Championships | K1 500m | Hungary, Szeged | 20 August 2011 | 2011 | Women | 1:50.054 | 7 | |
| World Championships | K1 500m | Poland, Poznan | 22 August 2010 | 2010 | Women | 2:01.837 | 9 | |
| World Championships | K1 500m | Canada, Dartmouth | 16 August 2009 | 2009 | Women | 1:51.860 | 3 | Best result |
| World Championships | K1 500m | Germany, Duisburg | 12 August 2007 | 2007 | Women | 1:50.593 | 8 | |
| World Championships | K1 500m | Hungary, Szeged | 20 August 2006 | 2006 | Women | 1:53.265 | 2 | Best result |
| World Championships | K1 500m | United States, Gainesville, GA | 14 September 2003 | 2003 | Women | 1:52.752 | 5 | |
| World Championships | K1 500m | Spain, Seville | 1 September 2002 | 2002 | Women | 1:53.069 | 3 | Best result |
| World Championships | K1 1000m | Spain, Seville | 31 August 2002 | 2002 | Women | 3:54.770 | 3 | Best result |
| World Championships | K1 500m | Poland, Poznan | 26 August 2001 | 2001 | Women | 1:53.561 | 1 | Best result |
| World Championships | K1 1000m | Poland, Poznan | 25 August 2001 | 2001 | Women | 4:02.903 | 1 | Best result |
| World Championships | K1 200m | Italy, Milan | 29 August 1999 | 1999 | Women | 41.836 | 2 | Best result |
| World Championships | K1 500m | Italy, Milan | 29 August 1999 | 1999 | Women | 1:50.248 | 2 | Best result |
| World Championships | K1 1000m | Italy, Milan | 28 August 1999 | 1999 | Women | 3:55.137 | 2 | Best result |
| World Championships | K1 200m | Hungary, Szeged | 6 September 1998 | 1998 | Women | 42.169 | 2 | Best result |
| World Championships | K1 500m | Hungary, Szeged | 6 September 1998 | 1998 | Women | 1:56.774 | 3 | Best result |
| World Championships | K1 1000m | Hungary, Szeged | 5 September 1998 | 1998 | Women | 4:05.198 | 1 | Best result |
| World Championships | K2 500m | Hungary, Szeged | 6 September 1998 | 1998 | Women | 1:56.968 | 9 | |
| World Championships | K1 200m | Canada, Dartmouth | 24 August 1997 | 1997 | Women | 43.068 | 2 | Best result |
| World Championships | K1 500m | Canada, Dartmouth | 24 August 1997 | 1997 | Women | 1:58.888 | 2 | Best result |
| World Championships | K1 1000m | Canada, Dartmouth | 23 August 1997 | 1997 | Women | 3:54.596 | 2 | Best result |
| World Championships | K2 500m | Canada, Dartmouth | 24 August 1997 | 1997 | Women | 1:50.471 | 6 | |
| World Championships | K1 500m | Germany, Duisburg | 20 August 1995 | 1995 | Women | 1:58.496 | 8 | |
| World Championships | K1 500m | Mexico, Mexico City | 25 September 1994 | 1994 | Women | 1:54.640 | 3 | Best result |
| World Championships | K1 500m | France, Paris | 25 August 1991 | 1991 | Women | 1:54.22 | 3 | Best result |
| World Championships | K1 5000m | France, Paris | 25 August 1991 | 1991 | Women | 22:30.70 | 1 | Best result |
| World Championships | K1 500m | Poland, Poznan | 26 August 1990 | 1990 | Women | 1:57.58 | 1 | Best result |
| World Championships | K1 5000m | Poland, Poznan | 26 August 1990 | 1990 | Women | 22:35.23 | 2 | Best result |
| World Championships | K1 500m | Bulgaria, Plovdiv | 27 August 1989 | 1989 | Women | 1:54.39 | 3 | Best result |
| World Championships | K1 5000m | Bulgaria, Plovdiv | 27 August 1989 | 1989 | Women | 22:24.88 | 3 | Best result |
| European Championships | K1 500m | Croatia, Zagreb | 24 June 2012 | 2012 | Women | 1:54.112 | 8 | Latest result |
| European Championships | K1 500m | Serbia, Belgrade | 19 June 2011 | 2011 | Women | 1:51.609 | 10 | |
| European Championships | K1 500m | Spain, Trasona | 4 July 2010 | 2010 | Women | 1:53.379 | 8 | |
| European Championships | K1 500m | Germany, Brandenburg | 28 June 2009 | 2009 | Women | 1:52.943 | 5 | |
| European Championships | K1 500m | Italy, Milan | 18 May 2008 | 2008 | Women | 1:57.035 | 3 | |
| European Championships | K4 500m | Italy, Milan | 17 May 2008 | 2008 | Women | 1:38.657 | 8 | |
| European Championships | K1 500m | Spain, Pontevedra | 1 July 2007 | 2007 | Women | 1:58.150 | 8 | |
| European Championships | K1 500m | Czech Republic, Racice | 9 July 2006 | 2006 | Women | 1:53.710 | 7 | |
| European Championships | K1 1000m | Czech Republic, Racice | 8 July 2006 | 2006 | Women | 3:56.735 | 3 | |
| European Championships | K2 500m | Poland, Poznan | 23 May 2004 | 2004 | Women | 1:55.096 | 9 | |
| European Championships | K1 200m | Poland, Poznan | 9 July 2000 | 2000 | Women | 42.676 | 2 | |
| European Championships | K1 500m | Poland, Poznan | 9 July 2000 | 2000 | Women | 1:55.334 | 6 | |