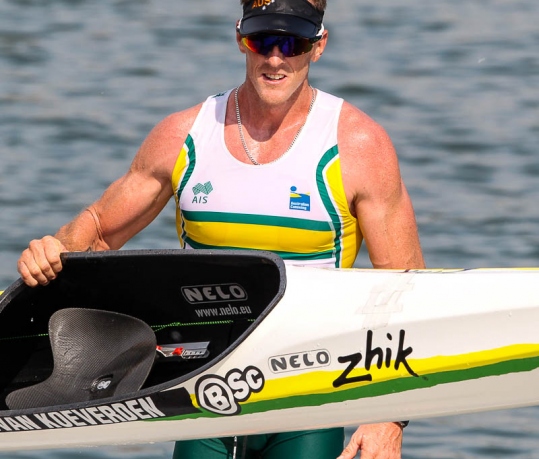 Kenneth Wallace (AUS)

Australia
Canoe Sprint
Date of birth
26 July 1983
Family
Wife Naomi, two children
Residence
Gold Coast, QLD, AUS
Occupation
Athlete, Lifeguard
Biography
General Interest
Nicknames
Walrus, Kenny (canoe.org.au, 2015; wsj.com, 12 Jul 2012)
Memorable sporting achievement
Winning a gold medal and a bronze medal at the 2008 Olympic Games in Beijing. (canoe.org.au, 2015)
Hero / Idol
Australian sprint paddler Clint Robinson. (olympics.com.au, 09 May 2015)
Superstitions / Rituals / Beliefs
He listens to music before a race in order to relax. (canoe.org.au, 2015)
Sporting philosophy / motto
"Winners always want the ball when the game is on the line." (canoe.org.au, 2015)
Awards and honours
He was named the International Canoe Federation's [ICF] Athlete of the Month in April 2011. (canoe.org.au, 2015)

Following his success at the 2008 Olympic Games in Beijing, he was named the 2008 Australian Institute of Sport [AIS] Sportsman of the Year, the 2008 Gold Coast Sportsman of the Year and the 2008 Sydney Sunday Telegraph Sportsman of the Year. He also received an Order of Australia Medal [OAM] in 2009. (canoe.org.au, 2015)
Other sports
He has competed in surf lifesaving at elite level. (canoe.org.au, 2015)
Other information
ATHLETE REPRESENTATIVE
In August 2012 he was elected to the Australian Olympic Committee [AOC] Athletes' Commission for a four-year term. (canoe.org.au, 14 Aug 2012))

TATTOO
He has a tattoo of the Olympic rings on his right forearm. (rio2016.olympics.com.au, 16 Mar 2016)

OCCUPATION
He works as a lifeguard for the Gold Coast City Council in Queensland, Australia. (canoe.org.au, 2015)
Sport Specific Information
When and where did you begin this sport?
He began paddling at age 16 at the Currumbin Creek Canoe Club in Gold Coast, QLD, Australia.
Why this sport?
He originally tried the sport to help his surf ski leg for ironman competitions. "I didn't really know what kayaking was. All I knew was that it was similar to the ski leg in the ironman series."
Club / Team
Currumbin Creek Canoe Club: Gold Coast, QLD, AUS
Name of coach
Jimmy Owens [national], AUS
Results
Competition
Event
Location
Date
Season
Gender
Result
Rank
Mentions
Oceania Championships
K4 1000m
Australia, Penrith
13 February 2010
2010
Men
3:03.03
2
Olympic Games
K2 1000m
Brazil, Rio de Janeiro
18 August 2016
2016
Men
3:12.593
3

Latest result

Best result

Olympic Games
K4 1000m
Brazil, Rio de Janeiro
20 August 2016
2016
Men
3:06.731
4

Latest result

Best result

Olympic Games
K2 1000m
England, London
8 August 2012
2012
Men
3:11.456
4

Best result

Olympic Games
K1 500m
China, Beijing
23 August 2008
2008
Men
1:37.252
1

Best result

Olympic Games
K1 1000m
China, Beijing
22 August 2008
2008
Men
3:27.485
3

Best result

World Championships
K1 5000m
Italy, Milan
23 August 2015
2015
Men
19:54.46
1

Best result

World Championships
K2 500m
Italy, Milan
23 August 2015
2015
Men
1:29.216
1

Best result

World Championships
K2 1000m
Italy, Milan
22 August 2015
2015
Men
3:11.132
2

Best result

World Championships
K1 500m
Russia, Moscow
10 August 2014
2014
Men
1:45.720
9
World Championships
K1 5000m
Russia, Moscow
9 August 2014
2014
Men
20:12.981
1

Best result

World Championships
K2 1000m
Russia, Moscow
9 August 2014
2014
Men
2

Best result

World Championships
K1 500m
Germany, Duisburg
1 September 2013
2013
Men
1:49.050
9
World Championships
K1 1000m
Germany, Duisburg
31 August 2013
2013
Men
3:44.652
2

Best result

World Championships
K1 5000m
Germany, Duisburg
1 September 2013
2013
Men
19:44.059
1

Best result

World Championships
K1 1000m
Hungary, Szeged
19 August 2011
2011
Men
3:46.371
11
World Championships
K1 5000m
Hungary, Szeged
21 August 2011
2011
Men
20:44.420
6

Best result

World Championships
K1 500m
Poland, Poznan
22 August 2010
2010
Men
1:41.909
7

Best result

World Championships
K1 1000m
Poland, Poznan
21 August 2010
2010
Men
3:33.656
6

Best result

World Championships
K1 5000m
Poland, Poznan
21 August 2010
2010
Men
20:01.338
1

Best result

World Championships
K1 500m
Canada, Dartmouth
16 August 2009
2009
Men
1:38.225
3

Best result

World Championships
K1 1000m
Canada, Dartmouth
15 August 2009
2009
Men
3:32.516
5

Best result

World Championships
K1 4 x 200m Relay
Canada, Dartmouth
16 August 2009
2009
Men
2:31.984
7

Best result

World Championships
K1 1000m
Germany, Duisburg
11 August 2007
2007
Men
3:42.319
4

Best result

World Championships
K2 500m
Germany, Duisburg
12 August 2007
2007
Men
20
World Championships
K1 1000m
Hungary, Szeged
19 August 2006
2006
Men
3:41.243
5

Best result

World Championships
K4 1000m
Croatia, Zagreb
27 August 2005
2005
Men
11
Oceania Championships
K1 1000m
Australia, Adelaide
14 February 2016
2016
Men
3:43.05
9

Latest result

Oceania Championships
K2 200m
Australia, Adelaide
14 February 2016
2016
Men
33.25
2

Latest result

Best result

Oceania Championships
K2 1000m
Australia, Adelaide
13 February 2016
2016
Men
3:16.63
1

Latest result

Best result

Oceania Championships
K1 200m
Australia, Sydney
1 March 2014
2014
Men
37.350
2

Best result

Oceania Championships
K1 1000m
Australia, Sydney
28 February 2014
2014
Men
3:38.540
2

Best result

Oceania Championships
K2 1000m
Australia, Sydney
28 February 2014
2014
Men
3:26.160
2

Best result

World Cup
Individual Kayak
10 August 2014
2014
Men
10
World Cup
Individual Kayak
1 September 2013
2013
Men
3

Best result

World Cup
Individual Kayak
22 August 2010
2010
Men
8
World Cup
Individual Kayak
7 June 2009
2009
Men
7
World Cup
Individual Kayak
29 June 2008
2008
Men
4

Best result

World Cup
Individual Kayak
3 June 2007
2007
Men
16
World Cup
Individual Kayak
3 September 2006
2006
Men
16
World Cup
Individual Kayak
28 July 2002
2002
Men
44
Olympic Qualification Tournament Oceania
C4 1000m
Australia, Penrith
16 March 2008
2008
Men
4:31.33
2
Olympic Qualification Tournament Oceania
K1 500m
Australia, Penrith
16 March 2008
2008
Men
1:39.85
1
Olympic Qualification Tournament Oceania
K1 1000m
Australia, Penrith
16 March 2008
2008
Men
3:27.62
1
Olympic Qualification Tournament Oceania
K2 1000m
Australia, Penrith
16 March 2008
2008
Men
3:17.13
2
Olympic Qualification Tournament Oceania
K4 1000m
Australia, Penrith
16 March 2008
2008
Men
2:59.92
3
Oceania Championships
K1 1000m
Australia, Penrith
3 March 2012
2012
Men
3:37.16
3
Oceania Championships
K2 200m
Australia, Penrith
4 March 2012
2012
Men
33.62
3
Oceania Championships
K2 1000m
Australia, Penrith
4 March 2012
2012
Men
3:19.76
1
Oceania Championships
K4 1000m
Australia, Penrith
2 March 2012
2012
Men
2:59.40
1
Oceania Championships
K1 500m
Australia, Penrith
13 February 2010
2010
Men
1:40.11
1
Oceania Championships
K1 1000m
Australia, Penrith
14 February 2010
2010
Men
3:31.67
1