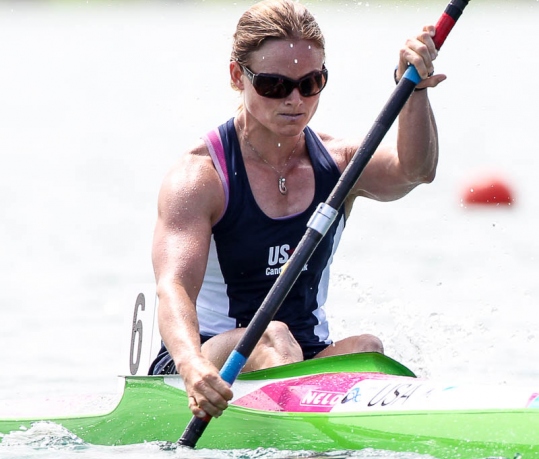 Maggie Hogan (USA)

United States
Canoe Sprint
Date of birth
01 January 1979
Residence
Huntington Beach, CA, USA
Higher education
Business Administration - University of California, Santa Barbara/Oklahoma City University: United States
Biography
General Interest
Nicknames
Maggs (toronto2015.org, 13 Jul 2015)
Hobbies
Surfing, sailing, surf ski, travelling, reading, watching movies. (teamusa.org, 2015)
Most influential person in career
Her family. (teamusa.org, 2015)
Other sports
She has participated in the surf lifesaving world championships and competed in swimming at university level in United States. (teamusa.org, 2015; supthemag.com, 03 May 2012)
Sport Specific Information
When and where did you begin this sport?
She took up canoe sprint while attending the San Diego Lifeguard Academy in United States.
Why this sport?
"I was trying to improve my surf ski skills and a friend told me I should start with kayaking to really hone my paddling skills."
Club / Team
Oklahoma City Riversport: United States
Name of coach
Michele Eray [national], USA
Training Regime
As well as training in her canoe she incorporates gym sessions and running into her regime.
Results
Competition
Event
Location
Date
Season
Gender
Result
Rank
Mentions
Olympic Games
K1 200m
Brazil, Rio de Janeiro
16 August 2016
2016
Women
44.668
27

Latest result

Olympic Games
K1 500m
Brazil, Rio de Janeiro
18 August 2016
2016
Women
1:58.970
22

Latest result

Best result

World Championships
K1 1000m
Italy, Milan
23 August 2015
2015
Women
4:07.414
3

Best result

World Championships
K1 5000m
Italy, Milan
23 August 2015
2015
Women
22:50.44
7

Best result

World Championships
K2 500m
Italy, Milan
22 August 2015
2015
Women
1:48.955
18

Best result

World Championships
K2 500m
Russia, Moscow
10 August 2014
2014
Women
1:47.948
16

Best result

World Championships
K2 200m
Germany, Duisburg
1 September 2013
2013
Women
40.574
15

Best result

World Championships
K2 500m
Germany, Duisburg
31 August 2013
2013
Women
1:49.332
14

Best result

World Championships
K2 1000m
Germany, Duisburg
31 August 2013
2013
Women
3:56.599
12

Best result

World Championships
K2 200m
Hungary, Szeged
21 August 2011
2011
Women
42.131
16

Best result

World Championships
K2 500m
Hungary, Szeged
20 August 2011
2011
Women
1:45.295
17

Best result

World Championships
K1 4 x 200m Relay
Hungary, Szeged
21 August 2011
2011
Women
3:04.797
11

Best result

World Championships
K4 500m
Poland, Poznan
22 August 2010
2010
Women
1:39.837
22

Best result

World Championships
K1 500m
Canada, Dartmouth
16 August 2009
2009
Women
2:06.710
23
World Championships
K1 1000m
Canada, Dartmouth
15 August 2009
2009
Women
4:08.871
12

Best result

World Championships
K1 4 x 200m Relay
Canada, Dartmouth
16 August 2009
2009
Women
3:06.323
10

Best result

World Championships
K2 500m
Germany, Duisburg
12 August 2007
2007
Women
1:55.351
23
World Championships
K4 200m
Germany, Duisburg
12 August 2007
2007
Women
12

Best result

World Championships
K4 500m
Germany, Duisburg
11 August 2007
2007
Women
20

Best result

Olympic Qualification Tournament America
K1 500m
United States, Gainesville, GA
20 May 2016
2016
Women
1:54.12
2

Latest result

Best result

Pan American Championships
K1 1000m
Mexico, Mexico City
9 October 2010
2010
Women
4:23.44
1

Best result

Pan American Championships
K2 500m
Mexico, Mexico City
10 October 2010
2010
Women
1:48.72
2

Best result

Olympic Qualification Tournament America
K2 500m
Canada, Montreal
18 May 2008
2008
Women
1:45.845
2

Best result

Olympic Qualification Tournament America
K4 500m
Canada, Montreal
17 May 2008
2008
Women
1:40.221
3

Best result

Pan American Championships
K1 500m
Mexico, Mexico City
17 September 2006
2006
Women
2:02.88
3

Best result

Pan American Championships
K1 1000m
Mexico, Mexico City
16 September 2006
2006
Women
4:20.76
2

Best result

Pan American Championships
K4 200m
Mexico, Mexico City
17 September 2006
2006
Women
37.44
5

Best result

Pan American Championships
K4 500m
Mexico, Mexico City
17 September 2006
2006
Women
1:41.69
6

Best result

Pan American Championships
K4 1000m
Mexico, Mexico City
16 September 2006
2006
Women
3:36.82
3

Best result