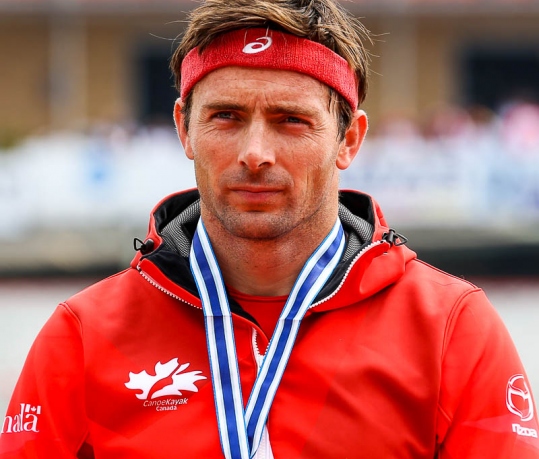 Mark Oldershaw (CAN)
Canada
Canoe Sprint
Date of birth
07 February 1983
Family
Wife Annamay Pierse, daughter Josephine [2015]
Residence
Burlington, ON, CAN
Higher education
English Literature - Carleton University : Ottawa, ON, CAN
Biography
General Interest
Hobbies
Spending time with family and friends. (cbc.ca, 24 Jun 2015)
Memorable sporting achievement
Winning a bronze medal at the 2012 Olympic Games in London. (olympic.ca, 10 Aug 2014)
Hero / Idol
Canadian ice hockey player Marty Turco. (NOC, 31 Jul 2008)
Injuries
He required two operations on his left hand to remove a cancerous bone. The second surgery was in 2005. (citynews.ca, 10 Jul 2015; NOC, 31 Jul 2008)
Superstitions / Rituals / Beliefs
"I've raced with a lucky penny in my boat for most of my career. Not the same one, I just find one. They're getting harder to find now. Usually I stick one just under the block where I kneel." (cbc.ca, 24 Jun 2015)
Awards and honours
He was flag bearer for Canada at the opening ceremony of the 2015 Pan American Games in Toronto, ON, Canada. (theglobeandmail.com, 01 Jul 2015)

He was named Canada's Junior Male Athlete of the Year in 2001. (canoekayak.ca, 01 Jan 2011)
Famous relatives
His wife Annamay Pierse was part of the Canadian swimming team that won bronze in the 4x100m medley relay at the 2010 Commonwealth Games in Delhi, India. His grandfather Bert Oldershaw was a national canoeing champion and represented Canada at the 1948, 1952 and 1956 Olympic Games. His father Scott, who has also worked as his coach, paddled for Canada at the 1984 Olympic Games in Los Angeles. His brother Adam has represented Canada in the sport at the Pan American Games. His uncles Reed and Dean competed at the 1972 and 1976 Olympic Games in canoe sprint. (citynews.ca, 10 Jul 2015; olympic.ca, 10 Aug 2014; NOC, 31 Jul 2008)
Other information
PREMATURE BABY
His wife Annamay Pierse gave birth to their first child Josephine in August 2015, nearly three months before the due date. He was in Montreal, QC, Canada, for a training camp when the surprise news came. "It just happened so fast. We had planned it so that she would be born in the fall, which was the off-season, so I would be home to support her. So we had not even planned how we were getting to the hospital, and everything like that." Josephine remained in hospital past her original due date but was fit and healthy. "She has had her little issues, but it is mostly all good things since her birth. She is doing very well now." (cbc.ca, 05 Oct 2015)
Sport Specific Information
When and where did you begin this sport?
He first tried the sport at age seven and began competing at age nine.
Why this sport?
His grandfather, father and two of his uncles were international canoeists. "I grew up with the tradition surrounding me. It was a great atmosphere to grow up in. The seed was planted in me when I was young."
Club / Team
Burloak Canoe Club: Oakville, ON, CAN
Name of coach
Scott Oldershaw [father], CAN; Larry Cain [club, national], CAN; Laszlo Latorovszki [national]
Training Regime
He trains on the water twice a day. He also has four strength sessions each week.
Results
Competition
Event
Location
Date
Season
Gender
Result
Rank
Mentions
Olympic Games
C1 200m
Brazil, Rio de Janeiro
18 August 2016
2016
Men
43.357
20

Latest result

Olympic Games
C1 1000m
Brazil, Rio de Janeiro
16 August 2016
2016
Men
4:06.972
12

Latest result

Olympic Games
C1 1000m
England, London
8 August 2012
2012
Men
3:48.502
3

Best result

Olympic Games
C1 500m
China, Beijing
23 August 2008
2008
Men
1:52.649
10
World Championships
C1 1000m
Italy, Milan
22 August 2015
2015
Men
4:01.280
9
World Championships
C1 1000m
Russia, Moscow
9 August 2014
2014
Men
3:54.757
6

Best result

World Championships
C1 5000m
Russia, Moscow
9 August 2014
2014
Men
25:20.283
13
World Championships
C1 4 x 200m Relay
Russia, Moscow
10 August 2014
2014
Men
2:59.088
8
World Championships
C1 1000m
Germany, Duisburg
31 August 2013
2013
Men
4:37.352
9
World Championships
C1 5000m
Germany, Duisburg
1 September 2013
2013
Men
22:44.535
3

Best result

World Championships
C1 4 x 200m Relay
Germany, Duisburg
1 September 2013
2013
Men
2:51.579
3

Best result

World Championships
C1 1000m
Hungary, Szeged
19 August 2011
2011
Men
4:10.707
5

Best result

World Championships
C1 5000m
Hungary, Szeged
21 August 2011
2011
Men
24:19.005
5

Best result

World Championships
C1 4 x 200m Relay
Hungary, Szeged
21 August 2011
2011
Men
DNF
9
World Championships
C1 500m
Poland, Poznan
22 August 2010
2010
Men
DNF
9
World Championships
C1 1000m
Poland, Poznan
21 August 2010
2010
Men
4:01.009
8
World Championships
C1 500m
Canada, Dartmouth
16 August 2009
2009
Men
1:51.370
5

Best result

World Championships
C1 1000m
Canada, Dartmouth
15 August 2009
2009
Men
4:00.514
4

Best result

World Championships
C4 200m
Canada, Dartmouth
16 August 2009
2009
Men
35.696
4

Best result

World Championships
C1 4 x 200m Relay
Canada, Dartmouth
16 August 2009
2009
Men
2:53.730
6

Best result

World Championships
C1 500m
Germany, Duisburg
12 August 2007
2007
Men
1:48.359
5

Best result

World Championships
C1 1000m
Germany, Duisburg
11 August 2007
2007
Men
4:29.049
9
World Championships
C1 500m
Hungary, Szeged
20 August 2006
2006
Men
1:52.151
6

Best result

World Championships
C4 500m
Croatia, Zagreb
28 August 2005
2005
Men
1:36.350
9
World Championships
C4 200m
Spain, Seville
1 September 2002
2002
Men
8
World Championships
C4 500m
Spain, Seville
1 September 2002
2002
Men
5

Best result

Olympic Qualification Tournament America
C1 1000m
United States, Gainesville, GA
20 May 2016
2016
Men
3:52.85
1

Latest result

Best result

Pan American Championships
C1 1000m
Mexico, Mexico City
9 October 2010
2010
Men
4:05.41
2

Best result

Pan American Championships
C1 5000m
Mexico, Mexico City
8 October 2010
2010
Men
24:15.85
1

Best result

Pan American Championships
C1 200m
Mexico, Mexico City
17 September 2006
2006
Men
41.12
1

Best result

Pan American Championships
C1 500m
Mexico, Mexico City
17 September 2006
2006
Men
1:52.12
1

Best result

Pan American Championships
C1 1000m
Mexico, Mexico City
16 September 2006
2006
Men
4:01.76
2

Best result

World Cup
Individual Canadian
5 June 2016
2016
Men
19

Latest result

World Cup
Individual Canadian
23 August 2015
2015
Men
3

Best result

World Cup
Individual Canadian
10 August 2014
2014
Men
2

Best result

World Cup
Individual Canadian
1 September 2013
2013
Men
19
World Cup
Individual Canadian
3 June 2012
2012
Men
1

Best result

World Cup
Individual Canadian
21 August 2011
2011
Men
5

Best result

World Cup
Individual Canadian
22 August 2010
2010
Men
8
World Cup
Individual Canadian
7 June 2009
2009
Men
2

Best result

World Cup
Individual Canadian
29 June 2008
2008
Men
3

Best result

World Cup
Individual Canadian
3 June 2007
2007
Men
2

Best result

World Cup
Individual Canadian
24 September 2006
2006
Men
8