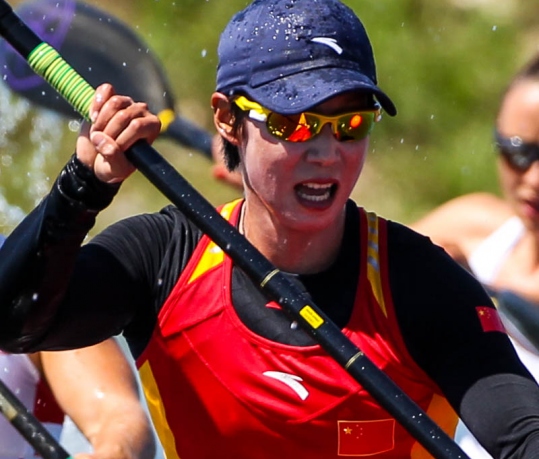 Wenjun Ren (CHN)
China
Canoe Sprint
Date of birth
15 January 1992
Biography
General Interest
Memorable sporting achievement
Winning gold medals at the 2010 and 2014 Asian Games. (tzzx.net, 23 Oct 2014)
Sport Specific Information
When and where did you begin this sport?
She began swimming at age five and then took up triathlon at age 10. She switched to canoe at age 12.
Why this sport?
She got injured while training for triathlon. The canoe team spotted her potential and she made the switch.
Club / Team
Shandong Province: Zibo, CHN
Name of coach
Wang Boqing [club, national], CHN; Martin Marinov [national]
Results
Competition
Event
Location
Date
Season
Gender
Result
Rank
Mentions
Olympic Games
K2 500m
Brazil, Rio de Janeiro
16 August 2016
2016
Women
1:51.582
14

Latest result

Best result

Olympic Games
K4 500m
Brazil, Rio de Janeiro
20 August 2016
2016
Women
1:40.071
11

Latest result

Best result

Olympic Games
K4 500m
England, London
8 August 2012
2012
Women
1:34.004
11

Best result

World Championships
K2 500m
Italy, Milan
22 August 2015
2015
Women
1:43.065
6

Latest result

Best result

World Championships
K4 500m
Italy, Milan
23 August 2015
2015
Women
1:37.958
12

Latest result

Best result

World Championships
K2 500m
Russia, Moscow
10 August 2014
2014
Women
DSQ
18

Best result

World Championships
K4 500m
Russia, Moscow
9 August 2014
2014
Women
1:31.108
5

Best result

World Championships
K1 5000m
Hungary, Szeged
21 August 2011
2011
Women
23:55.366
16

Best result

World Championships
K2 500m
Hungary, Szeged
20 August 2011
2011
Women
1:39.159
5

Best result

World Championships
K1 1000m
Poland, Poznan
21 August 2010
2010
Women
4:07.535
10

Best result

Asian Championships
K4 500m
Uzbekistan, Samarkand
27 September 2013
2013
Women
1:36.107
2

Best result

Asian Championships
K2 500m
Iran, Tehran
14 October 2011
2011
Women
1:43.79
1

Best result

Asian Championships
K2 1000m
Iran, Tehran
14 October 2011
2011
Women
3:49.59
1

Best result

Asian Championships
K4 500m
Iran, Tehran
14 October 2011
2011
Women
1:40.36
1

Best result