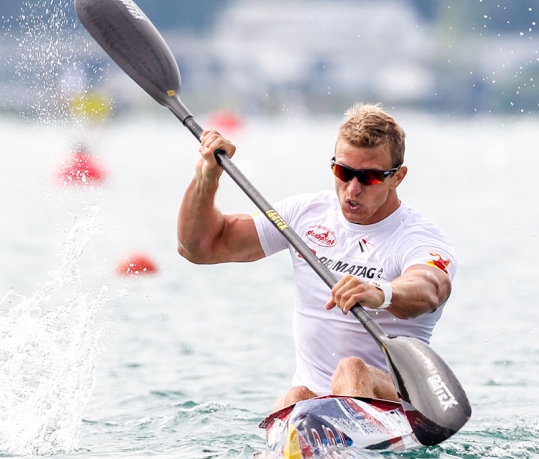 René Poulsen (DEN)

Denmark
Canoe Sprint
Date of birth
28 November 1988
Languages
Danish, English
Higher education
Trade - Carpenter - Copenhagen Technical School: Denmark
Biography
General Interest
Nicknames
Polle, Powerhouse Poulsen (renepoulsen.com, 01 Mar 2016; NOC, 30 Jul 2008)
Hobbies
Photography, listening to music. (Linkedin profile, 2015)
Memorable sporting achievement
Winning gold in the K2 1000m at the 2008 European Championships in Milan, Italy. (baku2015.com, 16 Jun 2015)
Hero / Idol
Norwegian sprint paddler Knut Holman, Danish sprint paddlers Lars Koch and Eirik Veraas Larsen. (Athlete, 21 Sep 2005)
Sporting philosophy / motto
"Be the best you can be." (redbull.com, 01 Jun 2015)
Awards and honours
He was named Sportsman of the Year at the 2015 World Paddle Awards. (worldpaddleawards.com, 12 Mar 2016)

He was presented with the Arets Sportsnavn award in 2015. This is presented to the Danish Athlete of the Year by the Danish Athletic Association and Jyllands-Postens. (fyens.dk, 09 Jan 2016)

He was presented with the BT Gold award in 2015. The award is voted on by the top 40 athletes of the year in Denmark. (bt.dk, 09 Jan 2016)
Ambitions
To become an Olympic champion. (renepoulsen.com, 01 Mar 2016)
Other information
AMBASSADOR
He was named an athlete ambassador for the 2015 European Games in Baku, Azerbaijan. (fie.org, 27 Mar 2015)
International Debut
Tournament
European Championships Sprint
Sport Specific Information
When and where did you begin this sport?
He began paddling at age 12.
Club / Team
Maribo Kayak Club: Denmark
Name of coach
Zoltan Bako [national], HUN
Training Regime
He paddles at the national training centre in Bagsvaerd, Denmark. "I train up to three times a day, seven days a week. I spend about three months abroad each year on training camps and competitions."
Results
Competition
Event
Location
Date
Season
Gender
Result
Rank
Mentions
Olympic Games
K1 1000m
Brazil, Rio de Janeiro
16 August 2016
2016
Men
3:36.840
6

Latest result

Olympic Games
K1 1000m
England, London
8 August 2012
2012
Men
3:29.483
4

Best result

Olympic Games
K4 1000m
England, London
9 August 2012
2012
Men
2:56.542
5

Best result

Olympic Games
K2 500m
China, Beijing
23 August 2008
2008
Men
1:30.569
5

Best result

Olympic Games
K2 1000m
China, Beijing
22 August 2008
2008
Men
3:13.580
2

Best result

World Championships
K1 500m
Italy, Milan
23 August 2015
2015
Men
1:39.407
1

Best result

World Championships
K1 1000m
Italy, Milan
22 August 2015
2015
Men
3:25.815
1

Best result

World Championships
K1 5000m
Italy, Milan
23 August 2015
2015
Men
20:31.64
4

Best result

World Championships
K2 1000m
Italy, Milan
22 August 2015
2015
Men
DSQ
39
World Championships
K1 500m
Russia, Moscow
10 August 2014
2014
Men
1:39.190
1

Best result

World Championships
K1 1000m
Russia, Moscow
9 August 2014
2014
Men
3:26.482
3

Best result

World Championships
K1 500m
Germany, Duisburg
1 September 2013
2013
Men
1:41.628
2

Best result

World Championships
K1 1000m
Germany, Duisburg
31 August 2013
2013
Men
3:46.880
5

Best result

World Championships
K1 1000m
Hungary, Szeged
19 August 2011
2011
Men
3:46.299
10
World Championships
K1 5000m
Hungary, Szeged
21 August 2011
2011
Men
21:57.920
19
World Championships
K4 1000m
Hungary, Szeged
20 August 2011
2011
Men
2:53.980
9
World Championships
K1 1000m
Poland, Poznan
21 August 2010
2010
Men
3:31.880
4

Best result

World Championships
K1 500m
Canada, Dartmouth
16 August 2009
2009
Men
1:40.706
8
World Championships
K1 1000m
Canada, Dartmouth
15 August 2009
2009
Men
3:39.740
9
World Championships
K2 1000m
Germany, Duisburg
11 August 2007
2007
Men
12
European Championships
K1 500m
Russia, Moscow
26 June 2016
2016
Men
1:39.184
2

Latest result

Best result

European Championships
K1 1000m
Russia, Moscow
25 June 2016
2016
Men
3:32.296
2

Latest result

Best result

European Championships
K1 5000m
Russia, Moscow
26 June 2016
2016
Men
20:11.87
2

Latest result

Best result

European Championships
K2 1000m
Russia, Moscow
25 June 2016
2016
Men
3:17.956
8

Latest result

European Championships
K1 500m
Czech Republic, Racice
3 May 2015
2015
Men
1:41.504
1

Best result

European Championships
K1 1000m
Czech Republic, Racice
2 May 2015
2015
Men
3:35.080
2

Best result

European Championships
K1 5000m
Czech Republic, Racice
3 May 2015
2015
Men
20:01.650
1

Best result

European Championships
K2 1000m
Czech Republic, Racice
2 May 2015
2015
Men
3:20.012
4
European Championships
K1 500m
Germany, Brandenburg
13 July 2014
2014
Men
1:41.382
2

Best result

European Championships
K1 1000m
Germany, Brandenburg
12 July 2014
2014
Men
3:28.711
2

Best result

European Championships
K1 5000m
Germany, Brandenburg
13 July 2014
2014
Men
19:48.890
2

Best result

European Championships
K1 500m
Portugal, Montemor-o-Velho
16 June 2013
2013
Men
1:41.506
1

Best result

European Championships
K1 1000m
Portugal, Montemor-o-Velho
15 June 2013
2013
Men
3:27.225
1

Best result

European Championships
K1 5000m
Portugal, Montemor-o-Velho
16 June 2013
2013
Men
20:05.102
3
European Championships
K1 1000m
Croatia, Zagreb
23 June 2012
2012
Men
3:29.326
2

Best result

European Championships
K4 1000m
Croatia, Zagreb
24 June 2012
2012
Men
2:51.947
1

Best result

European Championships
K1 1000m
Serbia, Belgrade
18 June 2011
2011
Men
3:27.615
6
European Championships
K1 5000m
Serbia, Belgrade
19 June 2011
2011
Men
21:04.908
3
European Championships
K1 1000m
Spain, Trasona
3 July 2010
2010
Men
3:35.228
3
European Championships
K1 500m
Germany, Brandenburg
28 June 2009
2009
Men
1:37.986
5
European Championships
K1 1000m
Germany, Brandenburg
27 June 2009
2009
Men
3:31.820
3
European Championships
K2 1000m
Italy, Milan
17 May 2008
2008
Men
3:16.003
1

Best result

European Championships
K4 1000m
Italy, Milan
18 May 2008
2008
Men
3:08.052
9
World Cup
Individual Kayak
5 June 2016
2016
Men
3

Latest result

Best result

World Cup
Individual Kayak
23 August 2015
2015
Men
5
World Cup
Individual Kayak
10 August 2014
2014
Men
3

Best result

World Cup
Individual Kayak
1 September 2013
2013
Men
2

Best result

World Cup
Individual Kayak
3 June 2012
2012
Men
9
World Cup
Individual Kayak
21 August 2011
2011
Men
6
World Cup
Individual Kayak
22 August 2010
2010
Men
10
World Cup
Individual Kayak
7 June 2009
2009
Men
4