Joao Tomasini Schwertner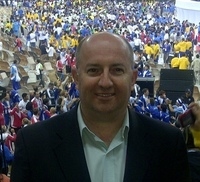 Joao has been president of Brazilian (CBCa) canoeing since 1988, and is the current president of the Pan American Canoe Federation (COPAC). He was also president of the South American Canoe Federation (CoSurCa) from 2010 to 2018.
Joao first joined the ICF board in 1994, and has served as a vice-president from 1998 until 2008, and again from 2010 to 2014.
Joao Tomasini Schwertner - President of Pan American Canoe Federation
joao.tomasini@canoagem.org.br
* All ICF elected officials are required to sign the ICF Board of Directors Code of Conduct to enure highest ehtical principles are kept.