Germany's Philip Josef picked up his country's first gold medal of the 2022 ICF Canoe Freestyle World Championships in a gripping men's open canoe surface final in Nottingham, UK, on Thursday.
Great Britain's Ottilie Robinson-Shaw continued her incredible form by setting a record score in the women's K1 quarter finals, while Ireland's David McClure showed his class with a chart-topping performance in the men's quarter final.
Josef was the last athlete on the water in the open canoe final, and finished on exactly the same score as Canada's Zachary Zwanenburg. But under tiebreak rules Josef was declared the gold medalist, bettering his bronze medal performance at the 2019 world championships.
"It's a nice feeling, but it was difficult today," Josef said.
"It's a bit different then training sessions, but I'm so happy now. I was really nervous, all over my body."
Robinson-Shaw already has one gold medal from the women's squirt competition safely tucked away, and put together two quarterfinal K1 rides on Thursday sure to strike fear into all her world championship opponents.
The British 20-year-old posted a total score of 2190, finishing more than 600 points ahead of British teammate Lowri Davies, with France's Marlene Devillez qualifying third. Seven different nations are represented among the 10 paddlers progressing to Friday's semi-finals.
European champion David McClure took the next step towards a possible first ever world championship gold medal for Ireland, posting the biggest quarter final score in the men's K1.
McClure posted 2853.33, ahead of Great Britain's Robert Crowe on 2728.33, and three-time world champion Dane Jackson of the USA on 2630.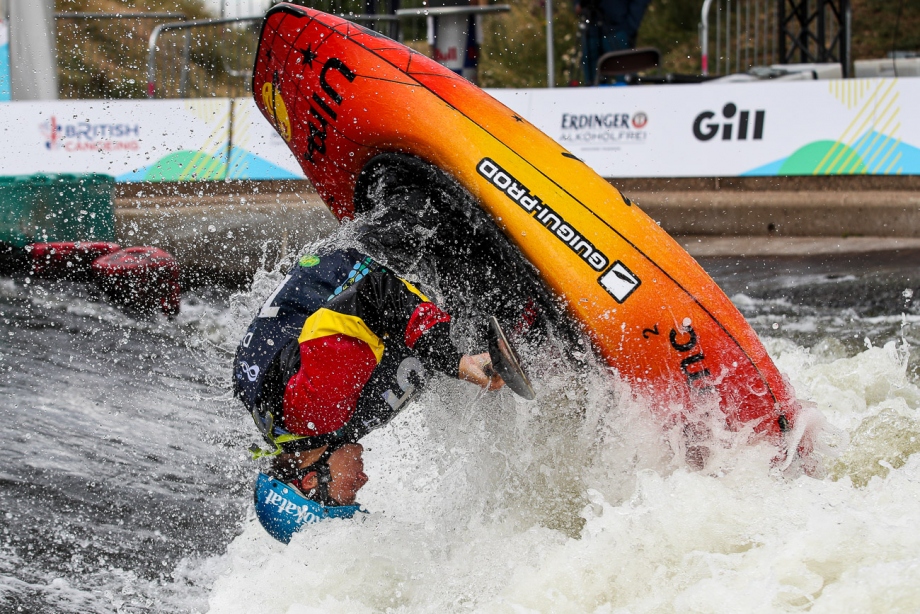 In junior men's kayak German teenager Tim Rees impressed the judges at his first world championships, clocking up a formidable 2576.67 points to sit on top of the leaderboard after qualifying.
"I'm really happy that I managed to put my rides down, two rides over 1000 points, that was my goal, I'm currently on top of the leaderboard and absolutely happy," Rees said.
"I was quite nervous this morning. I'm definitely hoping for a podium, but I'll just be happy if I consistently score over 1000 points, which was one of my goals before the competition."
Great Britain's Ben Higson qualified second and Japan's Nanase Okazaki was third. Eight different countries made up the top ten qualifiers, including athletes from Finland, Austria and New Zealand.
RESULTS
MEN'S OPEN CANOE SURFACE FINAL
JOSEF Philip                     (GER) 220
ZWANENBURG Zachary (CAN) 220
BOSCH ROCA Adria        (ESP)    95
Pics by Bence Vekassy