The residents of the coastal town of San Sebastien in northeast Spain thronged to welcome home their petite daughter adorned with her Olympic gold medal. On August 16, they created her an arch of kayak paddles as a Homanaje [tribute] to Maialen with her husband/coach Xabi Etxaniz on the beach.
Chourraut became her country's first canoe slalom Olympic gold medallist. That is an achievement. Between London and Rio, she has taken time for the birth of her daughter. To win an Olympic final by a margin of 3.17 seconds in canoe slalom is stupendous! I tweeted at the time that Chourraut could have hit the last gate and still won. That's crazy!!
[caption align="right"]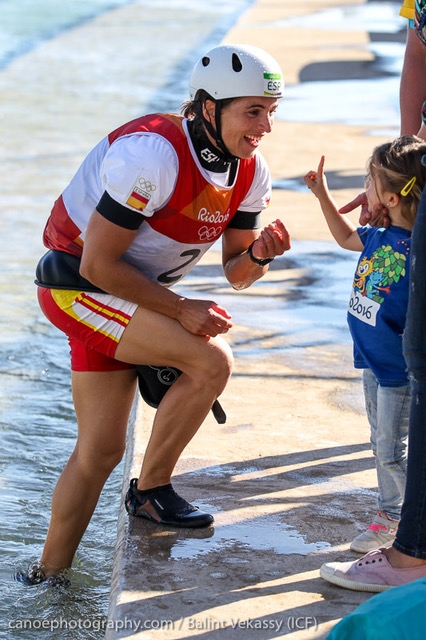 [/caption]

The international canoe slalom community have grown to respect Chourraut. Chourraut, the person, is quiet and unassuming. It is thus not a surprise that she did not burst onto the scene in a fanfare. In her own words, she says that she has grown "little by little". The first podium of significance was the ICF U23 World Championships in Krakow in 2004. She won silver.

Three-time Olympian, Chourraut won a K1W silver medal at her home ICF Canoe Slalom World Championships in La Seu d'Urgell in 2009. Two years later, she took bronze at the Bratislava World Championships in 2011. She is a former European Champion from Markkleeberg, Germany in 2015. In her second Olympics in London, she took bronze on the podium with Emilie Fer (FRA) and Jess Fox (AUS).

Progression through Rio Olympics
Heat 1 - second fastest raw time at first split in behind Corinna Kuhnle (AUT) before picking up a 50-second penalty on gate 20.
Heat 2 – Fastest at the first split
Semi-final – Third fastest at both first and second split
Final – Fastest at the 1st by 0.31 seconds and 2nd split by 1.07

There is a reason that Maialen Chourraut has long been regarded as the smoothest paddler on the circuit. The Deodoro final gave definite proof. So why is Chourraut so quick? Who better to ask than the previous four Olympic K1W champions and those closest to her.

Lisa Micheler-Jones (GER), 1992 Olympic Champion – "Maialen's speed down the course is quite consistent. She knows where to accelerate in the gates. Especially in the upstream gates, she has a good strength. Her technique is very good and she uses it to paddle with the water, which leaves her, even more, power down the course. It is a pleasure to watch her racing."

Stepanka Hilgertova (CZE), 1996 & 2000 Olympic Champion – "I admire her style of racing. She looks well concentrated but not too stressed during her runs. Her boat is moving fluently, without stopping, although she is able to be dynamic if needed."

Elena Kaliska (SVK), 2004 & 2008 Olympic Champion - "She is quite a light paddler and at the same time strong and explosive. So her strength to body weight ratio is awesome. She has not as risky a style as the fastest K1M. She tries to keep speed through all gates as much as possible and uses the power of water, so she saves some energy for hard sections on the course. She rarely makes big mistakes at the end of her important runs, which is still really important in K1W, especially in the race like the Olympic Games."

Emilie Fer (FRA), 2012 Olympic Champions commented - "Maialen has been really fast for a long time, and she has won a lot of big races. It was one of the few races she had never won. She is the perfect cocktail to be the super champion she is. Furthermore, she is discreet. I believe in Maialen for sure."

Jess Fox (AUS), 2014 World Champion – "The first time I trained with Maialen was in London 2012 in the lead up to the Games. She was one of my paddling idols and I couldn't believe I would get the chance to train with her for a session! We shared a special moment on the podium in London; since when we have been friends. We paddle together whenever we have the chance. I learn from her and she can learn from me in some ways too - we are both open to sharing yet I think most importantly it's that we enjoy the sessions together - they are fun and challenging and we are both competitive and lift our game when we paddle together.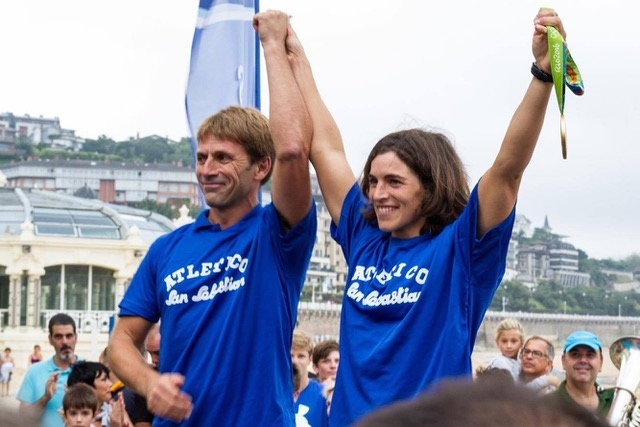 Maialen is a hard worker and tenacious - watching her training she does a lot of technical work and a lot of repetitions. She is efficient and often seems effortless. If she is doing loops, she's clean, tidy and consistent and does it all with (what seems) minimal strength. She uses the water so well. She has a great feeling for the water. Add to that her strength and lightness in the boat and she accelerates the boat so well between gates, no wonder she flew down that Rio course!"

Etxaniz (ESP) thinks Maialen excels in no-one area and yet all of them. "She gets canoe slalom inside of her, and she is a brilliant student of canoe slalom. She is always looking for details to be better and better, to always improve, even a little bit every day. She has made a lot of changes from 12 years ago, in everything, she is always changing things, in and out of the boat.

Etxanix helps us understand what is it about the details her technique on whitewater and gates that make her so smooth and deceptively quick. "She is afraid of everything and never feels brave. She takes the time to observe to build her detailed view of secure lines and smooth navigation. She also works a lot on strength in the body and legs. Maialen is a perfectionist on technique. She internalises and prepares before application on whitewater."

The 2017 ICF Canoe Slalom World Championships are on the course in Pau, just across the Pyrenees in France. A course Chourraut knows well. "It is always great to be in Pau," she said in June. Expect her to be well prepared and quick. At her home 2016 La Seu d'Urgell World Cup race, Chourraut provided a master-class reinforcing the perception as the smoothest paddler on the circuit.

"She is very deserving of that gold medal and I admire her so much and feel lucky to have shared in her journey and had her influence mine," added Fox.

Now appears a good opportunity for pushing hard again for a canoe slalom project in San Sebastian.

It is not a coincidence that the top three ICF World ranked K1W athletes have a very smooth style; Fox, Chourraut & Funk.

Article: John Gregory @gregiej
Photo credit: Arsenio Gutiérrez, Club Atlético San Sebastián and Balint Vekassy.