Daniel HAVEL (CZE)

Czech Republic
Languages:
Czech, English, German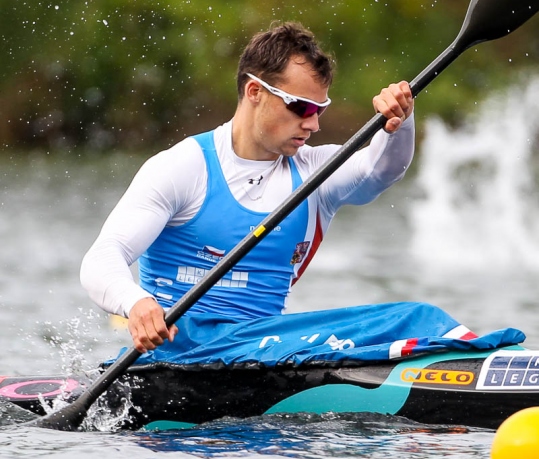 Biography
Further Personal Information
NICKNAME
Danes (baku2015.com, 16 Jun 2015)
HIGHER EDUCATION
Management - University of Economics: Prague
WHEN/WHERE DID YOU START CANOEING/ KAYAKING?
He took up the sport in 1999 in Sedlcany, Czech Republic.
REASON FOR TAKING UP THE SPORT
His father introduced him to the sport. He initially played football but when his local canoe club began recruiting, he tried out and enjoyed it.
HOBBIES
Sport, watching movies, editing sport videos, listening to music, shopping, spending time with his wife. (baku2015.com, 16 Jun 2015; kanoe.cz, 18 Mar 2014)
CLUB
ASC Dukla Praha: Czech Republic
NAME OF COACH
Pavel Hottmar [national], CZE; Jan Sterba, CZE; Jerzy Dziadkowiec, POL
SENIOR INTERNATIONAL DEBUT YEAR
2010
MEMORABLE SPORTING ACHIEVEMENT
Winning a bronze medal in the K4 1000m at the 2012 Olympic Games in London. (baku2015.com, 16 Jun 2015)
HERO/IDOL
Czech sprint paddler Jan Sterba, Norwegian sprint paddler Eirik Veras Larsen. (kanoe.cz, 18 Mar 2014; NOC, 19 Jul 2012)
SUPERSTITIONS/ RITUALS/ BELIEFS
He has a photograph of his late stepfather. "The evening before a race I talk with him in spirit." (NOC, 19 Jul 2012)
SPORTING PHILOSOPHY/ MOTTO
"No goal is so big that it is not worth attempting." (NOC, 19 Jul 2012)
AWARDS AND HONORS
He was named in the Crew of the Year by the Czech Canoe Union in 2012, 2013, 2014 and 2015. (denik.cz, 11 Jan 2016; kanoe.cz, 15 Jan 2015)
SPORTING RELATIVES
His wife Andrea Havlova has represented the Czech Republic in canoe sprint. She finished fifth in the K2 1000m at the 2014 European Championships in Brandenburg, Germany. His father-in-law Martin Doktor also competed in the sport and won two gold medals at the 1996 Olympic Games in Atlanta. (SportsDeskOnline, 19 Feb 2016; canoeracice.com, 26 Apr 2015; blesk.cz, 01 Sep 2012)