Canoe Slalom and Wildwater Canoeing, what is it ? 2017 ICF CANOE SLALOM WORLD CHAMPIONSHIPS
Denis GARGAUD-CHANUT © FFCK / KMSP - J.CROSNIER
Canoe Slalom is an Olympic discipline which consists in doing a wild water course of almost 400 meters length as quickly as possible by respecting mandatory passages, indicated by doors (18 to 25 maximum). There are two types of doors:
Green doors: to cross downstream

Red doors: to go upstream
The doors, when touched, or those that are not crossed, count as penalties, which add to the finishing time of the course (2 seconds for a touch, 50 seconds for a missed door).
International categories
Kayak single-seat men (K1M) and women (K1W)

Canoe single-seat men (C1M) and women (C1W)

Double-seat canoe men (C2M) and mixed (C2M)
Courses involving team events with three boats also exist. The Slalom is practised on more or less complicated whitewater courses depending on the level of the competition, with a qualifying phase of two rounds followed by a semi-final and a final round.
 What is Extreme Canoe Slalom ?
© Eric Traversié 
This is a new event, part of discipline Canoe Slalom, which is currently emerging at the international level.
It consists of a knockout tournament between four boats per round on a course that lasts between 45 and 60 seconds.
After a spectacular start, the athletes are positioned on a 3 to 5-metre ramp above water and they to cover a stretch consisting of 5 to 7 obstacles as quickly as possible. Following several qualification rounds, the winners of each of the rounds compete at the final level, following which the fastest one of these takes the title of world champion. Boats used for such events are a hybrid of those used in slalom and intensive courses. 
What is Wildwater Canoeing ?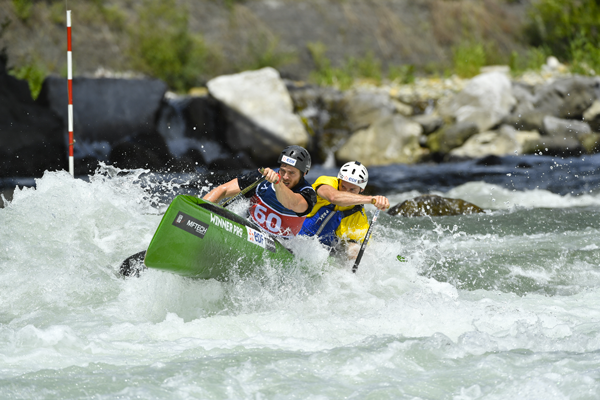 Tony DEBRAY - Louis LAPOINTE © FFCK / KMSP - J.CROSNIER
The rule is simple: go as quickly as possible from an upstream point to another downstream point of the river. It is a course against the clock, being practised in white waters where it is essential to choose one's path well according to the streams and the natural obstacles formed by rocks. The courses take place mainly on natural courses, however with the emergence of wildwater canoeing, the competitions are now held in the same places as canoe slalom. There are two types of courses: the classic competition with a duration of 12 to 25 min and the wildwater canoeing competition with a duration of 30 seconds to 2 min 30.