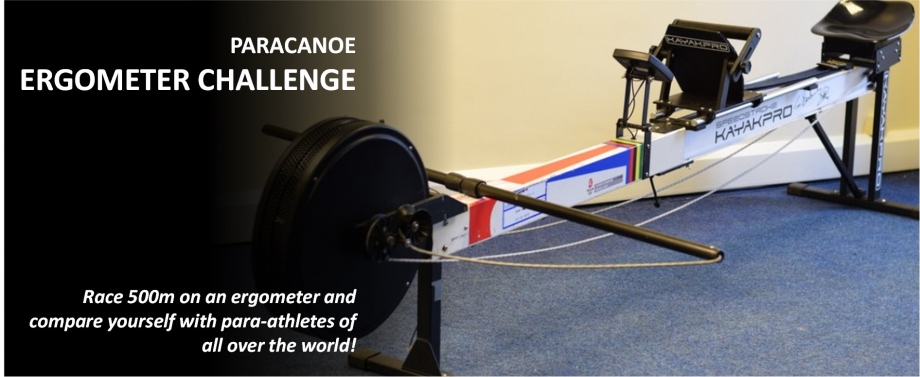 The Paracanoe community is bringing the 'Paracanoe Ergometer Challenge' to the para-athletes.
Paracanoe recreational and elite athletes can measure themself on the distance of 500 meters on ergometer, and share with the community. 
Click on the picture to go the the Parcanoe Ergometer Challenge webpage: https://www.canoeicf.com/paracanoe-ergometer-challenge
A new academic study will be conducted on "Health, Injuries and Illnesses in Paracanoe athletes" by the Swedish School of Sport and Health Sciences (GIH). The information will be gathered through electronically provided questionnaires sent out to internationally competing paracanoe athletes and to physicians caring for paracanoe athletes. More information here.
  
2020 Paracanoe European Championships CANCELLED: press release can be found here 
2020 Paracanoe world cup:
The ICF approved the organisation of the Paracanoe World Cup in Szeged, Hungary, in September: press release can be found here.
The updated Paralympic Games qualification system can be found here.
The ICF Paracanoe is running a serie of webinar to help the countries with basic knowledge and tools to assist them in developing paracanoe in their region and to help with athlete classification.
The ICF Paracanoe made available the material for such introduction in many languages, and encourage the countries to use it in order to make an introduction to paracanoe to their coaches, clubs, or any other stakeholders:
Information concerning the Paralympics:
What is Paracanoe?
Paracanoe is the canoeing discipline for athletes with an impairment and races are contested by two types of boat, kayak (K) and va'a (V). The kayak is propelled by a double-blade paddle, while the va'a is an outrigger canoe which has an ama (second pontoon) as a support float and is used with a single-blade paddle. Both kayak and va'a have three different classes of event for men and women, depending on the classification of an athlete's impairment, with KL1, KL2 and KL3 for kayak and VL1, VL2 and VL3 for va'a. At international level all paracanoe races are individual events and competed at a distance of 200m.
Paracanoe began as an initiative by the International Canoe Federation (ICF) to allow athletes with an impairment to compete in the sport. The discipline featured with exhibition status under the name paddleability at the 2009 Canoe Sprint World Championships in Dartmouth, NS, Canada, and was given official status as paracanoe at the following year's edition in Poznan, Poland. Later in 2010, the International Paralympic Committee (IPC) announced at a meeting in Guangzhou, People's Republic of China, that paracanoe would make its debut at the Paralympic Games in 2016 in Rio de Janeiro. There were six medal events at the Games (three men, three women), all in the kayak category.
In 2020 in Tokyo Va'a will make its Paralympic debut, with three medal events - two for men, one for women - taking to nine races overall on the paracanoe programme.