Sweden's Melina Andersson picked up her second ICF Canoe Marathon World Championship gold medal in two days on Friday as she aims to become the first athlete to win four medals at a single event this weekend in Portugal.
South Africa's Hamish Lovemore triumphed in an epic men's U23 K1 final, which culminated in a gripping sprint for the finish line at the scenic Ponte de Lima course.
Andersson added the women's U23 title to the short-distance marathon gold she won on Thursday, and still has the senior K1 and K2 long distance races to come this weekend.
Other winners on Friday were Spain's Jaime Duro in the men's U23 C1, Hungary's Kinga Molnar and Hanna Jozsa in the K2 junior women, and Hungary's Zsombor Szegi and Peter Soltesz in the C2 juniors. 
Anderrson asserted her dominance over the U23 field by the first portage of the 26.2 kilometre race, and continued to put distance between herself and Hungarian Panna Csepe and South Africa's Christie Mackenzie, who spent the rest of the race fighting for the silver.
"I just wanted to test the other girls to see if they would keep with me, so I went for it on the first portage, and I saw on the first turn they wouldn't be going with me," Andersson said.
"Usually I train two to four times a day, so I'm sure I can manage one race a day."
Csepe broke away on the final lap to finish second, with Mackenzie taking third.
The men's final saw a breakaway group of six for most of the 26.2 kilometre race, and a final sprint between Denmark's Philip Knudsen and South African pair Hamish Lovemore and Ulvard Hart.
Lovemore overtook Knudsen with around 200 metres to go and held on to take the title. Earlier in the month a careless error in the final of the men's U23 5000 metre canoe sprint final cost Lovemore any chance of gold, making him more determined in Ponte de Lima.
"It's amazing, I've had some tough races leading up to this, the sprint didn't go my way, so I was really motivated for here," Lovemore said.
"It's tough racing your friends. I've been training marathon all my life, with Hank (McGregor) as my mentor, so I had my tactics going into this race. We've got a really good team back home and we're really motivated for marathon."
Jaime Duro finished second in Thursday's open short marathon, but went one better on Friday in the under 23 long distance race.
"This was the first time that I've done two races in two days, so I was very nervous because I didn't know if I could do well today," Duro said.
"But this morning I felt very good, I felt rested, and the race for me was very comfortable. I didn't spend a lot of energy in the first half, which was good for me because the race was very long."
Hungary's Sebestyen Simon finished more than one minute behind in second, while another Spaniard, Diego Pineiro, took the bronze.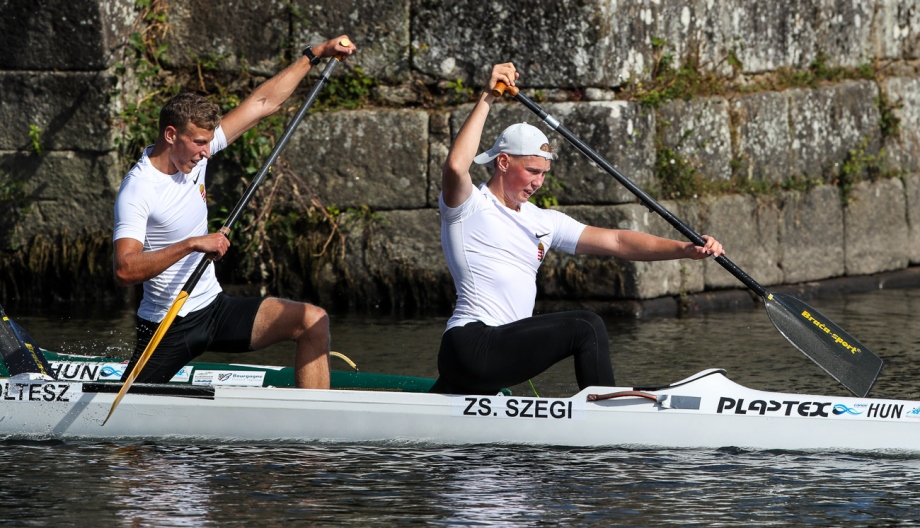 It was a Hungarian quinella in the junior men's C2, with Szegi and Soltesz finishing 15 seconds ahead of Mihaly Pluzsik and Tamas Szollosi. Spain's Izan Velasco and Daniel Infantes finished third.
Kinga Molnar and Hanna Jozsa took Hungary's second gold for the day, beating South Africa's Saskia and Valma Hockly, with Spain's Lidia Zornoza and Alba Esteban taking the bronze.
RESULTS
U23 WOMEN
ANDERSSON Melina (SWE) 01:49:30.97
CSEPE Panna (HUN)  01:52:11.26
MACKENZIE Christie (RSA)  01:52:33.40
U23 MEN
LOVEMORE Hamish (RSA) 01:54:18.42
KNUDSEN Philip (DEN) 01:54:20.50
HART Ulvard (RSA) 01:54:24.33
C1 U23 MEN
DURO Jaime       (ESP)  01:52:19.88
SIMON Sebestyen (HUN) 01:53:34.95
PINEIRO Diego  (ESP)  01:54:59.62
C2 JUNIOR MEN
SZEGI/SOLTESZ      (HUN)  01:33:53.25
PLUZSIK/SZOLLOSI (HUN) 01:34:08.36
VELASCO/INFANTES (ESP) 01:34:49.00
K2 JUNIOR WOMEN
MOLNAR/JOZSA     (HUN)  01:29:08.56
HOCKLY/HOCKLY    (RSA)   01:29:28.83
ZORNOZA/ESTEBAN (ESP) 01:31:40.00
Pics by Balint Vekassy