Spain's Esperanza Barreras won her second world title of the week and American Connor Baxter successfully defended his 2022 technical crown as the International Canoe Federation Stand Up Paddling World Championships came to end in Pattaya, Thailand, on Sunday.
Barreras successfully defended her long distance title on Friday, and then timed her finish to perfection to add the women's technical gold to her world championship-week collection.
Barreras sat in second position behind defending champion Melanie Lafenetre of France, before making her move deep into the final lap.
"This was absolutely not on my plans, I came here more focussed on the distance race," Barreras said.
"But this morning I decided just to give it my all, this is my final race for the season. I went well with the temperature, and the wind, so I just pushed hard. In the race before I did all the mistakes that I had to do, so I decided not to do too many mistakes on this one.
"I felt good, I tried not to think too much about the conditions. I try to train in all conditions so I don't have any surprises in the races, so I felt quite comfortable out there."
Lafenetre held on for second, ahead of a fast-finishing Juliette Duhaime of Argentina.
Connor Baxter came to Pattaya determined to defend both his sprint and technical gold medals, but after being beaten by Frenchman Noic Garioud in the sprint, turned his focus to the one kilometre technical race.
"When Noic edged me out, and I barely got to second, it was a little bittersweet, but it really fired me up," Baxter said.
"When I came into this race I had one thing on my mind, and that was to go for gold. This kind of racing is my bread and jelly, this is what I love. This is technical, this really showcases stand up paddling.
"We know how to go straight, yes, but we also know how to turn, how to run with our boards, beach start – this is what it's all about, and to defend that in a fashionable manner, and holding that lead from the start to the finish, that was my goal, and I did it."
The race opened up for Baxter when Garioud, who was chasing his third title for the week, fell during a frenetic start. A group of three then came together to chase Baxter to the finish, with Peru's Itzel Delgado eventually taking silver and Spain's Antonio Morillo the bronze.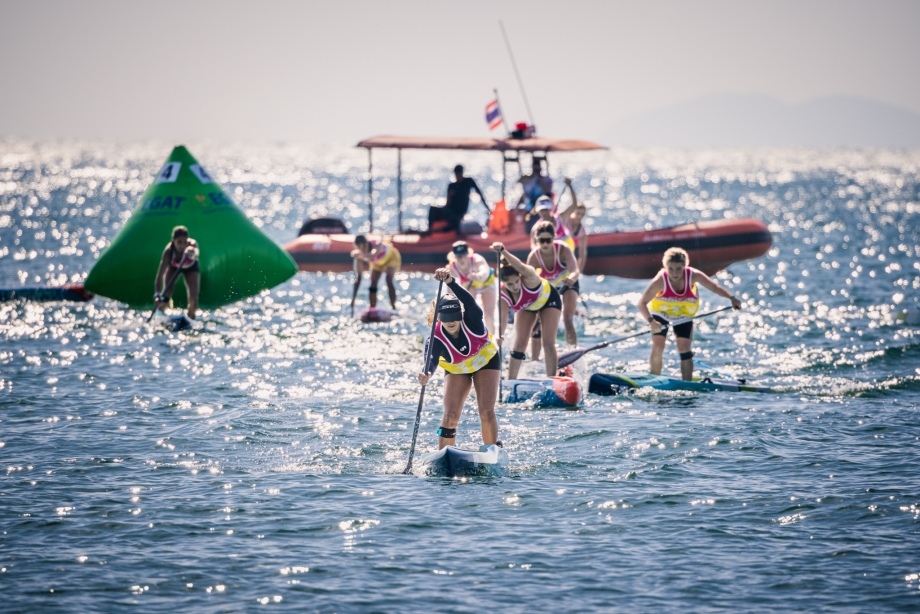 In other technical finals, Italy's Claudia Postiglione won her second junior title of the week by taking out the women's junior race, while Spain's Sergio Cantoral successfully defended his men's junior crown.
In the women's 40-plus division Dutch paddler Petronella Van Malsen also picked up her second gold of the week, to add to the long distance crown she won on Friday, while Japan's Ryohei Yoshida gave a brave front-running display to take the men's 40-plus.
Marie Buchanan was another athlete to finish the week with two world titles. On Sunday the British paddler added the technical gold to the long distance crown she won on Friday in the women's 50-plus.
In the men's 50-plus, Spaniard Daniel Parres ended the triple-crown hopes of German Peter Weidert, successfully defending the technical gold he won in Poland last year.
RESULTS - TECHNICAL RACES
MEN
BAXTER Connor  (USA) 5:57.82
DELGADO Itzel    (PER) 6:01.11
MORILLO Antonio (ESP) 6:02.05
WOMEN
BARRERAS Esperanza (ESP) 6:45.96
LAFENETRE Melanie (FRA) 6:49.11
DUHAIME Juliette (ARG) 6:49.38
JUNIOR MEN
CANTORAL Sergio (ESP) 6:21.04
GARIOUD Vaic (FRA) 6:29.28
NARIAKIRA Shimazu (JPN) 6:32.68
JUNIOR WOMEN
POSTIGLIONE Claudia (ITA) 7:08.36
KOCSIS Csillag (HUN) 7:16.84
DAVIS Rosara (NZL) 7:23.93
MEN 40-PLUS
YOSHIDA Ryohei (JPN) 6:24.06
FRAGKOS Georgios (GRE) 6:28.96
TAUCHER Christian (AUT) 6:32.83
WOMEN 40-PLUS
VAN MALSEN Petronella (NED) 7:29.65
LIER Susanne (GER) 7:46.23
THOMAS Verity (GBR) 8:00.10
MEN 50-PLUS
PARRES Daniel (ESP) 6:28.89
WEIDERT Peter (GER) 6:33.55
FORASTER Marc (ESP) 6:40.59
WOMEN 50-PLUS
BUCHANAN Marie (GBR) 7:40.66
BERGH Marlene (NZL) 7:55.31
TRDLOVA Katerina (CZE) 8:16.15
Pics by Georgia Schofield