Frenchman Maxime Beaumont won his third consecutive canoe sprint ICF Super Cup title and Czech Martin Fuksa won for a second time on an action-packed day of paddling in Oklahoma City on Saturday.
There were also wins for Olympians Liudmyla Luzan of Ukraine and Serbia's Milica Novakovic over the 350 metre distance, raced under lights and in strong cross winds.
39-year-old Beaumont, who is still undecided if he will attempt to qualify for the Paris 2023 Olympics, held on over the 350 metres to defeat Hungary's K1 1000 Olympic silver medalist, Adam Varga, and Belarus's Dzmitry Natnchyk, who tied for second.
"It is a great result for me, because all day I've been hearing I am the oldest athlete here," Beaumont said.
"To win it three times, a hat-trick, is a great honour."
Ukraine's Liudmyla Luzan also finished with two medals, a remarkable achievement considering she did not arrive in Oklahoma City until the early hours of Saturday morning.
The two-time Tokyo Olympic medalist won gold in the 350 metres after finishing third in the morning's 1000 metre race.
Luzan only received her visa to fly from Ukraine to USA on Friday morning.
"This is what I came here for, to win a title, so I'm so excited," an exhausted Luzan said.
Canada's Katie Vincent finished second, while Chile's Maria Mailliard followed up her win in the 1000 metres with third place behind Luzan.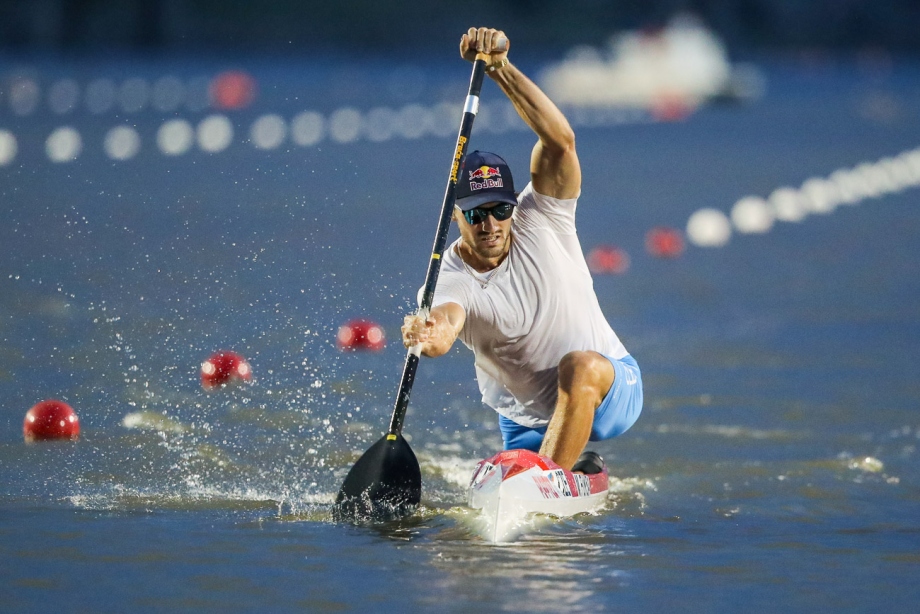 Martin Fuksa has now won two men's C1 Super Cup titles, having won in Linyi, China, and then repeating the result in a hard-fought men's C1 350 race.
He said he enjoyed the opportunity to race under lights for the first time.
"I'm very happy to be here and to compete against the best athletes in the world, and I hope this helps me ahead of the world championships," Fuksa said.
"I am glad I could show I can paddle strongly in the dark. Maybe it makes me feel like I am paddling faster."
Germany's Scheibner finished a close second behind Fuksa, giving him a second medal after he won the men's C1 1000 in the morning. Bulgaria's Angel Kodinov finished third.
Serbia's Milica Novakovic finished Saturday with two medals, winning the shorter 350 metre race after finishing second behind Serbian teammate Kristina Bedocs in the women's K1 1000 in the morning.
"It's been such a good day for Serbia, and I'm so happy to have won two medals," Novakovic said.
"It was challenging with the wind, but I'm just so glad I came here to Oklahoma City."
Poland's Anna Pulawska was a close second, with Ukraine's Mariya Povkh third.
Pics by Dezso Vekassy