Last weekend saw the first ICF Stand Up Paddling World Cup of the season held in Agios Nikolaos on the beautiful Greek Island of Crete Greece right in the heart of summer from 7-9 July.
The competition, which was also used as the national championship for the Greek Canoe Federation, saw paddlers of all levels come to compete and bask in the fantastic atmosphere. There were 290 athletes representing 28 countries that participated across three races; technical, sprint, and long distance, on the crystal clear waters of the Cretan Sea.
Denmark had a lot of success with Christian Andersen winning the technical and long distance as well as bronze in the sprint while Caroline Küntzel took gold and silver. Argentina's Juliette DuHaime took medals in all three races, while the ICF Junior World Champion, Cecilia Pampinella from Italy, took gold in the long distance and picked up medals in the other two events. The host nation's on-looking crowd had a chance to celebrate as Greece's Anastasios Tsouris claimed silver in the Men's long distance. 
Revisit live coverage from the technical, sprint and long distance.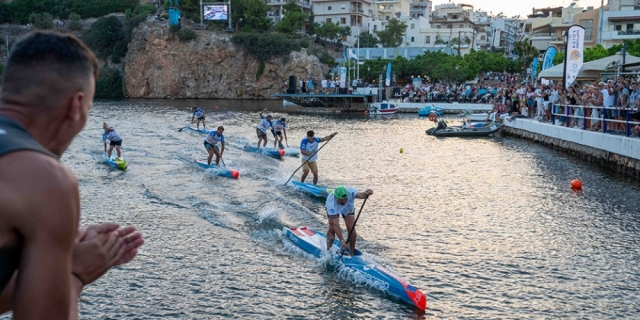 It was a fantastic start to the series and everyone was very impressed by the stunning venue and organisation of the event. The next ICF SUP World Cup will be held in Sarasota, Florida, USA on 13-15 October. 
The athlete's ultimate goal will be to be crowned world champions as they look forward to the pinnacle of the season; the 2023 ICF SUP World Championships in the exotic location of Pattaya Thailand. Held at the end of the year on 15-19 November, it promises to be the biggest stand-up paddling event to date and the anticipation is already building with over 200 entries from 31 nations have already signed up after registration opened only one week ago.
Sign up fast to ensure your place and avoid disappointment, you'll want to be a part of the festivities and celebrations in Asia.
Register for the 2023 ICF SUP World Championships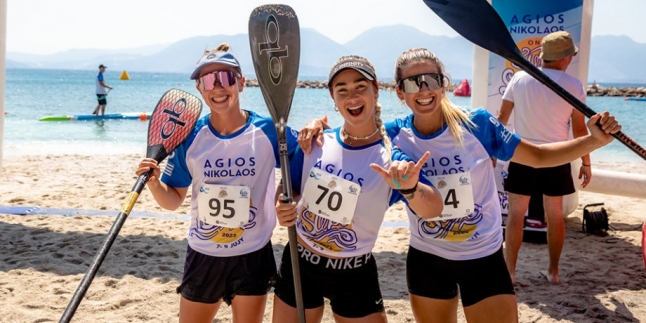 Full results from the competition can be found on the Agios Nikolaos 2023 SUP event website
Day 1: Technical
Women
Juliette DuHaime, Argentina
Caroline Küntzel, Denmark
Cecilia Pampinella, Italy
Men
Christian Andersen, Denmark
Paolo Marconi, Italy
Davide Alpino, Italy
Day 2: Sprint
Women
Caroline Küntzel, Denmark
Cecilia Pampinella, Italy
Juliette DuHaime, Argentina
Men
Andrey Kraytor, Bulgaria
Filippo Mercuriali, Italy
Christian Andersen, Denmark
Day 3: Long Distance
Women
Cecilia Pampinella, Italy
Anna Tschirky, Switzerland
Juliette DuHaime, Argentina
Men
Christian Andersen, Denmark
Anastasios Tsouris, Greece
Davide Alpino, Italy