Bent rudder no problem for Birkett and McGregor
The action-packed 2018 FNB Dusi Canoe Marathon dished up another dose of drama on day two with an end sprint deciding the men's stage winners, while the Peek sisters continued to dominate the ladies race on Friday.

Coming into the stage both men's and women's overnight leaders enjoyed a comfortable buffer, however after 46km of gruelling racing, the men's race had been dramatically reshuffled into a four boat race with Euro Steel's Andy Birkett and Hank McGregor winning the end sprint to claim stage honours.

The drama started early for the pre-race favourites who bent their rudder less than half an hour into the stage and had to take the stop and straighten it as they continued to haemorrhage time to the chasing duo of K2 crews.

"In the Dusi you have to try and deal with the mistakes that you make and try and recover from them," Birkett said afterwards.

"Our bent rudder meant that we were two-and-a-half minutes down at the bottom of Nqumeni portage but from there we just tried to stay as calm as possible and the goal was to make up the time on the dam."

They powered across the 12km stretch on Inanda Dam with the help of Carl Folscher and Adrian Boros to catch the leading group of Ant Stott and Banetse Nkhoesa and Sbonelo Khwela and Siseko Ntondini.

Birkett's partner McGregor took a very philosophical look at their day two performance.

"Dusi is one of those races where you are going to make a mistake and it is how you deal with that mistake that counts. 

"We decided to straighten it before the Confluence section but after that we said we would change it if we got a chance. If we bent it at one of the bigger rapids then paddling across the dam with the hand break on wouldn't help the cause.

"The goal was to catch the guys on the dam and we achieved that," McGregor stated.

The second stage of the Dusi has become known as the day that Ant Stott comes into his own. With the support of the powerful Banetse Nkhoesa in the back of the boat the pair showed exactly what they could do, finishing third on the stage.

"We had big dreams of doing what we did today but to actually have gone out and done it was a massive surprise to us.

"I've tripped the river a lot more this season than in the past. In previous year's I've just gone on previous knowledge but this year we have spent a lot of time in the valley which I think has paid off," Stott commented.

With just three seconds separating the front four boats after the second stage the final 36km into Blue Lagoon are going to give spectators a show that hasn't been witnessed in many years.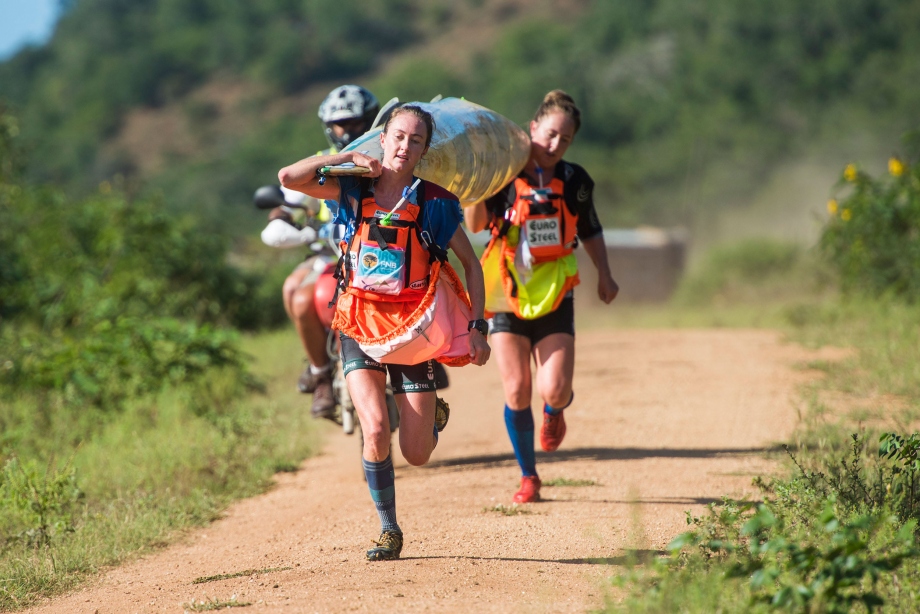 In fairly stark contrast overnight leaders in the ladies race the Peek sisters, increased their overnight lead on a day that supposedly doesn't play to their strengths with portaging being less influential over the 46km stage.

"We really thought that the other girls were going to catch us so in that sense we are really happy that we managed to keep our lead.

"My sister (Cana) flew down the Nqumeni portage and was incredibly strong, but we also didn't have any issues which made it a good day," Jordan mentioned.

The sisters were dreading the thought of the 12km on the dam at the end of a long day and despite them losing a bit of time they still have a four minute 59 second lead over the chasing pair of Christie Mackenzie and Bridgitte Hartley.

"I was absolutely broken by the end of the dam," Cana confessed at the finish. "I also didn't have any juice either which made it that much worse!

"My sister looked over her shoulder and could see I was suffering so she kept on encouraging me which helped hugely in getting me across the line."

Entrusted with the job of hunting down the leading ladies on day two, Euro Steel's Mackenzie and Hartley took the road less travelled down the Nqumeni portage following a slide down a section of rubble that caused a few cuts and bruises.

Apart from that, it was a strong performance from the pair who have just under five minutes to make up on the final day to win a maiden Dusi title.

"We can't give up I guess," a steely Hartley said. "We have to run and paddle as hard as we can and make absolutely no mistakes."

Coming home in third in the ladies showdown was the consistent pair of Jenna Ward and Vanda Kiszli, who currently sit just 14 seconds behind Mackenzie and Hartley. 

In the Under 23 men's showdown it was the pair of Nqobile Makhanya and Siyanda Gwamanda who took the stage spoils, however the top three in the Under 23 showdown are separated by just three seconds.

Mpilo Zondi and Mthobisi Cele are leading with Makhanya and Gwamanda a second back and Mvelo Ngidi and Thabani Msiya a further second back.

Maritzburg College's Hamish Mackenzie and David Evans still hold all the card in the junior boys showdown with a 19 minutes advantage over Dominic Leslie and Sam Speed, while Andile Mtolo and Kelly Tarr hold on to third.

The Junior Girls race Epworth's Caitlin Mackenzie and Amy Peckett have opened up a substantial lead over school mates Cara Waud and Tracey Oellermann in second. 

Michaelhouse's Ross Leslie and Sam Butcher were the strongest Under 16 pair following two strong showings on day one and two with Langelihle Shozi and Lindokuhle Maphumulo in second and the Epworth pair of Shannon Parker-Dennisen and Frances Forsyth in third.

The 2018 FNB Dusi's final stage takes paddlers from the start on Inanda Dam to the finish 36km later at Blue Lagoon.

SUMMARY OF RESULTS - 2018 FNB Dusi Canoe Marathon Stage Two

Overall
1.Hank McGregor/Andy Birkett 3:04:56.27 5:46:07.37
2.Carl Folscher/Adrian Boros 3:02:59.52 5:46:08.35
3.Ant Stott/Banetse Nkhoesa 3:01:26.55 5:46:09.20
4.Siseko Ntondini/Sbonelo Khwela 3:03:02.76 5:46:10.47
5.Jacques Theron/Thulani Mbanjwa 3:11:31.61 5:59:41.92
6.Loveday Zondi/Thando Ngamlana 3:11:11.70 5:59:43.03
7.Richard Cele/Nhlanhlayakhe Cele 3:18:53.01 6:07:25.50
8.Mthobisi Cele/Mpilo Zondi 3:20:41.83 6:09:06.07
9.Nqobile Makhanya/Siyanda Gwamanda 3:16:25.17 6:09:07.00
10.Mvelo Ngidi Thabani Msiya 3:19:00.82 6:09:08.04
11.Zonele Nzuza/Piers Cruickshanks 3:18:57.87 6:11:44.72
12.Mmeli Cele/Msawenkosi Mtolo 3:14:17.72 6:11:46.03
13.Hamish Mackenzie/David Evans 3:16:03.84 6:12:32.45
14.Jason Graham/Lucas Mthalane 3:19:03.58 6:20:52.90
15.Kwanda Mhlophe/Sipho Canham 3:23:49.66 6:22:00.39
16.Shaun Griffin/Dirk Van Den Berg 3:23:46.87 6:22:35.52
17.Stewart Little/Khumbulani Nzimande 3:19:35.78 6:22:36.66
18.Murray Haw Craig Carter-Brown 3:21:11.19 6:22:37.16
19.Raymond Radebe/Mlandeni Radebe 3:25:48.15 6:28:47.55
20.Thomas Ngidi/Mzamo Zondi 3:27:24.87 6:28:48.89

Women
1.Jordan Peek/Cana Peek (U23) 3:35:55.31 6:48:28.25
2.Christie Mackenzie/Bridgitte Hartley 3:35:48.94 6:53:27.61
3.Jenna Ward/Vanda Kiszli 3:39:30.28 6:58:41.45
4.Amy Peckett/Caitlin Mackenzie (U18) 3:45:22.87 7:13:50.85
5.Susan Machpech/Kelly Howe 3:57:29.50 7:21:43.76
6.Kyeta Purchase/Kerry Segal 3:50:27.45 7:23:06.28
7.Cara Waud/Tracey Oellermann (U18) 4:03:17.14 7:31:57.05
8.Kate Birkett/Nicky Irvine 4:35:59.00 8:25:41.91
9.Melissa van Rooyen/Lorna Oliver 4:24:13.75 8:38:22.76
10.Holly Spencer/Daniela Afonso 4:37:49.53 8:51:56.97

Under 23 Men
1.Mpilo Zondi/Mthobisi Cele 3:20:41.83 6:09:06.07
2.Nqobile Makhanya/Siyanda Gwamanda 3:16:25.17 6:09:07.00
3.Mvelo Ngidi/Thabani Msiya 3:19:00.82 6:09:08.04
4.Stewart Little/Khumbulani Nzimande 3:19:35.78 6:22:36.66
5.Jabulani Gwamanda/Nkosikhona Mabaso 3:33:15.00 6:35:37.02

Under 23 Women
1.Jordan Peek/Cana Peek 3:35:55.31 6:48:28.25

Under 18 Boys
1.Hamish Mackenzie/David Evans 3:16:03.84 6:12:32.45
2.Dominic Leslie/Sam Speed 3:35:24.09 6:41:46.57
3.Andile Mtolo/Kelly Tarr 3:36:56.17 6:46:28.59
4.Zanenhlanhla Mbala/Wongama Makhasi 3:50:21.77 7:08:57.53
5.Ross Leslie/Sam Butcher (U16) 3:41:48.01 7:09:40.95 

Under 18 Girls
1.Amy Peckett/Caitlin Mackenzie 3:45:22.87 7:13:50.85
2.Cara Waud/Tracey Oellermann 4:03:17.14 7:31:57.05
3.Casey Robertson/Anna Hauff 4:49:45.29 9:05:11.94

Under 16 Boys
1.Ross Leslie/Sam Butcher 3:41:48.01 7:09:40.95 

More information can be found at www.dusi.co.za
FOLLOW THE FNB DUSI CANOE MARATHON ON SOCIAL MEDIA
Facebook: www.facebook.com/DusiCanoeMarathon
Twitter: @DusiCanoe
Instagram: @dusicanoe
Hashtag: #FNBDusi2018
Nick Tatham