Canoe minnows just want the chance to compete with the best
Among all the canoe sprint heavyweight countries at this weekend's ICF World Cup 1 in Portugal will be five paddlers from the African nation of Senegal, paddling minnows by any measure who are desperately short on resources but long on enthusiasm.
In the whole of Senegal there are less than 10 boats for the athletes to train and compete in; and judging by the wide-eyed reaction to some of the boats being used by the European powerhouses this weekend, the boats back home are not the latest models.
They train on the ocean, and don't have the money to compete regularly at an international level. In fact, World Cup 1 in Montemor-o-Velho is likely to be their only major event this year.
Mamadou Diallo is a K1 500 paddler who will also team up with Para canoe athlete, Edmond Sanka, in the K2 500.
"Senegal is a small country and canoeing is not famous there," Diallo said.
"We would like to improve this in our country, but we don't have enough help from the Republic.
"We don't have enough boats. We have only six or seven boats in Senegal. We can't train enough, maybe two hours a day, because there are a lot of people but not enough boats."
Diallo, a two-time African Championship bronze medallist, and his teammates are hoping to get to Tokyo in 2020, and at the start of a new Olympic cycle the feeling is positive.
But given the barriers standing in their way, to get to the Games would be a medal-winning performance in itself.
"We need a lot of coaching, and a lot of training and competition," Diallo said.
"We don't have enough competition in our country. We just don't have the means at the moment."
The ICF Canoe Sprint World Cup 1 starts Friday morning and runs through until Sunday.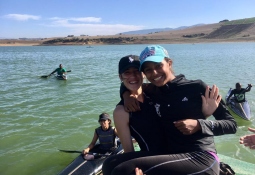 Canoe Slalom Canoe Freestyle