New Zealand's Lisa Carrington proved herself the best female paddler in the world in 2019, Germany showed off the depth in their men's team, and Brazil's Isaquias dos Santos broke through for the biggest win of his career on the final day of the ICF canoe sprint world championships in Hungary.
There was also much celebration among the capacity Hungarian crowd when their women's team took gold in the highly anticipated K4 500 final, while China showed once again its strength in canoe events, with a hard-fought gold in the women's C2 200.
Carrington followed up her dominant K1 200 gold from Saturday with a slashing win in the K1 500, just the second time she has won the title. The New Zealander flew out to a commanding lead, and won easing down over Belarus's Volha Khudzenka, with two-time Olympic champion Danuta Kozak third.
"The 500 is a really tough event, and the girls I compete against are just amazing, so you have to bring your best game to the world champs," Carrington said.
"The 500 requires a bit more work and a bit more strategy, so for me it's cool to be able to go out there and execute the race that I wanted to.
"This is just one race today, and in 12 months we have another one. It's really wicked to know the hard work I've put in and the hard training and the difficult times do pay off."
Brazil's Isaquias dos Santos had never won a major international gold medal in the C1 1000 before this week, but finally broke through in Szeged by overrunning two-time Olympic gold medalist, Sebastian Brendel. The German faded to finish fourth.
"It was very important for me to step up," Isaquias said.
"I knew I had to work harder to get the gold. It doesn't come easy, but I was ready to get the gold. For sure this gives me confidence, but it's the daily work that is going to get me into the Olympics."
Germany's Max Hoff is in line for a fourth Olympics after teaming up with 20-year-old Jacob Schopf to win the men's K2 1000, finishing ahead of Spain and France. Hoff joined Schopf earlier this year after regular partner, Marcus Gross, fell ill, and the pair have established themselves as Tokyo gold medal favourites.
"In 2017 I had some problems with motivation, but at the moment I am paddling because I like it, I have so much fun doing this," Hoff said.
"It is a dream if you are able to do it at this age like me, and that you have the chance and you are healthy and that you are strong enough."
"The quality in the German team is so high, so next year we have to show what we can also do," Schopf said.
"But it is my biggest aim now, to paddle in 2020 with Max."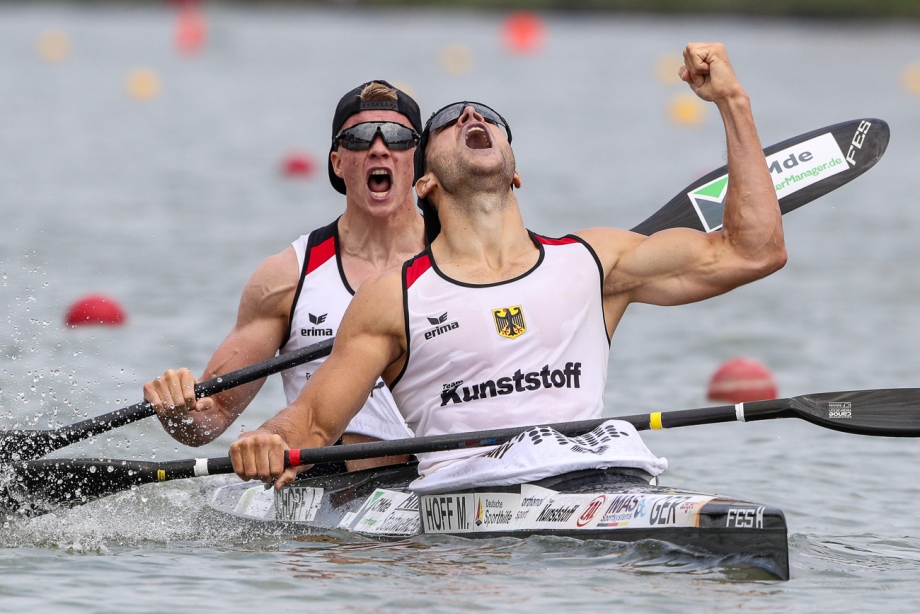 The much-anticipated showdown in the women's K4 500 turned into a tussle between home-town favourites Hungary, and the formidable Belarussian combination. The home crowd proved decisive as Dora Bodonyi, Erika Medveczky, Tamara Csipes and Alida Dora Gazso kept Hungary's incredible record in the event intact.
"In Hungary in the K4 you have pressure all the time, because there is so much competition for places," Medveczky said.
"It's hard because we have to win, and there is always pressure," Csipes, a K1 1000 gold medalist from Saturday, said.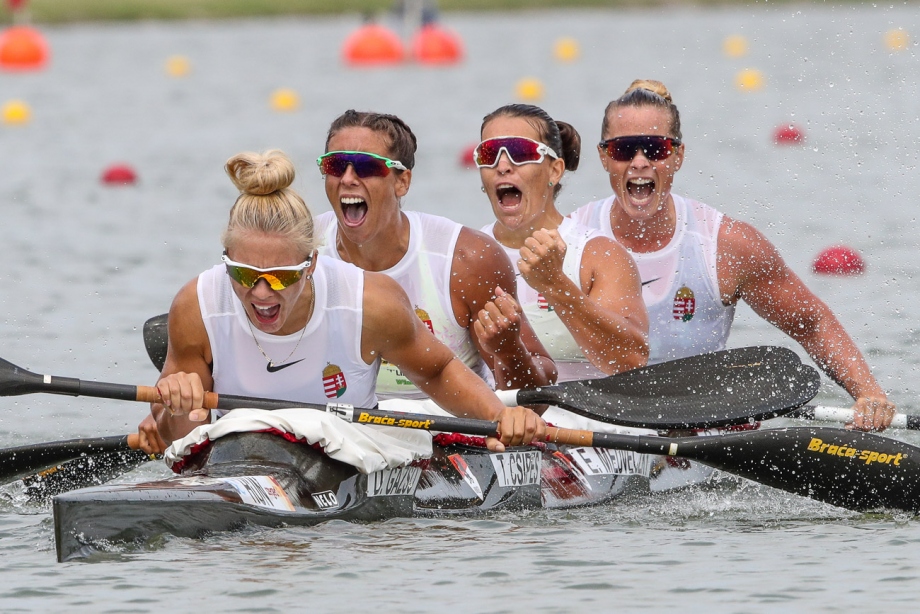 The German men's K4 of Tom Leibscher, Ronald Rauhe, Max Rendschmidt and Max Lemke had to dig deep to defend their title against an impressive Spanish combination, before eventually finishing half a second clear.
"To be sure it would be six Olympics, but every time is special, it's emotional, especially with these four guys," Rauhe said.
"And it's a special thing for me because I've not been there in a K4. We could feel this today was not just a world championships, it was a fight for a place at the Olympics."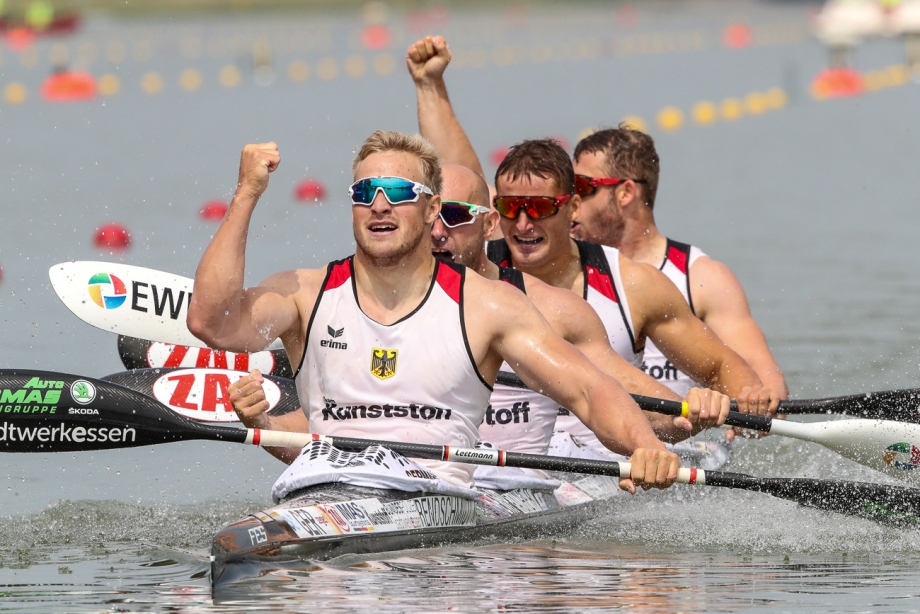 China's Mengya Sun and Shixiao Xu took advantage of the absence of world champions Laurence Vincent Lapointe and Katie Vincent in the women's C2 500 to post a convincing win on Sunday.
The pair were able to withstand a challenge by home-town favourites Kincso Takacs and Virag Balla.
"This is just the beginning for us, because this is qualification for the Olympics," Sun said.
"We have a very strong country, and a very good group and a good leader and we get lots of support so we can concentrate on what we do."