Denmark celebrated another gold medal, Hungary put on a canoe marathon masterclass, and Ukraine's Liudmyla Babak continued her dominance of women's canoe events on the penultimate day of the ICF world championships on Saturday.
Denmark's Mads Pedersen and Hungary's Vanda Kiszli joined Babak in defending the world titles they won in China in 2019, while Balazs Adolf in the men's C1 and Csanad Sellyei in the junior C1 added to Hungary's gold rush.
Hungary's dominance saw them win the gold and silver medals in three of the five races contested, headed by Vanda Kiszli and Zsofia Voros in the women's K1.
Kiszli underlined her class as a women's kayak marathon paddler, winning her third consecutive title. Kiszli looked in control for the entire race, and sprinted away from Voros and Great Britain's Lizzie Broughton for the gold.
Despite her dominance the 27-year-old said she had a lot of butterflies before the race.
"I did feel pressure, and it's not a good feeling. I was so nervous," Kiszli said.
"I sleep okay, but I couldn't eat. I was nervous, because if I don't eat than I will be hungry, than I will be more nervous, so it just goes around. But now I'm happy.
"I felt comfortable in the race, because I tried to not use all my energy on the portages, and save my energy for the finish because I knew every girl was fast. It was a tough race."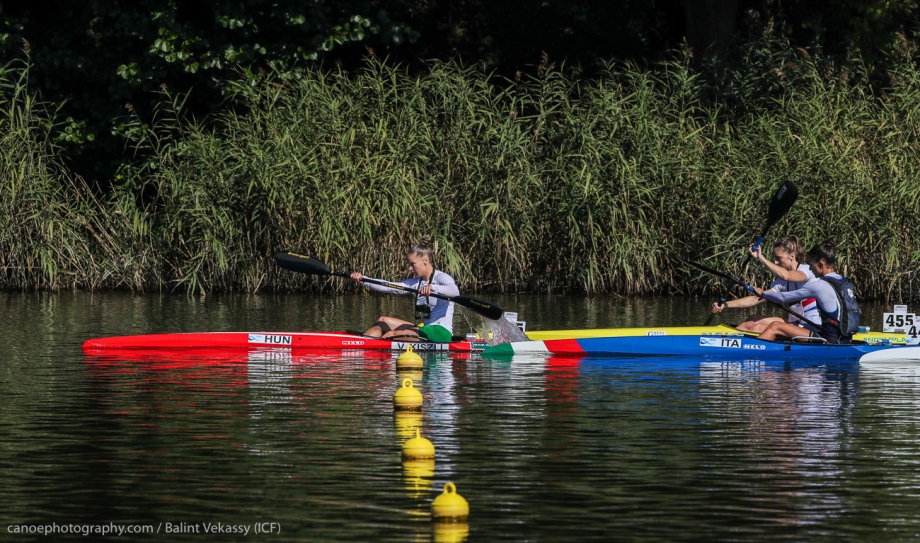 In 2019 Mads Brandt Pedersen won both the U23 and senior canoe marathon world within 24 hours. With only the senior title to focus on this year, the Dane was always going to be tough to beat. Only 2012 world champion Ivan Alonso of Spain was able to last the distance, before fading on the final lap.
"It was super tough, we had a very high average speed and we worked very hard to keep the distance to the chasers, so it was amazing to take the win," Pedersen said.
"I've been training for two years and thinking about taking the title again, so coming here after a year of Corona and being back on the world stage and to take the world championship again, it's absolutely amazing."
France's Stephane Boulanger put on a brave performance to take the bronze medal.
22-year-old Balazs Adolf put on a powerful display to defeat a paddler he described as an "Hungarian legend" in the men's C1, and in the process decimating the remainder of the field.
A field of 12 quicky began falling away as Adolf, four-time world champions Marton Kover and Manuel Antonio Campos of Spain surged ahead. The relentless pace eventually also told on Campos, the defending world champion left behind as the two Hungarians strengthened their grip.
Adolf, who won the men's C1 5000 at the ICF canoe sprint world championships last month, and opened this week with victory in the men's short-distance marathon, proved too strong on the final lap.
"As a junior I used to train at the same club as Marton, so It was such an honour to paddle alongside him, he is a legend in our sport," Adolf said.
"I just backed my sprint ability. In the future I will focus on Olympic events, but I want to keep competing in marathon."
Kover finished second, while Ukraine's Denys Davydov took the bronze.
At the age of 24 Babak has already chalked up six world titles – four over the traditional marathon distance, and two over the short course. The Ukranian has set herself a target of ten world titles, which does not appear overly ambitious given her dominance of women's C1.
She paddles at least 30 kilometres during every training run, much further than any ICF world championship distance. Besides her natural talent, it's the workload which sets her apart from most of her opponents.
"This was a hard race because at the start it took me a long time to get away from everyone," Babak said.
"But I controlled all the stages. My secret is doing a lot of kilometres on the training track."
There was a Hungarian quinella in the men's junior K1, with Csanad Sellyei a convincing winner over teammate Bruno Kolozsvari, with Argentina's Julian Salinas taking the bronze.
RESULTS
K1 WOMEN
KISZLI Vanda (HUN) 02:05:14.38
VOROS Zsofia (HUN) 02:05:17.44
BROUGHTON Lizzie (GBR) 02:05:18.09
K1 MEN
PEDERSEN Mads (DEN) 02:03:38.96
ALONSO Ivan (ESP) 02:04:03.61
BOULANGER Stephane (FRA) 02:05:29.31
C1 MEN
ADOLF Balazs (HUN) 02:02:58.08
KOVER Marton (HUN) 02:03:07.70
DAVYDOV Denys (UKR) 02:06:05.98
C1 WOMEN
BABAK Liudmyla (UKR) 01:21:01.53
KLIMAVA Volha (BLR) 01:22:40.47
KISBAN Zsofia (HUN) 01:22:56.90
K1 MEN JUNIORS
SELLYEI Csanad (HUN) 01:40:33.76
KOLOZSVARI Bruno (HUN) 01:40:45.58
SALINAS Julian (ARG) 01:40:47.02
Pics by Balint Vekassy