A significant changing of the guard took place at the 2021 ICF Canoe Sprint World Championships on Sunday, with three first-time world champions and two title holders reclaiming their gold medals in Olympic-class events in Copenhagen.
Canada's Katie Vincent and New Zealand's Aimee Fisher stepped out from the shadows of high profile teammates, Italy won its first ever C2 men's 500 gold, Spain returned to the top of the podium in the men's K2 500 after a four year absence, while the Belarus women's K4 500 ended an even longer drought, returning as world champions after six years.
Katie Vincent had never won a senior world championship medal in the women's C1 200 before Sunday, having watched on as her teammate and C2 partner Laurence Vincent-Lapointe took six of the past eight titles.
But Vincent finally broke through on Sunday, outsprinting Spain's Antia Jacome and Poland's Dorota Borowska.
"All this hard work for the past few years to get to this point, and now I'm looking forward to the future," Vincent said.
"I really feel like this is the beginning, there is a long road to go for me. I'm really looking forward to worlds next year at home, to be the reigning world champion added into a home world championships will be super exciting.
"I have ups and downs since Tokyo, there were a lot of emotions and things to process, and there still is. It kept me going and I reconnected with my love for this sport."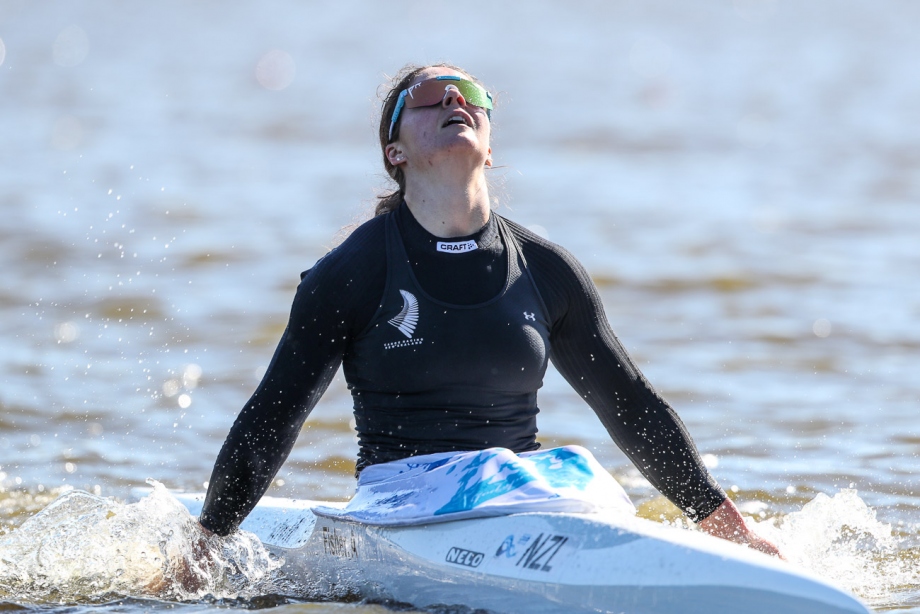 New Zealand's Aimee Fisher also won her first K1 500 world title, a race in which teammate Lisa Carrington was the reigning world champion and current Olympic champion. Fisher was controversially left out of the New Zealand Tokyo Olympics team.
"That was so special, so special for everyone back home," Fisher said.
"It's been tough. It's definitely had its moments when I wanted to walk away, to give up because I didn't think I could do it. But this is the icing on the cake to come here today, and show to myself that I can do this.
"It's very liberating to have so much ownership over my sporting pursuits. There's been a few times when there's been tears, and I wanted to run away and leave the venue, but pressure is a privilege."
Olympic silver and bronze medalists Tamara Csipes of Hungary and Emma Jorgensen of Denmark once again filled the minor placings on Sunday.
Italy won its first ever C2 500 world title, an event which will be added to the Paris 2024 Olympic programme. Nicolae Craciun and Daniele Santini won their first title as U23 paddlers in Europe eight years ago.
"We are so excited, we made Italian history, so for us it is very important, the first gold medalists and world champions in this Olympic distance for Italy," Craciun said.
"From this world championships begin a new Olympic cycle, so to start with this win is very good for us."
Hungary's Jonatan Hajdu and Adam Fekete finished second, while Viktor Melantev and Vladislav Chebotar won bronze for the Russian Canoe Federation.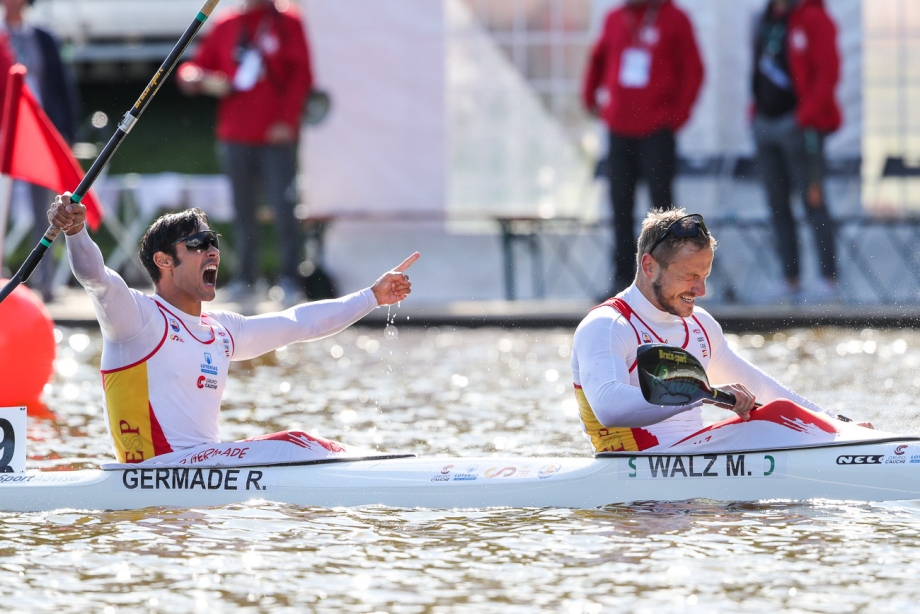 Spain's Marcus Walz and Rodrigo Germade last won the men's K2 500 world title in 2017, and after just scraping into Sunday's final, returned to the top of the podium in an event which will also be added to the 2024 Olympic schedule.
"It's been tough to get to the final, it's been tough to train after the Olympic Games, it was difficult to maintain our physical performance," Walz said.
"We've done one of the best races our life. We have been doing the K2 500 together for a few years, we love this distance, we love paddling together. Finally this race is an Olympic event, so this is great and we are very happy, so for now we want to keep paddling together.
Germany's Tobias Schultz and Martin Hiller took the silver, and Slovakians Samuel Balaz and Denis Mysak the bronze.
The only team to beat the Hungarian women's K4 in the past nine years was Belarus back in 2015, and on Sunday the exact same quartet again inflicted a rare defeat on the reigning Olympic champions.
Marharyta Makhneva, Nadzeya Papok, Volha Khudzenka and Maryna Litvinchuk celebrated a decade of paddling together with a nail-biting finish.
"It happened because we believe in ourselves every time, and finally after so many second and third places, we won,"Khudzenka said.
"It's a great result for us and our country. We are like a puzzle and together we make one big piece. Every time we believed it could happen, and it happened right now."
Hungary finished just point one six of a second behind Belarus, with the Russian Canoe Federation taking the bronze.
Pics by Bence Vekassy