China has snared three of the four canoe sprint gold medals on offer on the second day of the ICF world cup in Paris, as athletes continue to test the conditions on the course where next year's Olympics will be held.
In paracanoe Great Britain picked up another two gold while there were also golds for Brazil and Chile.

China took gold in the women's K4 500 and the men's and women's C2 500. The Hungarian men's K4 500 crew won the other gold on offer.

"The race was good, the water feels good, we are racing on the Olympic course so we are excited," K4 crew member Dongyin Li said.

"Definitely the wind will have an effect, but that's part of the game and we will try and deal with it."

The New Zealand women's K4, who became world champions in Duisburg, finished second behind China.

"The course is really good, being here is really important for next year, to see the conditions with the side winds and the tail wind yesterday afternoon, I think it's really important for us to get used to what is here, what it's like, so that we can prepare for next year," Lisa Carrington said.

Germany picked up the bronze medal.

In the women's C2 China's Shixiao Xu and Mengya Sun continued their incredible run which hasn't seen them beaten since they won gold at the Tokyo Olympics. On Thursday they added a world cup gold to their collection, with crews from Canada filling the minor placings.

Canada's Katie Vincent, silver medalist alongside Sloan MacKenzie said she could feel a lot of similarities with the last Olympic venue.

"It's pretty windy here, reminds me of Tokyo a bit with the cross winds, but the facilities are beautiful, the tower is beautiful, I think it's a lovely course to be paddling on," Vincent said.

"You can only control what you can control, and you can't control the weather, so it's just something to keep in mind when we're training and to stay positive."

Canada's Sophie Jensen and Julia Lilley Osende won the bronze.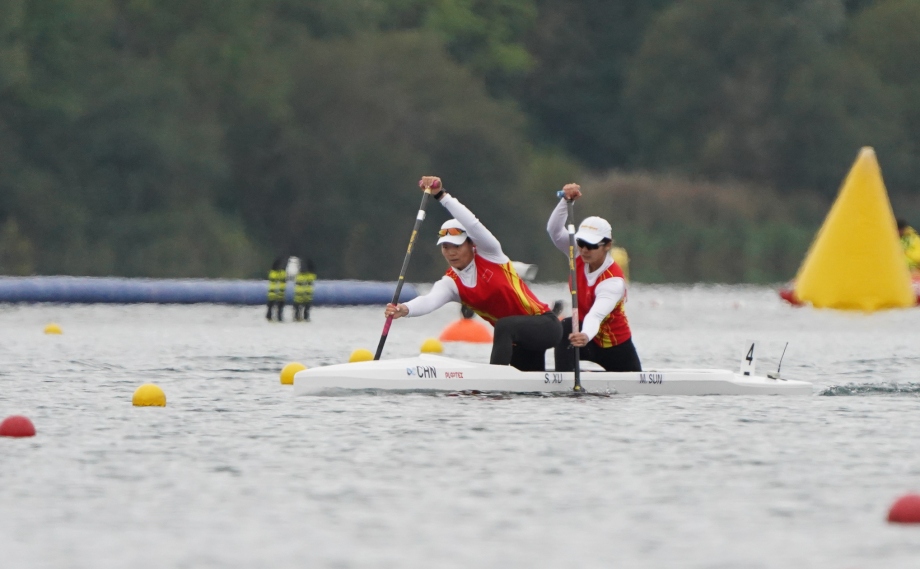 The final gold medal for China came in the men's C2, with Hao Liu and Bowen Ji finishing ahead of Petr and Martin Fuksa of the Czech Republic, and Italy's Gabriele Casadei and Carlo Tacchini taking the bronze.

The Hungarian men's K4 won silver at the Duisburg world championships, and followed up with world cup gold on Thursday. Team member and Tokyo K1 200 gold medalist Sandor Totka said earning the Olympic quota last week has relieved a lot of stress for the team.

"We had quite a lot of pressure, with the K4 just having one chance to get the Olympic quotas, and we were drawn in a hard semi-final, so one mistake and we would have been out of the race," Totka said.

"Luckily we managed it, so then the final was a fun game, we were more relaxed and were able to enjoy the racing, so the silver medal was a great experience."
Great Britain picked up gold through world champion Charlotte Henshaw in the women's KL2, with teammate Emma Wiggs once again finishing second and Hungary's Katalin Varga third, and Stuart Wood in a very competitive men's VL3, with Austrian Markus Swoboda taking silver and Brazil's Giovani Vieira de Paula third.
Brazil's VL2 Paralympics gold medalist Fernando Rufino once again got the better of his teammate Igor Tofalini, as he did in last week's world championships, with Hungary's Robert Suba taking the bronze.
Chile's Katherinne Wollermann broke through for the biggest win of her career in the women's KL1, beating out Paralympic gold medalist Edina Mueller and Canada's Brianna Hennessy.
The ICF sprint and paracanoe world cup finishes in Paris on Friday.

More information can be found here.
Pics by Romain Bruneau