Renata Csay and Hank McGregor are the two biggest names in canoe marathon history, and on Sunday they added another gold medal to their healthy collection.
This time they shared the moment with their respective K2 partners, on the final day of the 2018 ICF Canoe Marathon World Championships in Prado Vila Verde, Portugal.
McGregor, a seven-time individual champion, clocked up his fourth K2 title, teaming up for the first time with Andy Birkett to hold out Hungary's Adrian Boros and Laszlo Solti, with Spain's Miguel Llorens and Luis Perez finishing third.
McGregor shocked the paddling world when he announced he would only contest the K2 this year, but he as being coy about his future after Sunday's win.
"I had a fantastic time, number 11, it was an honour paddling with the current world champion," McGregor said.
"That was probably the hardest thing for me, sitting in the commentary box watching everybody operate. It was an honour to watch Andy do what he does best.
"You never say never, next year is another year, but I'm just going to enjoy the moment right now."
24 hours earlier Birkett, in the absence of McGregor, won his first ever K1 world title.
"To be honest, after two laps I wanted to say to Hank I want to jump off and have a sleep, I was pretty broken," Birkett said.
"But that's when teamwork really makes all the difference. It was awesome paddling with Hank, such a thrill, the whole journey was awesome. I loved the race."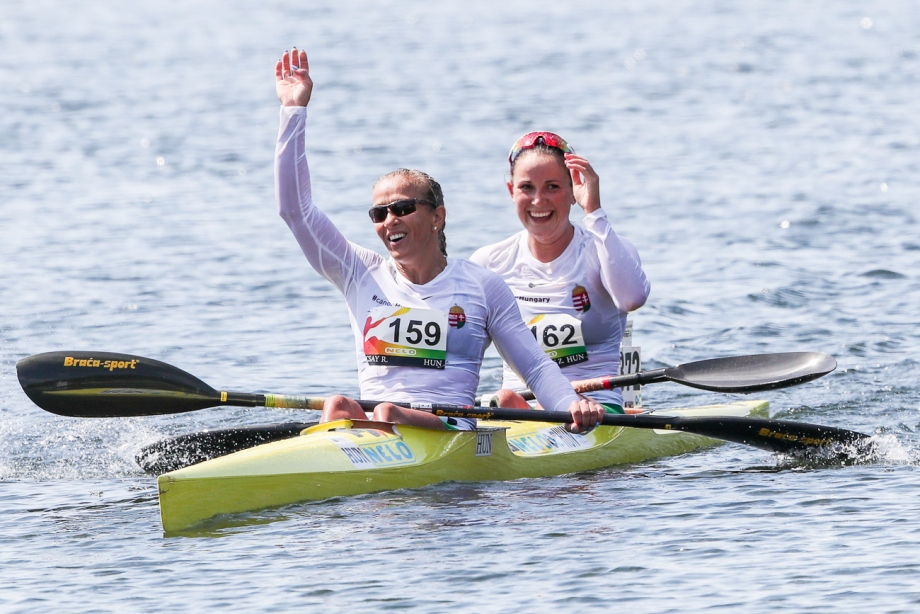 Hungarian canoe marathon legend Renata Csay chalked up her 12th K2 World Championship gold medal and her 19th title overall in a mesmerising performance in Portugal on Sunday.
41-year-old Csay teamed up with 22-year-old Zsofia Czellai-Voros to blitz the women's field, finishing almost three minutes ahead of Spain's Eva Barrios and Amaia Osaba, with another Spanish crew, Tania Alvarez and Tania Fernandez, finishing third.
"I really love this, I really love to do this," Csay said.
"This is always what motivates me, it is my greatest pleasure."
Czellai-Voros won the women's K1 U23 gold earlier in the week and said she was thrilled to paddle with Csay.
"It was a great way to introduce our new K2, and it was a great pleasure to race with Renata for her 19th gold medal," Czellai-Voros said.
"I just want to say thank you to her that she chose me."
Csay and Czellai-Voros had the race to themselves after fellow Hungarians Vanda Kiszli and Sara Mihalik were forced to withdraw with rudder problems.
Csay is also a seven-time K1 world champion, but missed a place in this year's field after finishing fourth behind Kiszli, Mihalik and Czellai-Voros in the Hungarian selection trials.
Earlier in the day Spain's Diego Romero and Oscar Grana won the men's C2 title, beating Hungary's Zoltan Koleszar and Levente Balla and the Czech Republic's Jakub Brezina and Jan Dlouhy.
It was Grana's fourth C2 title, but his first alongside Romero.
"This was a very good race for us," Grana said.
"It's great racing here in Portugal. There's a great Spanish crowd.
"It was a hard race, the first lap was very difficult."