Hosts Hungary's produced an exceptional medal winning tally of 12 golds, 10 silvers and 5 bronzes as the ICF Canoe Marathon World Championships concluded in Gyor this afternoon.
Renata Csay (HUN) overcame the disappointment of losing her K1W title yesterday by dominating this afternoon's K2W event with partner Alexandra Bara. 
The pair led from start to finish with the closest pursuers, Lenka Hrochova and Anna Koziskova (CZE), never closing the gap after getting away from a disintegrating chase pack at the midway point.
The Hungarians maintained their lead of a minute and ten seconds over the Czechs, and Italy's Anna Alberti and Stefania Cicali, through portages three and four. By portage five the lead had to a minute and 21 seconds.
With victory assured the home favourites even had time to wave to the local crowd on the final portage before effectively performing a lap of honour on the final circuit.
"I feel that this day made up for yesterday because we were very successful in the race - we had a start to finish win," said a thrilled Csay afterwards.
"I really don't know what happened yesterday because we had a really good training session and we were really prepared for this race. But somehow I got cramp in my muscles, which I had never had before, and this caused the problem."
"Afterwards I had a rest, I filled up me energy sources with vitamins and carbohydrates so I was prepared for the race today."
"It was our plan to have a good start because we knew that we needed to get a good position to beat our main competitors who started from the other side."
 Having collected her sixteenth marathon Worlds title, Csay confirmed the plan is very much to keep going in the sport  "Yes, I am definitely going to pursue my career," she added.
In the most thrilling race of the championships, and one of the most exciting finishes in the history of marathon racing, Hungary's Adrian Boros and Laszlo Solti beat the defending champions Hank McGregor and Jasper Mocke (RSA) on the finish line.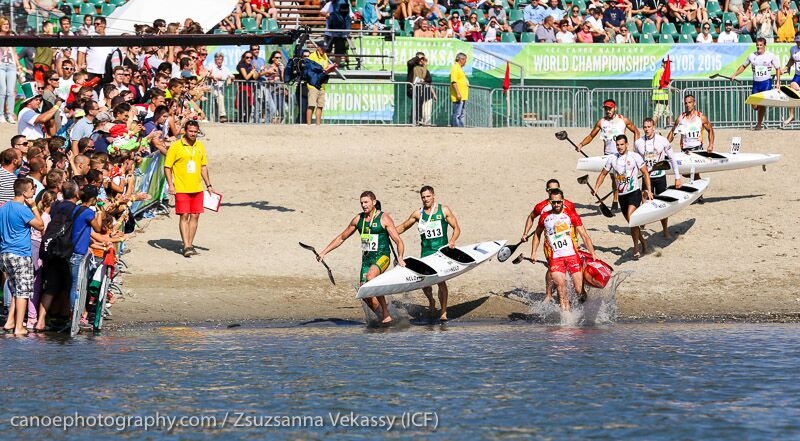 It had all began at the third portage when Boros and Solti (HUN) broke away aggressively, followed by Hank McGregor and Jasper Mocke (RSA).  Alvaro Fernandez and Walter Bouzan (ESP) jumped across to join them and the trio worked well together for the next three laps. 
On the final long lap of seven, with the pack led by well over a minute, the Hungarians were tactically perfect on the bottom turn, coming out in front.  They were fastest on the last portage with followed into the water by South Africa and dropping the Spanish.
After the final turn South Africa attacked with 300 metres to go, got ahead and looked to have it all sown up.  But, roared on by the Hungarian crowd, Boros and Solti fought back and took the win on the line.
"We got up this morning, saw each other and just thought that we could win this race. We wanted to win."
"In the end, when we saw we were only tow, we pushed a lot and the hungarian support helped us win. I am really proud I won this race in my country, this is like a dream" declared a tired but satisfied Laszlo Solti.
In the C2M event, Marton Kover, yesterday's C1M winner, partnered Adam Docze (HUN) to an utterly dominant victory.  In the early stages of the race they had shared the lead with Jose Manuel Sanchez and Manuel Antonio Campos (ESP), before breaking away to build a big gap and were never threatened.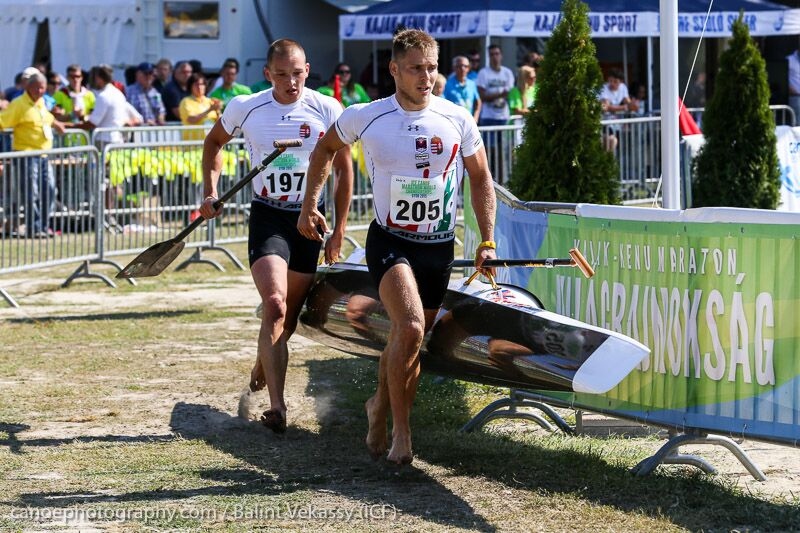 The Hungarians finished in first place over four and a quarter minutes ahead of Spain's Oscar Grana and Ramon Ferro.
In the morning's session Hungary's Kean Mayer and Erik Petro delivered a paddling masterclass of power, efficiency and timing to win the junior K2M.  The pair lead from the first lap of the 22.2km race, and by the finish line they had established a margin of more than a minute over their compatriots Peter Acs and Csaba Erdossy.
"These championships were the main point of the year because it's in Hungary so it's a really good feeling to win here at home," said Petro.
"We have been paddling together for one year but the first time together we felt good so we decided to keep paddling together for this year."
The host nation added a further gold and silver in the junior C2M after Zoltan Koleszar and Milan Moldovan completed the race over a minute up on Jeno Kristof Hajnal and Mihaly Aron Takacs.
Check out full results here: http://results.digicorp.hu/competition/16777323/races