Austria once again underlined its canoe slalom potential with double gold medals on Saturday at the 2017 Junior and U23 European Championships.
Viktoria Wolffhardt and Mario Leitner celebrated gold medals in the kayak U23 finals. Laia Sorribes is Junior European Champion in women's kayak event and Tine Kancler in men's kayak.
Vojtech Mružek and Albert Kašpar were the fastest in men's C2 U23 final.
Austrian team had a lot of reasons to celebrate and the team leader Helmut Oblinger, former European Champion himself, did not have anything against a celebration in a mud bath in front of the team tent after the success of his protégées.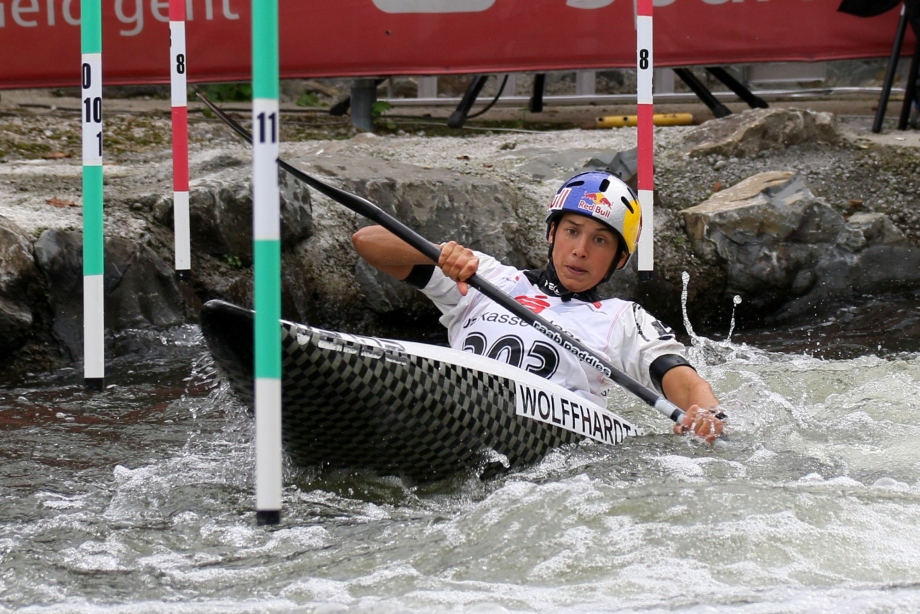 Viktoria Wolffhardt produced the best run in women's U23 kayak final to win the European Champion title. She will have another chance for a medal in Sunday's women's canoe event. Karolina Galuškova from Czech Republic actually paddled faster than the Austrian, but picked up four penalty seconds on her way which cost her gold medal. She was only 0.41 second behind. Camille Prigent from France won bronze medal.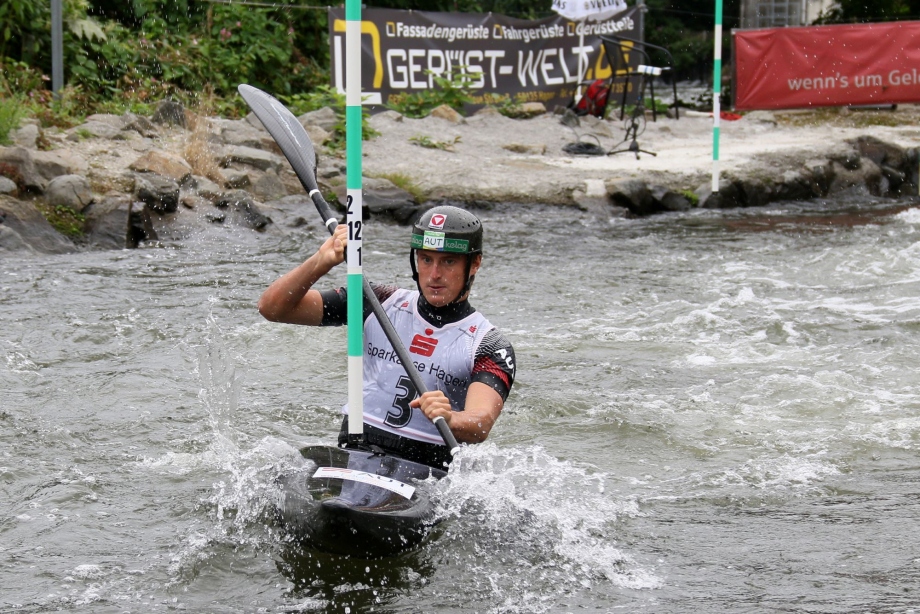 Mario Leitner, who represented Austria at last year's Olympic Games in Rio, already won a medal at this year's U23 World Championships in Bratislava. There he had to congratulate Slovak Jakub Grigar, and here he was the one who received compliments for the superb run. Jakob Weger from Italy and Žan Jakše from Slovenia joined him on the winner's podium.
"It was pretty hard. I knew everybody would go as fast as possible, I had to keep up with that," Leitner said.
"I tried my best. It did not quite work out with that at the top of the course, but then I heard I am two seconds behind, so I knew I have to go as fast as possible. And I did. The course was good, pretty fluent."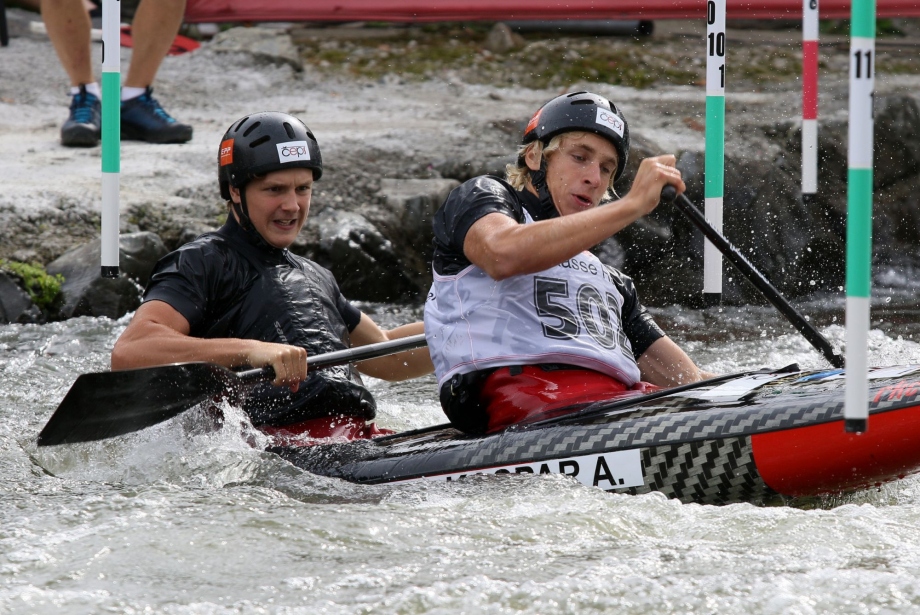 In the men's U23 C2 final Czech duo Vojtech Mružek and Albert Kašpar showed their best form already in the heats. They finished third in their semi-final run, but the crucial run of the championships was again one of their best which was enough for the gold medal.
Reigning U23 World Champions Juraj Skakala and Matuš Gewissler from Slovakia were second and Russians Pavel Kotov – Sergei Komkov finished third.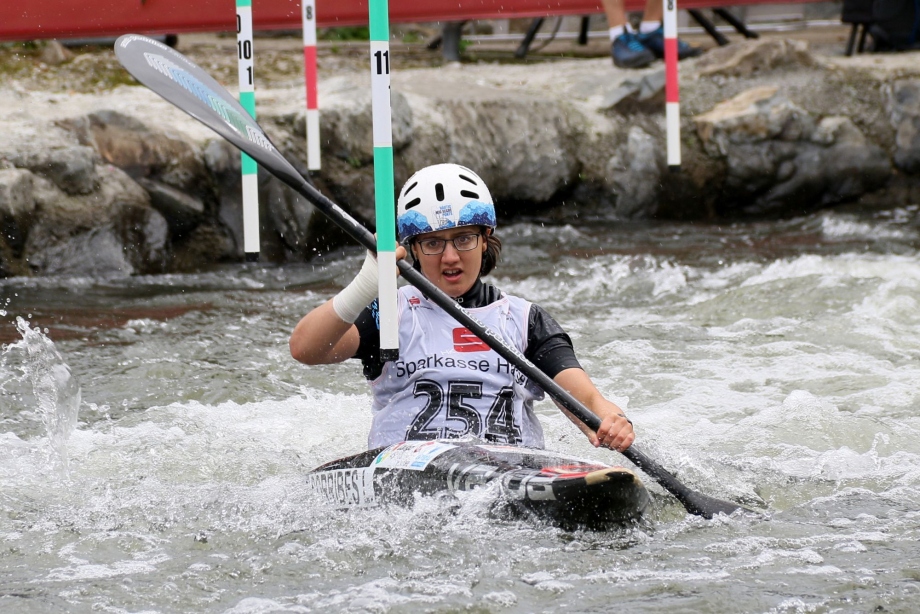 Laia Sorribes, the young Spanish paddler who won medals last year both at Junior World and European Championships, set the fastest time in her final run and none of the opponents still at the start could improve her time.
"It was good, very good. At first it cost me a little, because I struggled with pain in my wrist for the whole week," Sorribes said.
"I injured myself during the second day of training and it bothered me every day. The season started with World Championships where I entered the final, but there I made a small mistake that cost me a lot of time. But the season finished well."

Antonie Galuškova (CZE), reigning Junior World Champion, finished this event in the silver medal position while Romane Prigent (FRA) picked up bronze medal.
It was a family business in women's kayak events. Galuškova sisters – Antonie and Karolina – were second in Junior and U23 categories, while Prigent cousins Camille and Romane picked up bronze medals in their respective events.
Tine Kancler celebrated Junior European Champion title in the last final of the day, the men's kayak event. The young Slovenian paddler has been among the best and most promising young paddlers for some time now, but failed to win a medal at the major Junior events.
"I was euphoric throughout the race. I had some extra power and I just paddled," he said.
"After the mistake in the upper part I thought everything is lost, but I managed to rescue myself. This medal is even more important for me because I always made mistakes in the past and always missed a medal only by a bit."
Adam Gonsenica from Slovakia was second and Simon Hene from France third in K1M Junior final.
Spectators on the river banks of the Lenne River also saw paddlers in Junior C2 category, but this was not an official European Championships event, since there were not enough boats on the start. It was Czech crew Vrublovsky – Novotny who won in front of Greek duo Pantazis – Arvanitis and Russians Lipihkin – Stafeev.
On Sunday we will see semi-finals and finals in C1W and C1M junior as well as U23 categories. The competition will start at 11:00.
Results: https://siwidata.com/canoe123/eca?SessionKey=siwidata.1190
Livestreaming: https://www.youtube.com/CanoeEurope
RESULTS
C2M U23
1. Mružek - Kašpar CZE
2. Skakala - Gewissler SVK 3. Kotov - Komkov RUS