Chile's Maria Mailliard and Moldova's Serghei Tarnovschi both picked up double gold medals on a busy day of finals at the invitation-only ICF Canoe Sprint Super Cup in Oklahoma City on Saturday.
Mailliard and Tarnovschi won the women's and men's 350 metres C1 finals, Slovenia's Anja Osterman took gold in the women's K1, and Lithuania's Arturas Seja triumphed in the men's K1.
Earlier in the day the first International Canoe Federation Super Cup mixed relay medals were decided, with Belgium's Hermien Peters and Germany's Tom Liebscher winning K1 gold, and Chile's Mailliard and Moldova's Tarnovschi taking the C1 title.
A good crowd turned out to watch the 350 metre finals under lights at Oklahoma City's Riversport venue, with the strongest ever Super Cup fields featuring Olympic and world champions.
Osterman capped off a solid season by leading all the way in the women's K1 final, holding out a fast-finishing Anna Pulawska from Poland who had made a slow start to the final. Australia's Alyssa Bull finished fastest to snatch the bronze medal.
In the men's K1 Lithuania's Seja made the fastest start, but was soon overhauled by German Olympic and world champion Max Lemke. But Seja, best known as a 200 metre paddler, found extra speed at the finish to overtake Lemke in the race for the line.
Czech Josef Dostal took the bronze.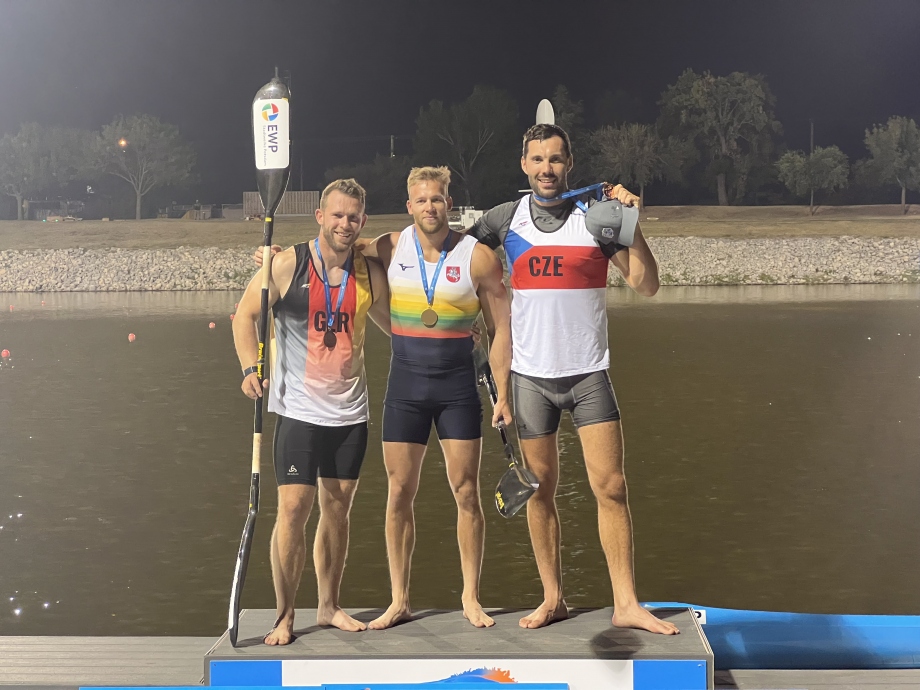 Maria Mailliard's experience as a C1 5000 metre paddler came to the fore in her two races on Saturday, culminating in a hard-fought win over Canadian 2021 world champion Katie Vincent and Spain's Maria Corbera in the 350 metre race.
In the tightest race of the day, Serghei Tarnovschi survived a photo-finish to win the men's C1 final. The Moldovan was 0.02 of a second ahead of Czech two-time Super Cup winner, Martin Fuksa, with Romania's reigning world champion, Catalin Chirila, taking the bronze.
The new mixed relay format featured teams of one man and one woman, drawn randomly, each racing 750 metres, which included one bend. The teams could decide who should paddle the first leg.
A group of four athletes were bunched tightly together after the first leg of the K1 relay, with Peters and Poland's Anna Pulawska fighting out the finish.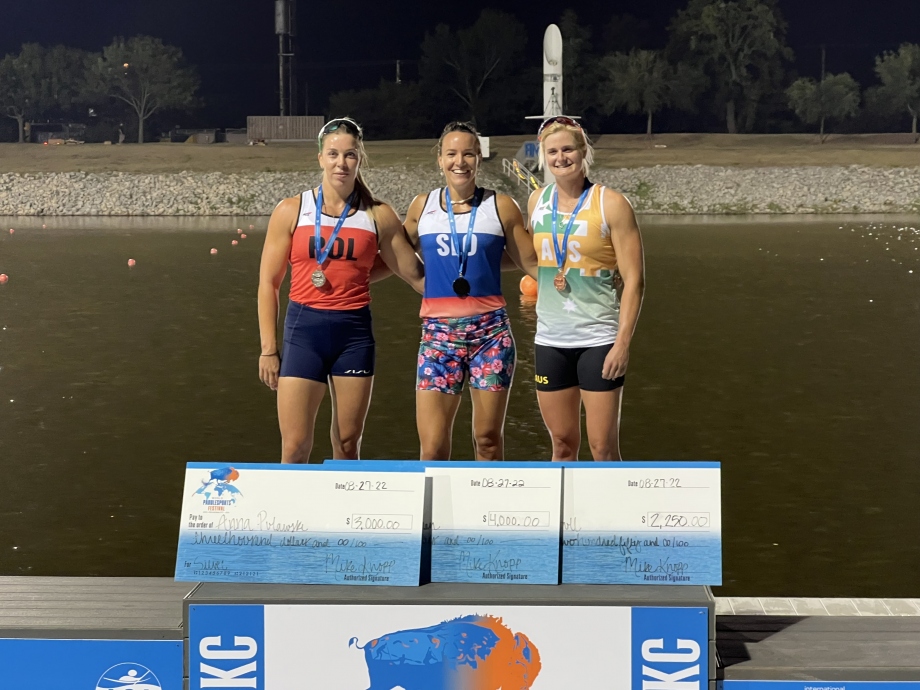 "It was so busy and we didn't know what was going to happen, there were guys behind me, girls in front of me, so it was quite difficult to position well for the transition," Peters said.
"I knew the longer the distance, the better for me. I was excited to race, it worked out nicely."
Liebscher said he enjoyed the format, even if it was a little confusing.
"The changing was a bit confusing because there were 11 boats that had to change, but we did a good job," Liebscher said.
"It was fun, but maybe shorten the distance and do more changes, it would make it quite interesting."
Poland's Anna Pulawska and Czech Josef Dostal took the silver, while Poland's Rafal Rosolski and Australia's Alyssa Bull took the bronze.
Unlike the K1, the mixed C1 was decided early after Moldovan Serghei Tarnovschi opened up a commanding lead, handing off to Chile's Maria Mailliard who was untroubled in taking the gold.
"I'm fast for 5k and 500 metres, so this was good because it was like a sprint but with turns, which gave me the chance to give Maria more distance," Tarnovschi said.
"I was super nervous, because he was so good and I did not want to do a bad job," Mailliard said.
"It's an interesting race. I liked it, it was fun."
Tarnovschi's brother, Oleg, teamed up with Ukraine's Liudmyla Luzan to take the silver, while fellow Ukrainian Pavlo Altukhov and Spain's Maria Corbera took the bronze.