Excitement builds ahead of Ocean Racing World Championships
The 2017 Ocean Racing World Championships are a month away, and excitement is building. Hong Kong is certain to be a wonderful host, judging by the preparations so far.
Entries are looking fantastic, and the course is sure to showcase the majesty of Hong Kong's waterways. Check out the latest event bulletin here.
The 2017 World Championships will be held on the weekend of November 18/19.
There is a special offer for friends joining ICF ORWC but have not booked the hotel yet!!
Package Fee: USD 450 per person
This includes the cost for
1. Accreditation
2. Airport transportation
3. 5 nights' accommodation
4. Shuttle bus service between hotel and venue
5. Lunch on venue (only on 18th and 19th NOV)
6. Farewell Party
*The package fee DOES NOT INCLUDE entry fee*
Should you have any enquiry, please feel free to contact us via email (oceanracing2017@hkcucanoe.com.hk).
Organising Committee
3rd ICF Canoe Ocean Racing World Championships 2017
Cum 1st ACC Canoe Ocean Racing Asian Championships 2017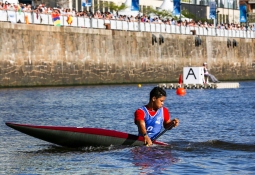 Canoe Sprint Canoe Slalom