The first gold medals of the ICF Sprint and Paracanoe World Cup in Paris have been decided, with world champions Emma Wiggs, Curtis McGrath and Hope Gordon maintaining the form which took them to the top of the podium in Duisburg less than a week ago.
Athletes battled gusty wind on the course where sprint and paracanoe races will be held during the Paris Olympic and Paralympic Games.
Great Britain's Emma Wiggs continues to dominate the women's VL2, where she has five consecutive world titles to go with the Paralympic gold she won in Tokyo. On Wednesday she added another world cup gold to the collection.
"That was wavy and windy, it was pretty brutal and I'm hoping it's not going to be like that if I am lucky enough to be here next year," Wiggs said.
"Its an amazing feeling, I think the venue has great potential, hopefully they'll get some more stands up and make it a bit more sheltered, but I think they will be able to put on a great Games from what I've seen so far."
Australia's Susan Seipel won the silver, and Canada's Brianna Hennessy the bronze.
Like Wiggs, Australia's Curtis McGrath has dominated his KL2 class, winning two Paralympic gold medals and five world titles. McGrath was this week officially named as a co-captain of the Australian Paralympic team for Paris, and celebrated with gold on Wednesday.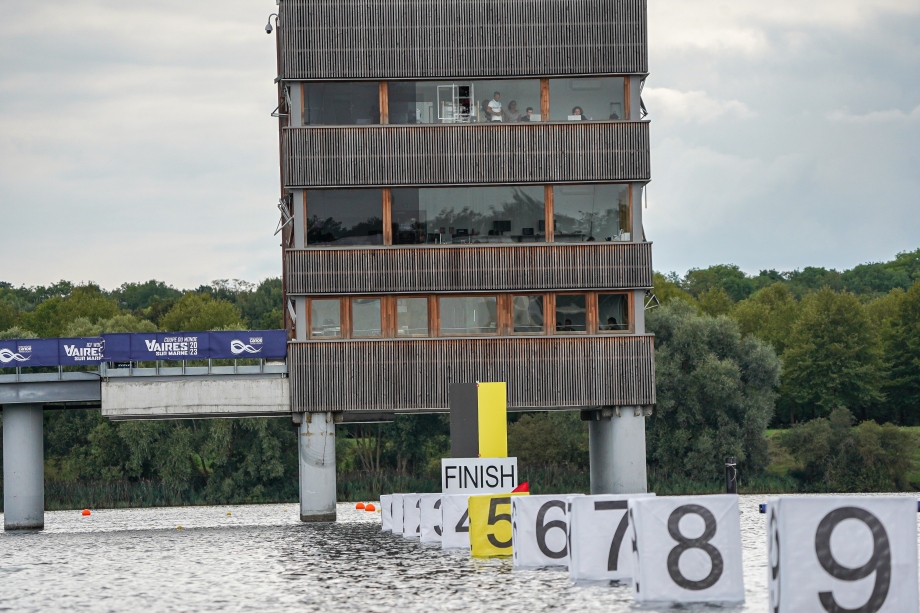 "It's obviously nice to be here and experiencing the real thing, but it is a little bit difficult, there's quite a bit of chop out there, but it's nice to get a hit out against some of the world's best," McGrath said.
"You have to prepare for all scenarios, and it can always get worse, so having the opportunity to race here with conditions like this, and to see it at its worst, and maybe at its best as well, I think on a good day it's going to be a phenomenal course."
New Zealand's Scott Martlew finished second, and Austria's Markus Swoboda took third.
Great Britain's Hope Gordon won her first ICF paracanoe world title in the women's VL3 on the weekend, and followed up with a win in Paris on Wednesday.
"It was really tough out there, it was really bumpy, but I think I'm definitely progressing in terms of just controlling the boat," Gordon said.
"I've had the brute force for a while, but the technical bit has taken a while to come, but I think it's a step in the right direction."
British teammate Charlotte Henshaw took silver, and Brazil's Mari Santilli the bronze.
The Italian C2 pairing of Carlo Tacchini and Gabriele Casadei showed an early liking for the Olympic course with a win in their 500 metre canoe sprint heat.
It's pretty special to know that this is where the Olympics are going to be held
"It's a great course, a little bit windy on the right side, but the facilities are great, it's a very good environment, so let's hope to be here next year too," Tacchini said.
"We've worked hard during the whole season to be here, so we're proud of what we have achieved. We're not completely satisfied about our seventh place at worlds, but still, we made it and we got the quotas for our country.
"We still have to win our trials at home next season to gain our spot, but we're really proud of it."
The Australian team extended its European tour by a week to take advantage of the opportunity to race on the Vaires-Sur-Marne course. The K2 pairing of Kailey Harlen and Natalia Drobot said it was a great experience to race on a course where the biggest event of 2024 will be held.
"It's exciting to be out there and racing again, we've only just finished a world championships, which was the biggest race of the year, but I think its just as exciting for us to come out here and have another shot at it," Haylen said.
"It's pretty special to know that this is where the Olympics are going to be held, and to be able to come here with other countries and test it out is pretty amazing," Drobot said.
The 2023 ICF Sprint and Paracanoe World Cup continues in Paris on Thursday.
Pics by Matthieu Tourault, Bruno Louis and Bruneau Romain