Four new short distance marathon world champions were crowned on a dramatic opening day of racing at the ICF Canoe World Championships in Ponte de Lima, Portugal, on Thursday.
Four-time canoe sprint world champion Fernando Pimenta took first blood in his highly anticipated duel with world marathon champion Mads Pedersen, while reigning world champions Vanda Kiszli and Liudmyla Babak made big mistakes which cost them their titles.
Portugal's Pimenta, a two-time canoe sprint Olympic medalist returning to marathon racing for the first time in a decade, and racing on the water where he grew up, was involved in a titanic struggle with Denmark's Pedersen which came down to a sprint finish.  
"Now I'm dreaming, I think its not true, to be winning a world title in my home town," Pimenta said.
"It's an amazing moment in my life, to see this bridge full of so many people, I want to hear the Portuguese anthem and to see that Portuguese flag flying."
Pedersen took the silver, with Spain's Ivan Alonso outsprinting South African marathon legend Hank McGregor for the bronze.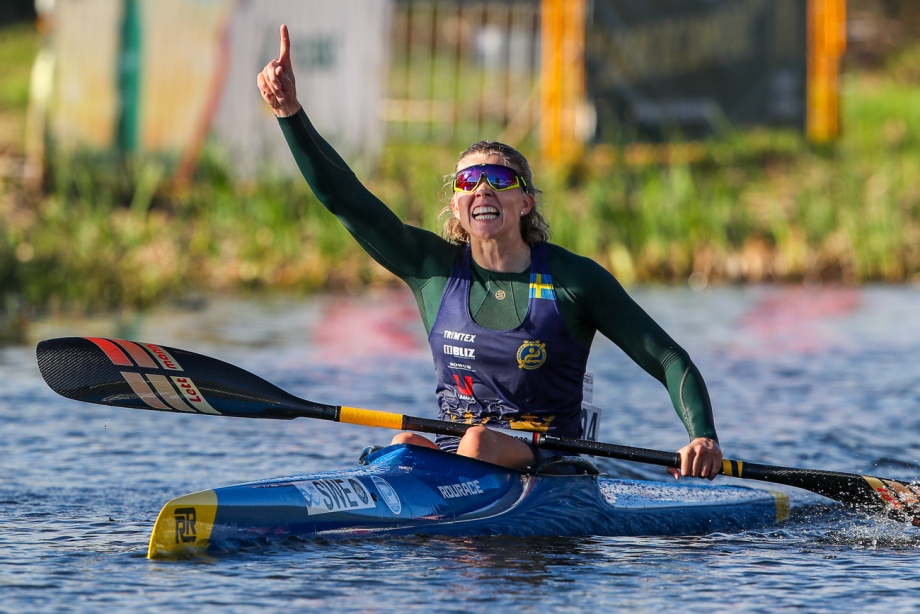 Vanda Kiszli has dominated women's kayak canoe marathon since 2018, but a big mistake on the first portage cost her a podium finish as she chased a third consecutive short marathon world title.
Sweden's Melina Andersson was the major beneficiary of Kiszli's mistake, capitalizing on a fast start to lead all the way to win her first world title.
"I was planning to go as fast as I can and to make it as hard as I could for everyone else, and I think it worked," Andersson said.
"I've finally found the equipment I like, which was a big help."
Spain's Estefania Fernandez took second, with Great Britain's Samantha Rees-Clark taking bronze. Kiszli finished fourth.
Great Britain's Bethany Gill broke through for her first world title, winning the women's C1 short course gold after pre-race favourite Liudmyla Babak of Ukraine sensationally took a wrong turn on the 3.4 kilometre course.
25-year-old Babak, who has not been beaten at a world or European marathon titles since 2017, went the wrong way after leaving the first portage, and had progressed 200 metres before she realised her mistake.
Her error opened the door for Gill, who took control of the race and held off the fast-finishing Hungarian, Zsofia Kisban, and Portuguese junior, Beatriz Fernandes, who added a senior bronze to the junior long course gold medal she won earlier on Thursday.
"She's phenomenally experienced, so I was really surprised (about Babak)," Gill said.
"I had gone through the race so many times in my mind, so I just needed to keep to my race plan."
Babak worked her way through the field to eventually finish fourth.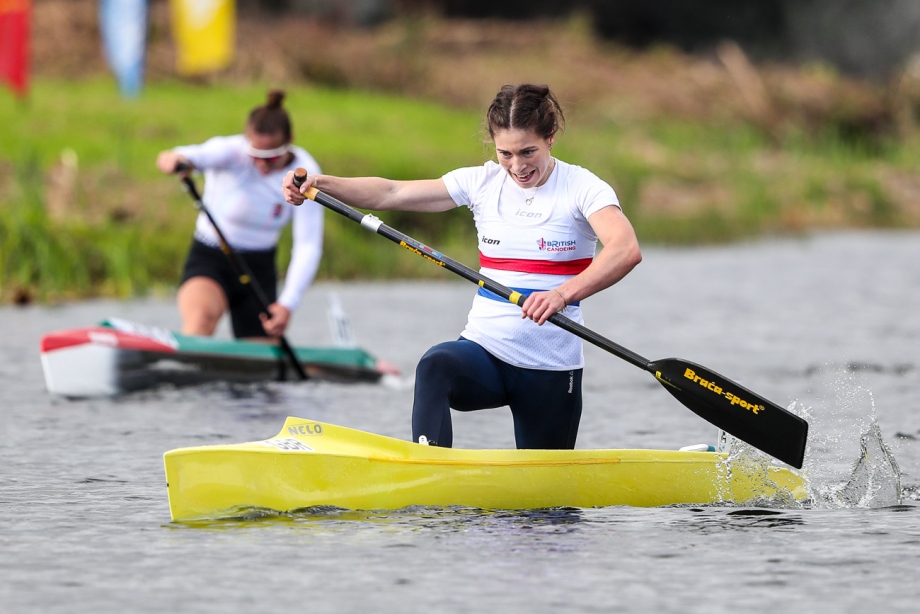 It was a Spanish quinella in the men's C1, with Diego Romero outpacing Jaime Duro to regain the gold medal he won at the 2019 world championships. Romero finished fifth in 2021 and was happy to be back on top of the podium.
"We just started so fast, and then on the last lap we worked together to make sure we put plenty of distance on the rest of the field," Romero said.
Poland's Mateusz Kaminski took the bronze.
RESULTS – MARATHON SHORT DISTANCE
WOMEN'S C1  
GILL Bethany (GBR)  17:27.18
KISBAN Zsofia (HUN) 17:31.78
FERNANDES Beatriz (POR) 17:34.40
MEN'S C1
ROMERO Diego  (ESP) 14:55.07
DURO Jaime         (ESP) 14:57.15
KAMINSKI Mateusz (POL) 15:15.63
WOMEN'S K1
ANDERSSON Melina (SWE) 14:22.83
FERNANDEZ Estefania (ESP) 14:24.79
REES-CLARK Samantha (GBR) 14:29.30
MEN'S K1
PIMENTA Fernando (POR)  12:49.12
PEDERSEN Mads (DEN) 12:49.77
ALONSO Ivan (ESP)  13:08.60
JUNIOR WOMEN K1 FULL MARATHON
HORVATH Kata (HUN)  1:36:23.11
SZERAFIN Zsofia (HUN)  1:36:31.97
HOCKLY Saskia (RSA)   1:37:28.61
JUNIOR WOMEN C1 FULL MARATHON
FERNANDES Beatriz   (POR) 1:09:06.39
DEZHYTSKA Anastasia (UKR) 1:10:46.21
PEREIRA Ana (POR) 1:12:28.13
JUNIOR MEN C1 FULL MARATHON
SANCHEZ Dario (ESP)  1:39:31.46
WILGA Eryk (POL) 1:39:43.96
MIRANDA Joel (POR) 1:40:38.68
Pics by Balint Vekassy