Australia's Jessica Fox put the finishing touch on her history-making C1 slalom World Cup season with a fifth victory on Sunday, maintaining her perfect record and sealing the overall season title.
Italy's Giovanni De Gennaro became the fifth individual winner of the men's K1, with Czech Jiri Prskavec finishing third and wrapping up the 2018 title,
24 hours after wrapping up the 2018 K1 World Cup title, 24-year-old Fox wrapped up the C1 title just by making the final. No other athlete in the history of canoe slalom has won every race in a season, and no male or female has ever won both the K1 and C1 crown.
"It's awesome, yesterday was the first time I've ever won the K1 title, and to back it up today, it's awesome to do the double," Fox said.
"It's very rewarding. I've had a great season, I'm super happy with the way I've been paddling.
"But the season is not over yet, we've still got the World Championships, and that's the most important one."
The three-time World Champion made sure of the overall win with victory in Sunday's final, her time of 111.14 putting her just ahead of Great Britain's 2017 World Champion, Mallory Franklin, on 112.18.
"I'm absolutely thrilled, it's been an amazing World Cup season," Fox said.
"I heard that Mallory and Nadine had put down some fast times, so I gave it everything in that race and I'm thrilled to come away with that overall title."
Austria's Nadine Weratschnig, the reigning U23 world champion, finished third in 114.72.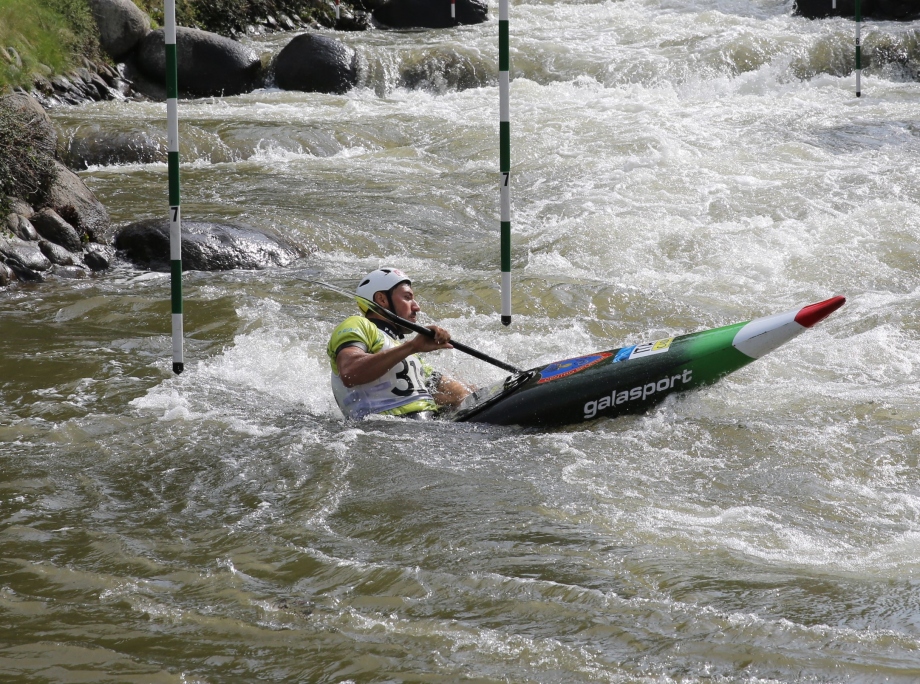 De Gennaro was the second athlete on the course in the men's K1 final, but his error-free time of 93.28 proved fast enough to take the gold.
"I had a good first run, but I saw some room to improve," De Gennaro said.
"It means a lot. We had highs and lows during the season, the first two World Cups I couldn't find my performance.
"But after a really hard summer I could finally close the gap. I know it's only one race, but it gives me a lot of confidence for the World Championships."
Australia's Lucien Delfour was the slowest qualifier in the final, but posted his best run of the time to grab the silver in 93.87, his first World Cup medal since 2015.
Prskavec finished third in 95.62, but took the 2018 K1 title despite no individual golds during the season.
He posted 304 points, Frenchman Mathieu Biazizzo was second on 242, and Czech 2017 champion Vit Prindis took third with 222 points.
"It's perfect, it's actually my first overall World Cup medal," Prskavec said.
"I usually always skip one World Cup, but this year I went to all the races. I was sitting second after three races, so I decided to do all the races and do my best.
"In the end I'm a world winner, so it's perfect."  
Fox finished on 360 points, Franklin was second on 243 and Austria's Viktoria Wolffhardt was third on 242.