Australia's Jessica Fox continued her incredible dominance of the women's canoe slalom C1 and Olympic gold medalist Joe Clarke showed his K1 class on day two of the Sydney International Whitewater Festival in Penrith, Australia, on Sunday.
Fox, a dual Olympic medallist and 2018 double world champion, took home the win in the women's C1, continuing her unbeaten run in the boat class she won five World Cups, the overall World Cup as well as World Championship gold in last year. This weekend she also won a silver medal in the women's K1 on Saturday.
Fox wrapped up a full weekend of racing against the world's best paddlers at Penrith Whitewater Stadium winning the women's C1 in a 103.52 clean run and +0.33 ahead of Brasil's Olympian and 2018 Extreme K1 World Champion Ana Satila. Sister Noemie Fox also finished on the podium and only +1.21 seconds behind (104.73).
"This the first event of the season for me and to take a win was really cool," Fox said.
"It was a fast race, I saw the times before starting so I knew I had to lift my game a little bit. I had a penalty on that main wave, so I really had to make sure the rest was perfect.
"This is a really awesome place to come and bring the family and see the best in the world. There are 300 athletes here from over 30 countries, so it's world cup standard. It's actually bigger than a world cup and you don't get that every day in Penrith, so we are pretty lucky to have it."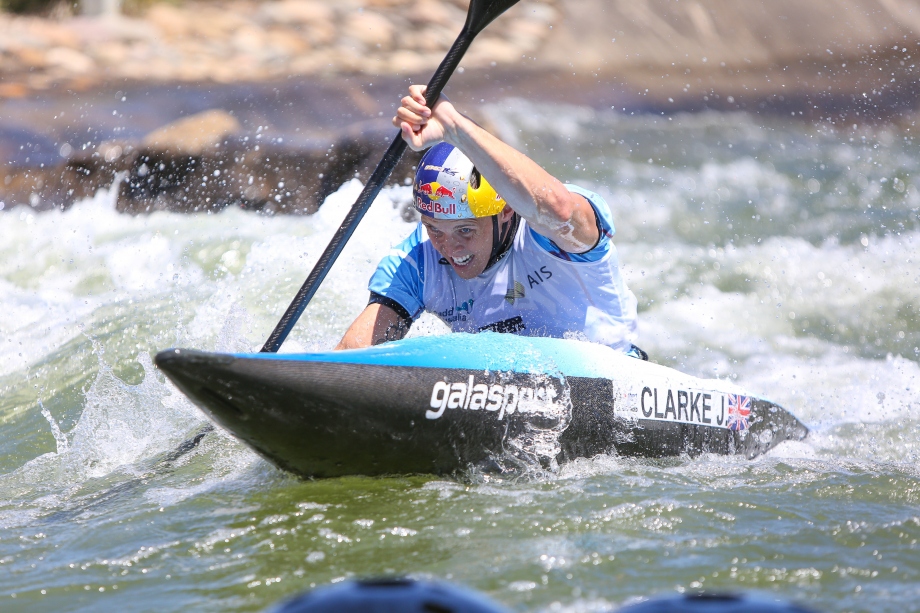 In the men's K1 Great Britain's 2016 Olympic champion Joe Clarke won both the semi-final and the final (87.50) with Australia's Lucien Delfour in close second and +0.06 seconds behind. Germany's Sebastian Schubert took home the bronze medal (88.63).

"It was an amazing semi-final, I ran the boat really well and then had all the work to do because people expected me to get on it in the final," Clarke said.
"So I'm really happy to perform again in the final, not quite at a blistering pace and I fell off the wave near gate 15 which proved quite costly, but managed to take the win so I'm very, very happy."
 
"It's only February, but it's great to see where you are at this early in the season. Obviously, the season hasn't really officially started, it will be around May for us Europeans, but it's always nice to get on the start line and give what you've got."
The world's best Olympic canoe slalom paddlers will return to the 2019 Sydney International Whitewater Festival at Penrith Whitewater Stadium on Friday, 22 February 2019 for the 2019 Canoe Slalom Oceania Championships. 
 
See all results here: http://bit.ly/19AusOpenLiveResults
Watch all the medalists from the women's C1 final here.
Watch all the finalists from the men's K1 final here.