France and Ukraine picked up two gold medals each on the final day of competition at the ICF canoe sprint world cup in Szeged, Hungary, the only international competition to be held in 2020 because of the Covid pandemic.
France and Ukraine both triumphed in the K4 500, while Ukraine's Liudmyla Luzan picked up her second gold medal of the weekend by teaming up with Anastasia Chetverikova to win the women's C2 500, and Cyrille Carre and Etienne Hubert teamed up to win the men's K2 1000 for France.
There was also a first ever gold medal for Joana Vasconcelos of Portugal in the women's K1 500, while the Russian veterans Kirill Shamshurin and Ilya Pervukhin won the men's C2 1000.
Carre and Hubert took the bronze in the K2 1000 at last year's world championships, finishing behind the German powerhouse combination of Max Hoff and Jakob Schopf and Spaniards Francisco Cubelos and Inigo Pena.
The Germans were missing from Sunday's race, and the Spanish had to settle for bronze behind the powerful French combination.
"The intensity is very close, and when you are in a final anything is possible," Carre said.
"For us, we treated each race differently. In the heat and in the semi-final we tested different tactics to come up with our plan for the final, which worked well."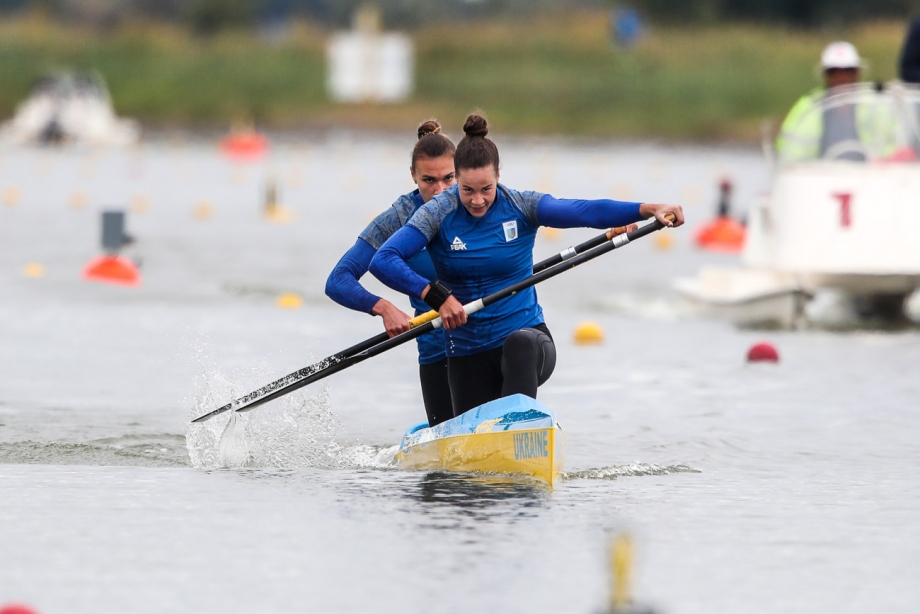 Ukraine's Luzan missed C1 200 gold by just 0.02 of a second on Saturday, but backed up to win the non-Olympic C1 500 one hour later. On Sunday she and partner Anastasia Chetverikova were leaving nothing to chance in the C2 500.
They said even the cooler weather and strong headwinds worked in their favour.
"In Ukraine it is colder than this and the wind is stronger when we train, so we felt quite comfortable," Luzan said.
A short time later there was a second gold medal for Ukraine, when their women's K4 500 crew held off France to take gold. Mariia Kichasova-Skoryk said keeping the boat together during the pandemic has been a big advantage.
"In Ukraine we were able to continue to train together because we have a small team and we are always together, so it is normal for us," she said.
"I hope this is the boat that we will take to Tokyo next year."
The men's K4 500 and the women's C2 500 will both be new Olympics events in Tokyo next year, but it was a bittersweet win for the French quartet on Sunday. They failed to qualify their boat for Tokyo.
"We had a bad memory because last year at this same place we finished eighth in the K4, so we were the first boat that didn't qualify for the Olympic Games," two-time Olympian Maxime Beaumont said.
"So it was a little bit special when we were at the start, and we could change all the bad feelings of last year and produce a good result."
Portugal is toasting a second world cup gold medalist on Sunday after the exciting performance of Joana Vasconcelos in the women's K1 500. The 2012 London Olympian, third in the K1 200 on Saturday, finished just 0.04 seconds ahead of Spain's Isabel Contreras.
"It really was a great race, I put everything into that finish," Vasconcelos said.
"The conditions were not perfect. This is my first world cup gold medal, and next year I will try to get an Olympic quota for Portugal."
The Russian pairing of Kirill Shamshurin and Ilya Pervukhin finished seventh in the C2 1000 at last year's ICF world championships, and in the absence of medal winners China, Cuba and Brazil, made short work of Sunday's opposition.
Shamshurin said he knew if they made a good start they could win, because the pair knew each other's strengths.
"We have trained together for eight years, we are strong partners," he said.
"We already have our ticket for Tokyo, we only want the gold medal next year.
The Romanian pairing of Catalin Chirila and Victor Mihalachi, fifth at last year's world titles, finished third.
The ICF world cup was run under strict health and safety conditions. Many international teams were unable to compete because of international travel restrictions, but those who did make it to Szeged spoke of their excitement at finally being able to compete internationally in 2020.
For many of the athletes it was a valuable hit out ahead of the Tokyo Olympics. Several of the athletes are still trying to earn their country a quota, while others are trying to earn team selection for quotas that have already been earned.
A handful of athletes competed safe in the knowledge they already have their ticket booked for Tokyo.
Pics by Bence Vekassy