rance completed a dominant weekend at the ICF wildwater canoeing world championships with two more gold medals on Monday, including a fourth crown for two-time Olympian Manon Hostens at her final appearance before the Paris Olympics.
France took advantage of local knowledge to win both the men's and women's classic teams race in Treignac to give the hosts a total of eight gold medals over the weekend.
Hostens was the standout performer of the four days of competition, finishing with two individual and two team boat gold medals. The French trio of Hostens, Claire Bren and Phenicia Dupras finished almost 14 seconds ahead of the team from Italy, with the Czech Republic taking the bronze.
"It's amazing, thank you so much to the girls who helped me win two gold medals, this last one today was just amazing," Hostens said.
"I felt very good this morning and very strong."
Like Hostens, Bren will now step away from wildwater to focus on qualifying for the Paris 2024 Olympics.
"I'm happy because I think this will be my last race in wildwater," Bren said.
"I'm very old, and I'm very happy to finish with a gold medal in this river, in France, it's very great for me."
Dupray, who won individual gold in 2019, said she was relieved to finish the weekend with a gold medal.
"I was a little bit disappointed with my individual race, so I'm glad to finish with a gold medal, and maybe a perfect classic teams run," Dupray said.
"On this river it's just magical."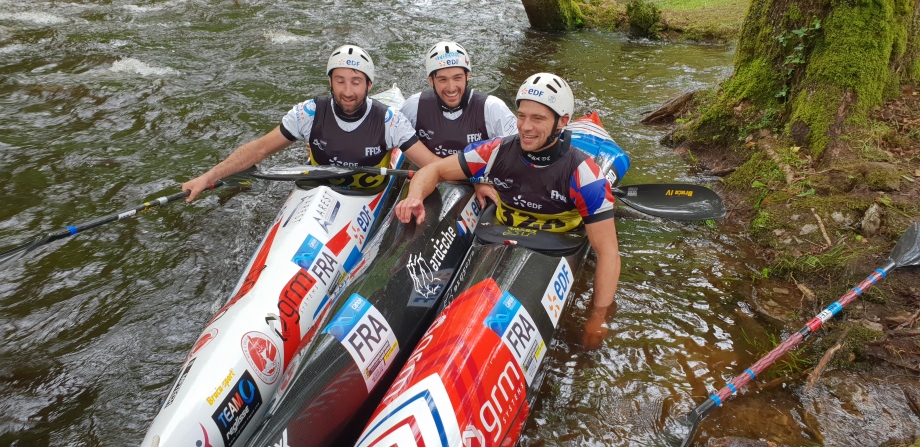 The French men's team of Quentin Bonnetain, Maxence Barouh and Felix Bouvet were almost as dominant, winning the K1 classic by nearly nine seconds.
It was a second gold medal for Bonnetain after he won the individual K1 classic 24 hours earlier.
"This is a very good team for a formidable river," he said.
It was a breakthrough gold for Barouh, after he went agonisingly close to the gold behind Bonnetain on Sunday and in the sprint final behind Slovenia's Nejc Znidarcic on Saturday.
"I was disappointed but I was also very happy, and today with my two teammates I really wanted to do almost a perfect run and finally take my first gold of the week after three silver medals," Barouh said.
Bouvet, who enjoyed strong crowd support all weekend, was thrilled to be able to put in a title-winning performance.
"I'm really happy to have had all my friends here, all my family," he said.
Yesterday I didn't really succeed to have a good race, I didn't have really a lot of success during the week, but I win the supporter team surprise."
There was drama for the second place German team of Max Hoff, Andreas Heilinger and Finn Hartstein, who had to dodge a falling tree during their run and were visibly shaken when they crossed the finish line.
The Czech Republic finished second on the gold medal table with two, while Italy and Slovenia won one gold each.