Freestyle Champions crowned today on the Ottawa River
Temperature is getting higher today on the Ottawa River as best Freestyle athletes from 29 countries battled for the title, closing an awesome week here in the Ontario Region.
The first category to open the medals distribution today was OC1. The crowd's favourite was certainly Andrew Hill (CAN) who opened the runs with the first medal for Canada. He made an amazing 3rd run scoring 282pts thanks to a perfect pistol flip way above water level .
«It was a stiff competition with top athletes and former Champion Jordan. I have trained hard to achieve Gold and it's an immense pleasure to win in my home country and on Garburator Waves where I'm canoeing very often."
Second came the very talented Dane Jackson (USA) thanks to a dynamic 3rd ride. His compatriot Brad McMillan took Bronze, scoring 70pts, just 2 pts in front of the unfortunate Jordan  Poffenberger, Champion from 2013, as he flushed off the wave too quickly on his runs.
Junior K1 Women - Sage Donnelly (USA) only 15 years-old and already riding like a senior!
"It's a moment I have dreamed about since always ! It's incredible, I'm finally here!"
She has been a top contender since the beginning and it's with no surprise that she popped top performing amazing combos of helixes and blunt pistol flips. She scored 588pts, 385 pts ahead of teammate Darby McAdams (203pts) and her solid performance. 3rd came Sophie McPeak (GBR) scoring 72pts.
Junior K1 Men - Alec Voorhees (USA) was hungry for a podium spot today and defended quite well his Bronze medal from 2013 to win Silver this time with a fantastic 3rd run scoring 677pts.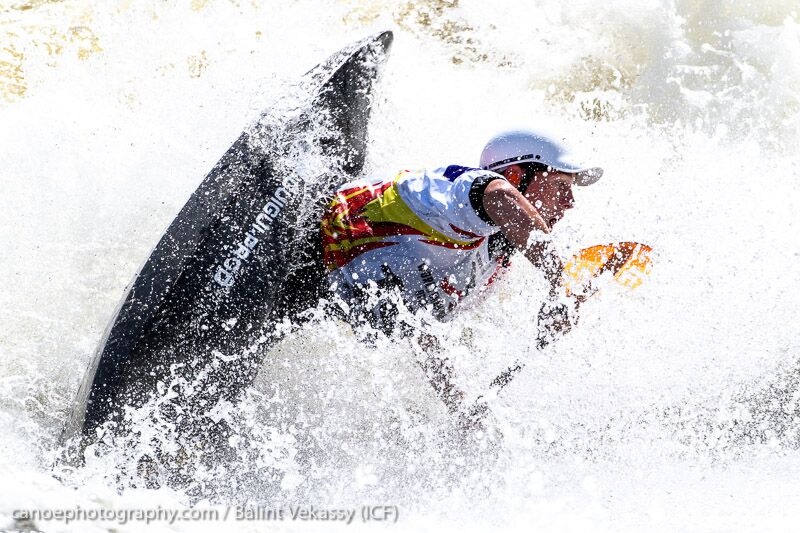 Hugo Anthony (GBR) clinched gold showing perfect control of his boat in the huge waves with helixes and air screws scoring 782pts. "It's hard to describe what I'm feeling; it's unbelievable !". 
On the 3rd step of the podium, Anthony's compatriot Hugo Scott with a score of 593pts also executed a smooth and impressive ride.
Top paddlers were back for C1 Men category showing an intense battle. Dane Jackson (USA), competing for the second time today, improved his 2013' ranking by taking the top step with 863pts, exploding in the 3rd run with fantastic back blunts and mc nasty. 
Just behind the young Star, Seth Chapelle (USA) followed with Silver and local Zachery Zwanenburg took home Bronze giving thrills again to home fans.  2013 ICF C1 Men World Champion, Jordan Poffenberger (USA),  just stepped out of the podium achieving the 4th position.
K1 Women category went on with an outstanding 3rd run from Emily Jackson performing massive tricks on both sides for a total of 448pts. She declared " I knew I was ready when I came out here. Sun was shining, I spent my entire summer in the Ottawa Valley and there's no better place to be. Competing out here with my friends is just an honour"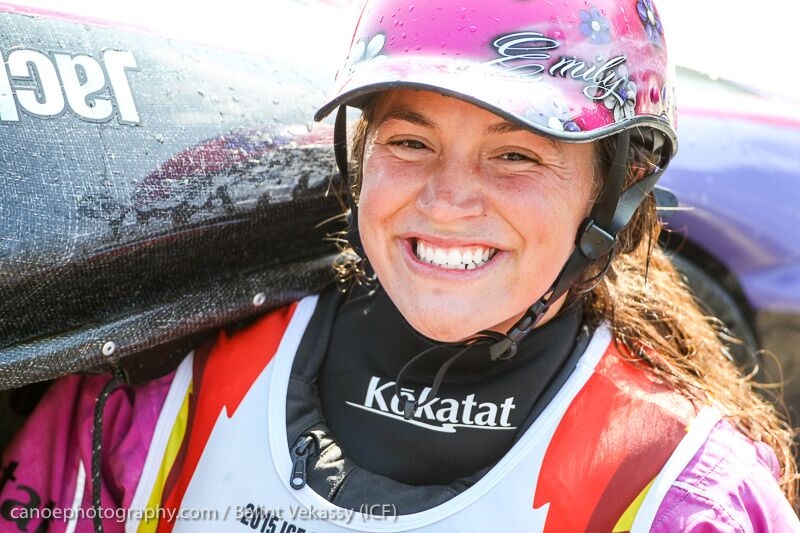 Hitomi Takaku (JPN) 1st ride was one of the best of her competition. It was a pleasure to watch her great wave's moves and amazing big smile! She claimed Silver with 265 pts. Claire O'Hara who was closed not to making the finals yesterday, took the 3rd position. The seven time World Champion did a very good 1st run scoring 263 points. She showed the huge control she has performing big tricks.
Last but not least, K1Men was one of the most exciting category to follow today. Freestyle is a family business as after Emily and a first gold medal in C1, Dane Jackson (USA) renewed the achievement by winning gold again with a stunning run scoring 1653pts thanks to awesome right and left mc nasty, back blunt and back pan am.
"it feels so good I'm pretty fired up, It's actually one of the toughest competition"
Mathieu Dumoulin (FRA) ended up taking silver medal thanks to a 3rd run with a fantastic composure he never stopped (1420pts). "That feels great, I'm so excited with these finals, everybody was so good and this event was just awesome "
Dane's brother-in-law Nick Troutman (CAN) was quite disappointed with his 1st ride and quickly flushed off on his 2nd. His last run on the contrary was phenomenal and placed him on the 2nd step of the podium with 1170pts.
The crowd enjoyed the high performance laid down by the top world paddlers and the splendour of the Ottawa River. See you again at the 2016 Canoe Freestyle World Cups and the 2017 ICF Canoe Freestyle World Championships in Rio !