Plenty of medals were up for grabs Saturday in Racice where the first finals concluded. Germany took care of business, winning three gold medals on three Olympic events, while Josef Dostal offered Czech Republic their first gold medal of the weekend in the very disputed K1 Men 1000m.
German world champion Sebastian Brendel showed once again that over a thousand meters, it's not about winning the start. The fastest qualifier followed up on his gold medal won last week in Duisburg, displaying fantastic physical and tactical skills to remain undefeated on the 1000m.
"I am well prepared but I am a little bit tired from last weekend in Duisburg", said Brendel to the ICF. "I am doing my best and try to figure out what could be my best race plan for Rio."
19 year old Moldovan Sergei Tarnovsky did what he could to get far away enough from Brendel  early in the race to prevent a come back but it seems that it will take a lot more to cross the finish line before the German. Martin Fuksa offered his home crowd their first medal of the day, finishing third.
Brendel's fellow countrymen and reigning world champions Marcus Gross and Max Rendschmidt were as confortable as him in the K2 Men 1000m, stopping the clock more than one second sooner than  the Australian duet Kenny Wallace / Lachlan Tame. The aussies, who took silver in Milan's world championships last year, made a very impressive come-back in the last 200 meters and are clearly showing their Olympic ambitions.
Germany's golden harvest was completed by European champions Tom Liebscher and Ronald Rauhe who had to push to their limits to pip at the post the French Maxime Beaumont and Sébastien Jouve, crossing the finish line just 0.01s before them.
"After Duisburg we were very frustrated", said Rauhe. "The World Cups count for our national olympic selection so we had to be good here to keep a chance to get our ticket to the Games. This was a very good race, it's good for our self-confidence to approach the next races".
The Brits Liam Heath and Jonathan Schofield finished third of this race packed with testosterone.
Dostal sings through victory
Josef Dostal wasexpected to put on a show in front of his fans and did not disappoint, winning with authority a race that could well have been the Olympic final, as most of the Rio favourites were aligned at the start.
"We changed a little bit our tactic from Duisburg", explained Dostal. "My coach told me I didn't do a good race last week so we tried to focus more on the first 500 meters. So I pushed a little bit harder. My goal was to stay close to René (Holten Poulsen). I passed him somewhere around the 400 meters and looked on my left at Max Hoff who was behind. I did not rush and started to sing my favourite song in my head until the finish line!"
Canada's superstar Adam Van Koeverden finished fifth for his come back among the K1 1000m racers' pack.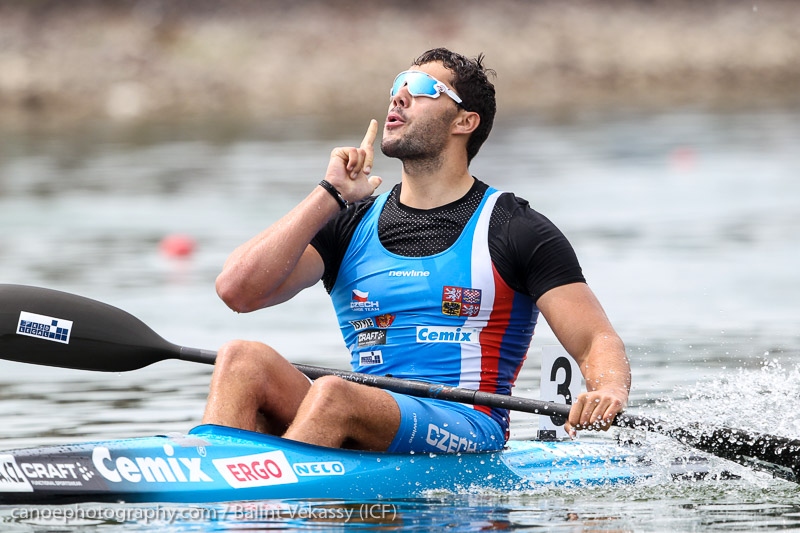 In the absence of the dominating Lisa Carrington (NZL), the gold was up for grabs in the K1 Women 200m. Azerbaijan's Inna Osypenko Radomska seemed to have the better odds of winning but never really threatened the reigning European champion Sarah Guyot. The French is in a superb form and will try to keep it up until Rio, a course she appreciates as she won the test event there  last September.
"It's a good surprise", said Guyot, all smiles. "I tried to focus on myself and it worked. Duisburg was the first race of the season so i was a bit stressed, I didn't know what my level was. I keep working and today's race was better".
In the K2 Women 500m, Ukraine's Inna Hryshchrun and Anastasiia Todorova had to deal with the very fast start of serbian sisters Olivera and Nikolina Moldovan who wanted to secure at all cost their olympic ticket to represent their country in Rio. Once this threat was left behind, they managed to contain  the furious comeback of Tina Dietze and Franziska Weber. The german pair added a silver medal to their 2016 World Cup's tally after winning the gold at home last week, and sent a strong message to all the Olympic contenders.
Brazil dominates Canoe Women
Brazil is showing some serious skills in the Canoe women category, placing two of their athletes on the podium on Satuday. Valdenice Conceicao Do Nascimento largely dominated the C1 Women 200m, beating favourite Katie Vincent who just set the world fastest time on the distance last week in Germany. Her mate Andrea Santos De Oliveira finished third.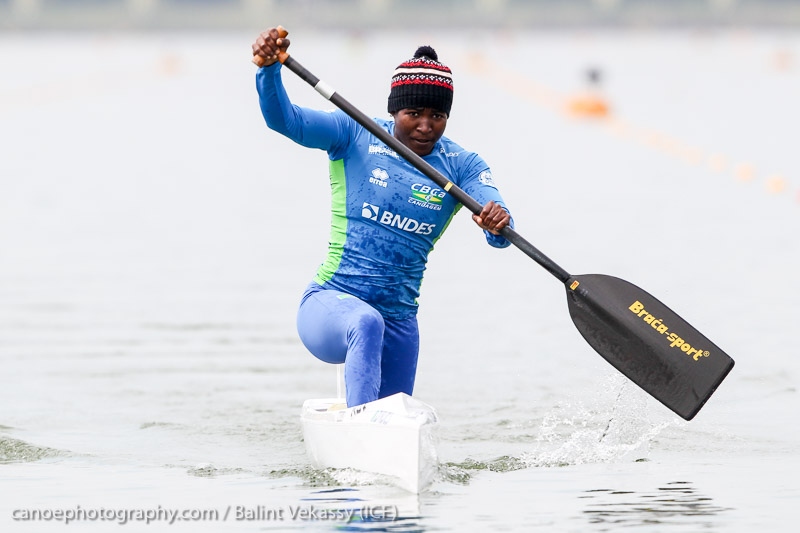 Tamara Takacs won Hungary's only medal in the K1 Women 1000m, while Carrington's teammates Aimee Fisher and Jaimee Lovett made her proud by winning the K2 Women 200m.
After a nice gold medal in the K1 Men 200m last week, Italy got another taste of the precious metal thanks to Sergiu and Nicolae Craciun who won the C Men 200m.
The action continues on Sunday at 8.30 CET with the first A Finals at 9.38 CET.
More information: https://www.canoeicf.com/event/2016-icf-canoe-sprint-world-cup-2
Live stream: www.youtube.com/planetcanoe
2016 ICF Canoe Sprint World Cup 2 Medallists
K1 Women 1000m
C1 Men 1000m
K1 Men 1000m
GOLD - Josef Dostal (CZE) 3:34.361
SILVER - Max Hoff (GER) 3:35.267
BRONZE -René Holten Poulsen (DEN) 3:35.744
K2 Men 200m
K1 Women 200m
GOLD - Sarah Guyot (FRA) 39.920
SILVER - Inna Osypenko Radomska (AZE) 40.114
BRONZE -Martina Kohlova (SVK) 40.920
C1 Women 200m
K2 Women 500m
K2 Men 1000m
C2 Men 200m
K2 Women 200m