The German canoe sprint team flexed their muscles on Friday, winning two of the three gold medals on offer at the ICF Canoe Sprint World Cup in Duisburg.
The home team welcomed back their gun athletes after nearly all of their Olympians sat out the opening World Cup in Szeged one week ago. Three of their four winners on Friday were Olympic gold medallists.
Great Britain's Lizzie Broughton won the K1 1000 gold.
Yul Oeltze and Peter Kretschmer, the reigning C2 1000 world champions, showed their form has held up with a big win over a strong field in Duisburg.
"This is really impressive for us," Oeltze said.
"It's our home venue, it was a good race and we had a lot of fun."
Kretschmer, a 2012 C2 Olympic gold medallist, said competing at home was nerve-wracking.
"For sure. After the winter, you always try to figure out where you are, so we're happy it worked out for us," he said.
"It's hard to see where everyone else is. We can see the lanes next to us, but that is all."
Max Hoff and Marcus Gross were part of Germany's K4 1000 gold medal team at the Rio Olympics, it was the K2 1000 which bought them glory.
35-year-old Hoff, who admitted he had considered retiring 12 months ago, said the World Cup win was a great confidence boost.
"It's so cool, and this regatta course is just 20 kilometres away from my flat, so it's totally special," he said.
"Last season with Marcus we had a lot of ups and downs, so we are really happy to start like this.
"I'm at an age where you have to think about stopping paddling, and for sure I was thinking about it last year quite a lot. But I love the sport, and I love to be out on the water, now we'll see what happens."
Gross, who also won Olympic gold in the K2 in Rio, said he and Hoff have some unfinished business after missing a medal at last year's World Championships.
"Last year we had lots of good sessions, and we knew we could do it much better than we showed in the World Championships," Gross said.
"That was difficult for us, to end the season with that bad race, because we knew we could do better."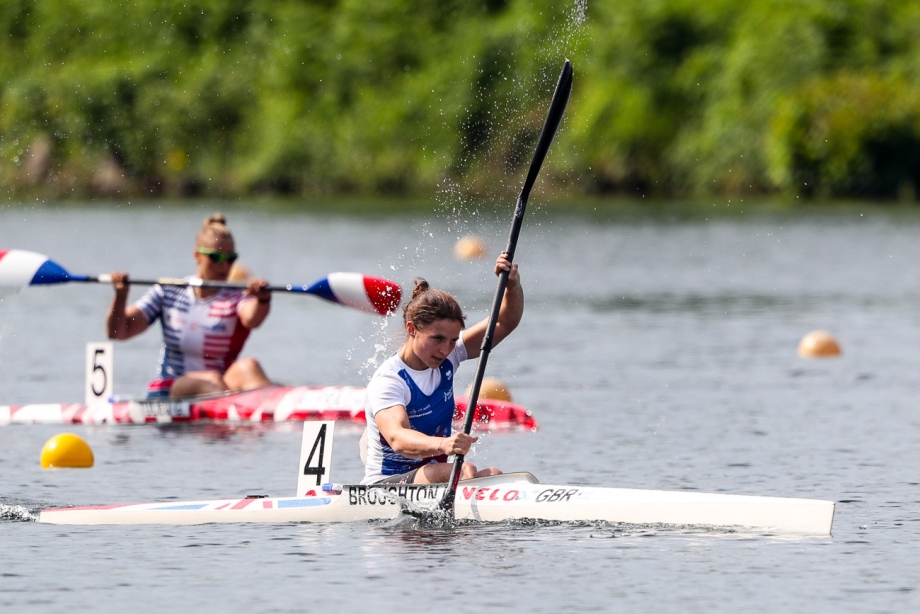 Great Britain's Broughton has made a name for herself as a marathon paddler, but has relished the opportunity to race shorter distances at the opening two World Cups.
She won silver in the K1 5000 in Szeged, before taking gold in the K1 1000 on Friday.
"The 1000 certainly seems short compared to a marathon," Broughton said.
"I've done all our marathon trials back home, and I've been doing a bit more sprint training than normal alongside that, in preparation for this.
"World Cup gold medallist sounds pretty good."
The second ICF Canoe Sprint World Cup continues in Duisburg on Saturday.
RESULTS
MEN'S C2 1000
OELTZE/KRETSCHMER                               (GER)   3.30.948
TORRES MADRIGAL/JORGE ENRIQUEZ   (CUB)   3.31.645
LIU/WANG                                                   (CHN)   3.32.444
WOMEN'S K1 1000
BROUGHTON Lizzie                                     (GBR)   3.58.718
JOHANSSON  Karin                                      (SWE)   4.00.149
MCARTHUR   Catherine                              (AUS)    4.02.739
MEN'S K2 1000
HOFF/GROSS                                                 (GER)   3.11.974
GELLE/BOTEK                                                (SVK)    3.13.744
FITZSIMMONS/WOOD                                 (AUS)   3.14.557