Two years from the Tokyo Olympics and Germany has already sent out a warning to the rest of the canoe sprint world, winning both K2 and C2 1000 metre gold medals at the 2018 ICF World Championships in Portugal on Friday.
Yul Oeltze and Peter Kretschmer did something which hasn't been done for almost two decades – successfully defended a C2 1000 world title.
And Marcus Gross and Max Hoff bounced back from the disappointment of missing a medal at last year's World Championships to win gold in the K2 1000.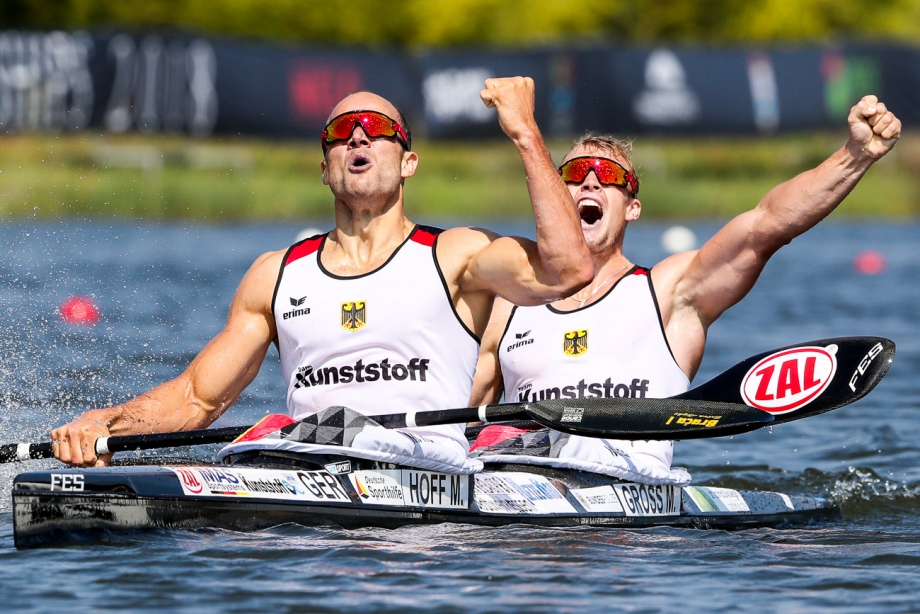 In other results, Czech Josef Dostal successfully defended his K1 500 world title, Hungary's Dora Bodonyi won the women's K1 1000, and Hleb Saladukha and Dzianis Makhlai won Belarus's first ever C2 200 title.
Brazil's Isaquias Dos Santos, Germany's Sebastian Brendel and Czech Martin Fuksa warmed up for their C1 1000 duel on the weekend by finishing first, second and third in the C1 500.
Russian Kseniia Kurach upset Belarus's Alena Nazdrova and Canada's Katie Vincent to win the C1 500, while Hungary's Tamara Csipes-Galbacs and Erika Medvec won the women's K2 1000.
But Germany provided the highlights in the only two Olympic events contested on Friday, with Oeltze and Kretschmer becoming the first athletes to successfully defend the C2 1000 world title since 2002.
"Every time you win it's a great feeling, and when the win is a little bit of history, it's even more exciting," Kretschmer said.
"It's a good feeling that we are such a good team, we know we can go very fast, and for now we are just happy to have won the race," Oeltze said.
Max Hoff and Marcus Gross could not hide their disappointment after missing the K2 1000 podium at the 2017 World Championships.
They left nothing to chance on Friday, leading from the start and powering to the finish ahead of Spain's Francisco Cubelos and Inigo Pena, with defending world champions Marko Tomicevic and Milenko Zoric of Serbia finishing third.
"Last year was a bad day I think, because we had fast times but we weren't able to show it on the day," Gross said.
"Today we showed we were able to do it again. Every time you go on the start line and paddle again, the fire inside the belly burns to win again."
Dostal has dominated the non-Olympic K1 500 in recent years, but said today was likely to be his last race over that distance as he switches his focus to the Olympic 1000 metres.
"The 500 has helped me paddle at a higher intensity, because I have a slow start in the 1000," Dostal said.
"But it also helps me to focus on something else and to relax my mind, even when I am working harder."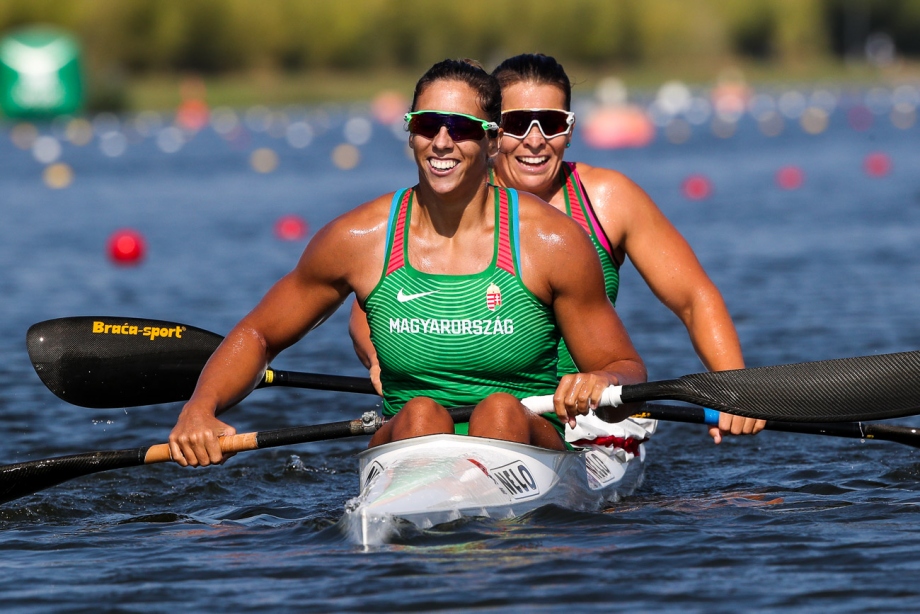 Hungary's Csipes-Galbacs and Medvecky posted the easiest victory of the day, cruising to the line in the women's K2 1000.
"It was a good race, a perfect race for us," Medvecky said.
Hleb Saladukha and Dzianis Makhlai were thrilled to make history for Belarus, winning their country's first ever C2 200 world title.
"We're so happy, world champion is a perfect result for me and my partner," Saladukha said.
Dora Bodonyi said she had benefitted from an earlier visit to the Montemor-o-Velho course in her quest for the K1 1000 title.
"It was hard, but I was here in the spring and the conditions were the same as this," Bodonyi said.
"I'll be competing in the K4, so that is the priority for this year. This is a bonus."
"At the last European Championships we won the silver medal, so this is a very good progression for us."
The 2018 ICF Canoe Sprint World Championships continue from Montemor-o-Velho on Saturday.