Germany has broken through for an emotional men's gold medal at the ICF Canoe Polo World Championships in Welland, Canada, and immediately dedicated their win to teammate Fiete Junge, who died on the eve of the event.
It was double celebration for the Germans, with the women's team winning their sixth World Championship gold with a 3-1 result over Great Britain to add to the men's 4-1 win over defending champions, Italy.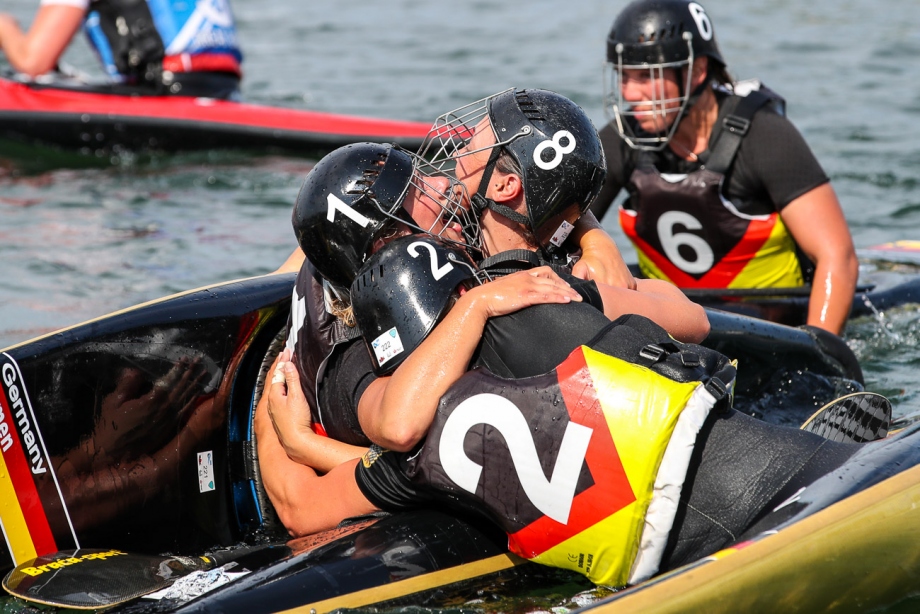 It was Germany's first World Championship gold medal in the senior men's competition in the 24-year history of the event. Adding to the emotion for the team was the sudden death of Junge as the team prepared to travel to Welland.
Coach Bjorn Zirotzki could barely contain his tears as he waved Junge's number ten vest to the crowd as soon as the final whistle was blown.
"It's a very emotional win for us," Zirotzki said.
"All the circumstances, all the bad things that happened, it's unbelievable that we were able to make it.
"We are not a team of superstars, we are a superstar team. The last time we met with Fiete we talked about how we wanted to be world champions. He would say all the time hey guys, let's do this, so we did it for Fiete, we did it for us, we did it for the team.
"It's unbelievable what these guys made, it's unbelievable what has happened to us in the past couple of weeks. Normally it's not possible to do it, but we did it."
German captain Jonas Vieren said his team was under enormous pressure, after winning five silver medals, and also dealing with the emotional circumstances.
But he said those pressures also spurred the team on.
"We fought for this for several years," he said.
"Finally we have won the World Championships. We had won all the other championships, but we could never win this one.
"With all the events before the championships, it's a special and very emotional moment.
"It was a tough time before the championships, but the team came closer together. We just tried to play polo here, and paddle for him as well, and it was enough to win the World Championships.
"And we won it for him."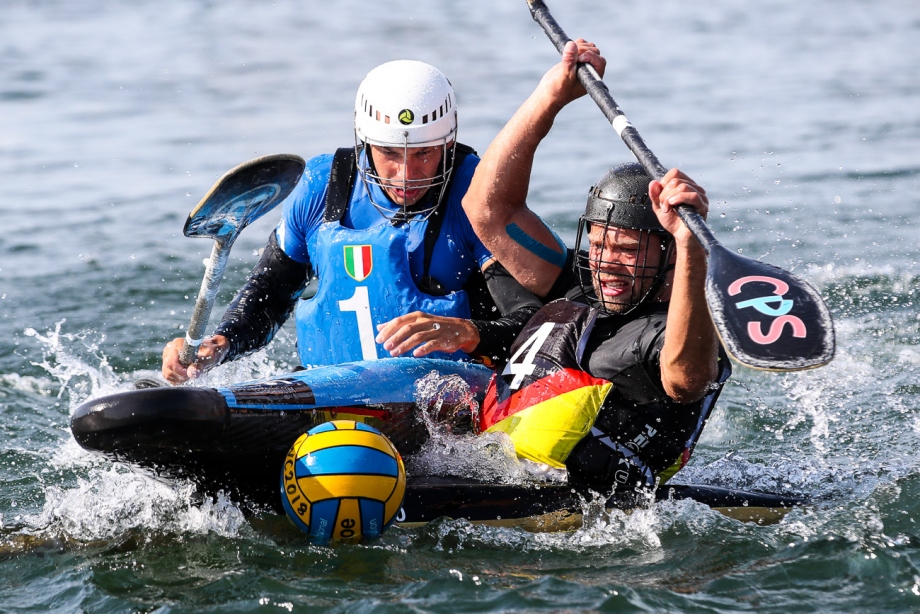 The German women's team was able to wrest back the title they lost to New Zealand two years ago with a win over Great Britain, which added to the U21 title the country won 24 hours earlier.
Captain Elena Giles said her team always copes well with the pressure of expectation that comes with being the best in the world. And she attributed her country's dominance of women's canoe polo to a strong work ethic.
"It's been like this for as long as I've played, that's just how it feels and it's no different for us," she said.
"We have a coach who is a big thinker, and we talk about tactics. We have two or three very good players in defence, and I think we are forgiving for what is going wrong.
"We don't focus on that too much, we've been taking on new, younger players on the team every year, and that allows us to develop them into our culture and into the game we are playing, and it's been working really well."
Italy also made history on Sunday, securing their first ever women's medal when they beat France 4-1 for the bronze.
"This is for us a great story," Italian coach Francesca Ciancio said.
"I'm very happy. They are a fantastic, very strong team. They are a team, and they are friends."
Captain Roberta Catania said Italy could now claim to be strong in both men's and women's canoe polo.
"I don't know what I can say, we are just really happy," Catania said.
"Now we are here to show what we are, and that is really important for us."
Spain won a third consecutive men's bronze medal when they beat France 5-4.
"We are not completely happy, considering our goals for these world championships, but a bronze medal is okay," coach Jorge Perez Perez said.
"We got the maximum performance out of our boys today and yesterday."
Pics by Dezso Vekassy