The incredible depth of the German men's canoe sprint team again came to the fore on Sunday, winning three gold medals in team boats in the opening ICF World Cup of the 2019 season in Poznan, Poland.
New Zealand, led by powerhouse Lisa Carrington, also picked up two gold medals, while Canada's Laurence Vincent-Lapointe and Katie Vincent once again took the spoils in the new Olympic event, the women's C2 500.
The German men's K4 showed even on a limited preparation they are the best in the world, holding out boats from France and Portugal over the 500 metre course.
Max Rendschmidt, Ronald Rauhe, Tom Liebscher and Max Lemke have dominated the new Olympic event since 2017, and look set to start favourites when the race makes its debut in Tokyo next year.
"We are just at the beginning at the moment, it was our first race as the K4 this year, we have only been together three or four times this year," Rauhe said.
"It's our first step for this year, so we are happy that it was not perfect but quite good for us."
Germany also won gold in the men's K2 1000, but it was a different crew than usual. Two-time Olympian Max Hoff partnered 19-year-old Jacob Schopf, after regular partner Marcus Gross had to withdraw just one week before the event with illness.
Hoff and Gross are the current world title holders, but Schopf showed no nerves alongside his more experienced partner.
"Jacob did such a great job in the national trials and we knew he is one of the fastest on our team, but it's not that easy," Hoff said.
"Just because you put the two fastest people together does not mean you'll have the fastest boat, but from day to day it is getting better. We still have a lot to do."
Schopf, who joked that Hoff was old enough to be his father, said it was amazing to paddle alongside a canoeing legend.
"Some years ago I saw him on the television, and now I am paddling with him," he said.
"At first it was a little bit crazy, but now it's something that we do."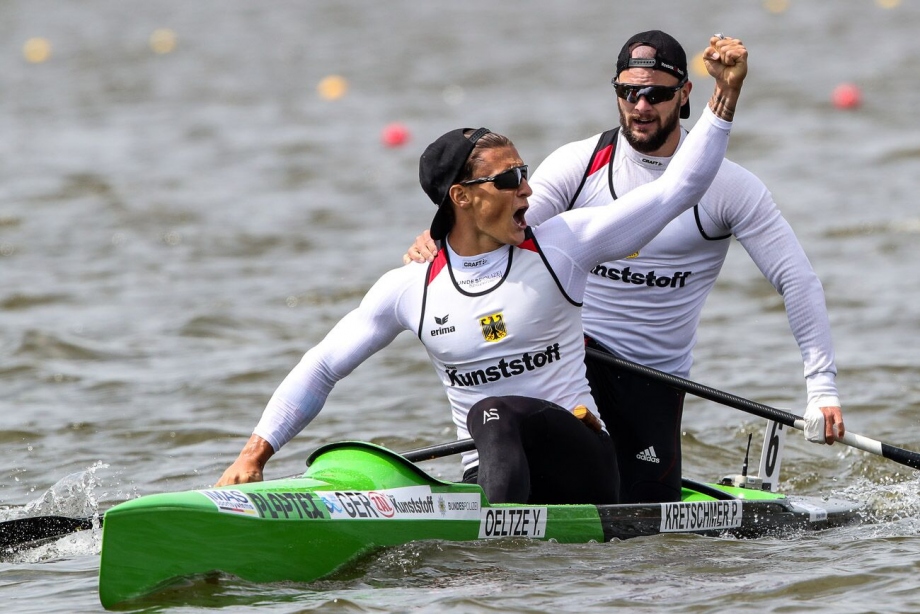 German world champions Yul Oeltze and Peter Kretschmer held on to win the men's C2 1000 in one of the closest finishes of the day, just pipping local hopes Mateusz Kaminski and Michal Kudla of Poland, with China's Hao Liu and Pengfei Zheng third.
Importantly, they also finished ahead of teammates and current Olympic champions, Sebastian Brendel and Jan Vendrey, as they battle it out for selection on the German team for this year's world championships.
"For us it was very important to have a good race in our first international competition for this year, to see how strong we are, and how strong our German opponents are," Oeltze said.
"We don't ever have easy opponents, but we are very strong and very tactical, and that was the right result today."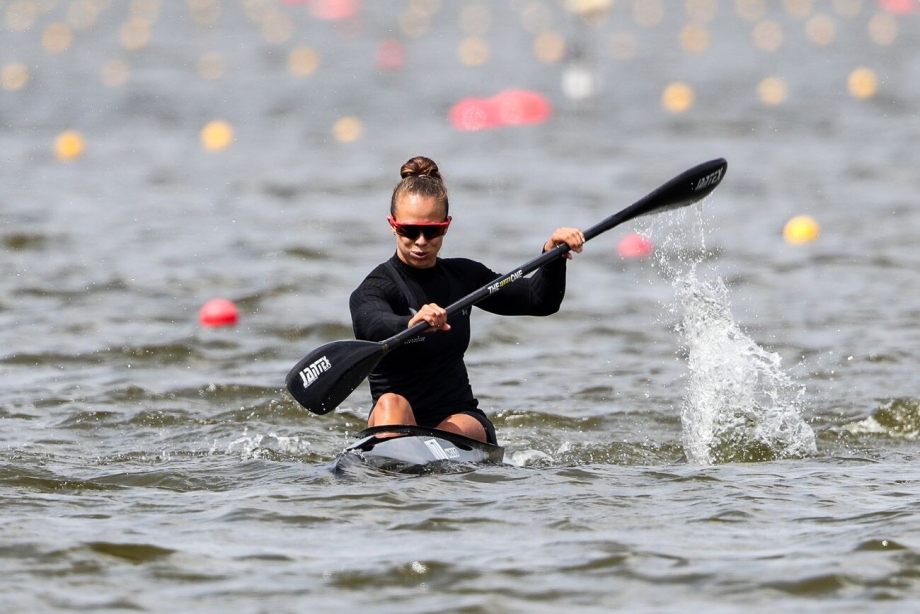 Lisa Carrington picked up two more gold medals on Sunday to take her weekend total to three. She blitzed the field to win K1 500, and then led her New Zealand team to victory in the K4 500.
Carrington has not won a K1 500 title at an Olympic or world championship level since 2015, but is hopeful her preparation this year will put her beck on top of the medal dais.
"It was really good to have a really good practice before world champs later this year, there's nothing better than being on a really big stage like this one and having practice at that," Carrington said.
"This is definitely a different build-up to anything I've had before, being in a team, being in a K4. There's always pressure, and that does get to you a little bit, but it's pretty exciting to have four girls going really well."
The New Zealand K4 of Carrington, Kayla Imrie, Caitlyn Ryan and Aimee Fisher bounced back after a scratchy heat and semi-final to hold out France and Germany in the 500 final.
"With anything, no matter how long you've been doing it, you are always learning," Fisher said.
"Competition is getting so tight the closer we get to the Olympics, so you always have to be out there chasing that little one per cent and mixing things up.
"It's always a little bit harder, racing under the pressure of a world cup, but it's good to come and get some experience and just keep growing."
Canada's Laurence Vincent-Lapointe and Katie Vincent are determined to keep their C2 500 unbeaten record in tact, underlining their gold medal favouritism when the event makes its Olympic debut in Tokyo next year with another strong win on Sunday.
"The game plan from the beginning was just to try and maintain control of the boat and how we were feeling, and just try and make decisions as we go," Vincent said.
"I think you can definitely get a sense of how your partner is feeling, or how they're reacting to the boat or how we're going. We've worked a lot on those parts of our relationship, and being able to communicate and work those things out.
"We've come a long way, and it's made our boat faster."
The second ICF Canoe Sprint World Cup will be held in Duisburg, Germany, starting on Friday.
Pics by Bence Vekassy