German powerhouses Sebastian Brendel and Tom Liebscher have broken the hearts of a capacity Czech crowd by storming to victory in their C1 and K1 1000 finals at the ICF Canoe Sprint World Championships in Racice on Saturday.
In both cases the Germans chased down Czech paddlers who had brought the crowd to their feet. Brendel snatched victory from Martin Fuksa, while Liebscher flew home to tip out Portugal's Fernando Pimenta and local hope Josef Dostal.
In other results, Belarus's Volha Khudzenka upset New Zealand's Lisa Carrington in the K1 500, but then the two time Olympic gold medallist teamed up with Caitlyn Ryan to post an emphatic win in the women's K2 500.
Canada's Laurence Vincent-Lapointe and Katie Vincent took gold in the C2 500, and Olympic and European silver medallists Marko Tomicevic and Milenko Zoric broke through to win gold in the men's K2 1000.
In non-Olympic events, Hungary's Ramona Farkasdi and Erika Medveczky won the women's K2 1000, and Spain's Marcus Walz, an Olympic gold medallist in the K1 1000 last year, teamed up with Rodrigo Germade to win the K2 500.
Belarus's Artsem Kozyr won the men's C1 200, Hungary's Mark Balaska and Balazs Birkas won the men's K2 200, and Russia's Viktor Melantev and Ivan Shtyl won the C2 500.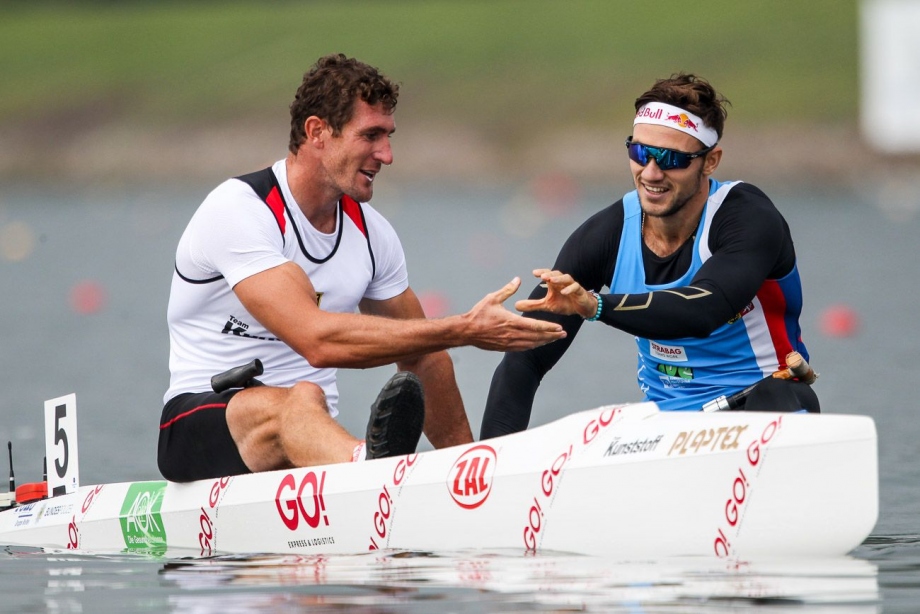 For Brendel it was world title number six, his time of 3:50:503 edging out Fuksa's 3:51:303.
"After the Olympic season it's a very big year for me to win this race because I had a long break, so very good the season has ended for me with a world title," Brendel said.
"After 250 metres I could see Martin had a very high pace, so I tried to stay in touch with him and then I threw everything at him in the finish and it worked very good."
Germany's Tom Liebscher surprised even himself by winning the men's K1 1000, admitting after the race the event wasn't a main focus for him this year.
"Before the final I talked to my coach, and he told me everyone in the race can win a medal," Liebscher said.
"I knew I was strong in the finish, and there were just two boats next to me. There are a lot of my friends here because my hometown is only one hour away."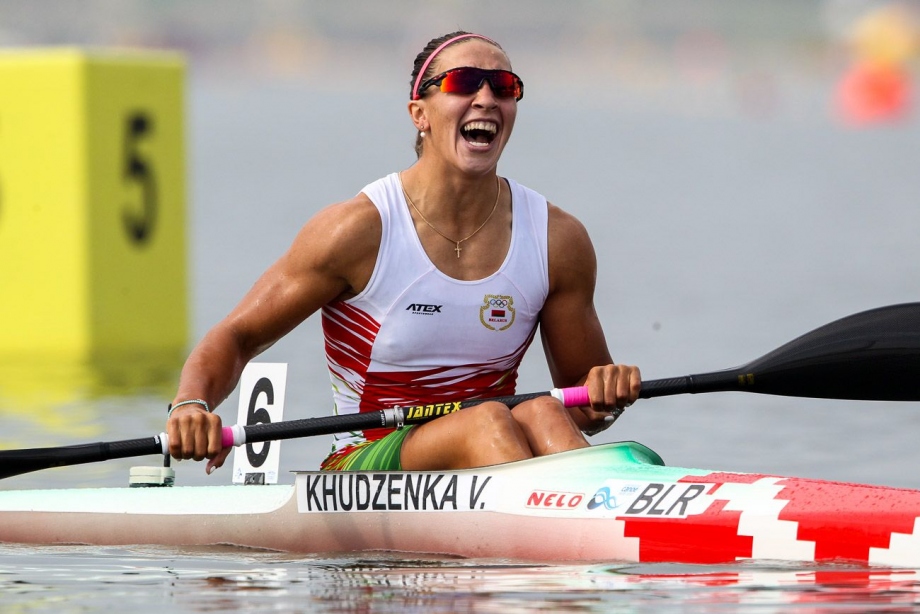 Belarus's Volha Khudzenka backed up her outstanding form from the heats and semi-finals with a big win over New Zealand's Lisa Carrington in the K1 500.
Carrington tasted success a short time later when she teamed up with Caitlin Ryan to win gold for New Zealand in the K2 500.
"A few months ago I didn't really know I was going to do this event, so I've only been training with Caitlin for a few months," Carrington said.
 "This is why we do all the training that we do and I've been preparing for this for a while, so I just had to trust the process really."
Canada's Laurence Vincent-Lapointe and Katie Vincent, paddling on the same side of the boat, took victory in the new Olympic event, the C2 500.
"We do have our own separate C1 thing that we do, and that's what our strength is," Vincent said.
"We do our best thing in C1 and we put it all together. Her strength is the start and mine is the finish so we help each other really well when it comes to the C2."
After a string of second places, Serbia's Marko Tomicevic and Milenko Zoric finally found their way to the top of the podium, winning the K2 1000.
"This means a great deal for us, because we have prepared a lot," Tomicevic said.
"We were not fully satisfied after the Olympics, we have many silver and bronze, but now we are World Champions. And with that much difference, it's a lot for us."
RESULTS
C1 Men's 1000
BRENDEL Sebastian (GER)                        3:50:503
FUKSA Martin (CZE)                                  3:51:303
QUEIROZ DOS SANTOS Isaquias (BRA) 3:52:542
K1 Men's 1000
LIEBSCHER Tom (GER)            3:27:754
PIMENTA Fernando (POR)         3:27:993
DOSTAL Josef          (CZE)         3:28:576
K1 Women's 500
KHUDZENKA Volha  (BLR)               1:48:421
CARRINGTON Lisa (NZL)                  1:48:710
JORGENSEN Emma Aastrand (DEN)  1:50:465
C2 Women's 500
VINCENT-LAPOINTE Laurence
     VINCENT Katie                            (CAN) 1:56:752 
  2. ANDREEVA Irina
    ROMASENKO Olesia                   (RUS) 1:57:264
  3. NAZDROVA Alena
     BOBR Kamila                                (BLR) 1:57:858
K2 Women's 500
CARRINGTON Lisa
     RYAN Caitlin                                (NZL) 1:38:687
   2. WEBER Franziska
       DIETZE Tina                                 (GER) 1:40:582
   3. PONOMARENKO JANIC Spela 
      OSTERMAN Anja                         (SLO) 1:40:804
K2 Men's 1000
TOMICEVIC Marko
     ZORIC Milenko                              (SRB) 3:08:64
  2. GELLE Peter
     BOTEK Adam                                 (SVK) 3:10:725
  3. SPICAR Jakub
     HAVEL Daniel                                (CZE) 3:10:725
K2 Men's 200
BALASKA Mark
     BIRKAS Balazs                               (HUN)  30:912
  2. GARROTE Carlos
      TORO Cristian                                  (ESP)  31:278
  3. GRUJIC Nebojsa
     NOVAKOVIC Marko                       (SRB) 31:451
C1 Men's 200
KOZYR Artsem                                (BLR) 38:161
NADIRADZE Zaza                          (GEO) 38:439
MOJALLALIMOGHADAM Adel   (IRI)   38:605
K2 Men's 500
WALZ Marcus
     GERMADE Rodrigo                        (ESP)  1:27:979
  2. NADAS Bence
     TOTKA Sandor                                (HUN) 1:29:107
  3. BIALKO Vitaliy
     PIATRUSHENKA Raman               (BLR) 1:29:518
K2 Women's 1000
FARKASDI Ramona
    MEDVECZKY Erika                       (HUN) 3:37:149
  2. MEDERT Tabea
     GEBHARDT Melanie                      (GER) 3:42:061
  3. ISKRZYCKA Justyna                     
     PASZEK Paulina                              (POL) 3:42:838
C2 Men's 500
MELANTEV Viktor
     SHTYL   Ivan                                   (RUS) 1:38:868
  2. CARP  Leonid
     MIHALACHI Victor                        (ROU) 1:39:796
  3. CRACIUN Nicolae
     CRACIUN Sergiu                             (ITA)  1:39:796