Germany was the most successful country of the 2015 ICF Dragon Boat Club Crew Championships
German teams took home overall 31 gold medals from the 2015 ICF Dragon Boat Club Crew Championships in Račice. The most successful crew was Green Dragon Jugend with 14 golds. Teams from Ukraine gathered 17 gold medals. Hungary got 5 and one gold medal remained in the Czech Republic, which was the host country.
"Dragon Boats are comparatively a new sport in the Czech Republic but people are interested in it. Anybody who tried to paddle on a dragon boat realized that it`s a beautiful but also demanding sport. Dragon boats are close to canoe sprint therefore I am convinced that this branch of our sport will overall help canoeing community to expand," Jan Boháč, president of the Czech Canoe Association, said. "I am really proud that the International Canoe Federation put its trust into our abilities. For us it`s was a great opportunity to organize another test event for the World Canoe Sprint Seniors Championships that will take place here in year 2017."
Over 1200 participants from three continents, including teams from the USA and Hong Kong arrived to Račice to take part. The Championships started on Wednesday September 9 with an Opening Ceremony. After a parade of nations a local performances took place. Fire and light show was a highlight of the ceremony.
Nice weather and great atmosphere surrounded four days of racing. Three out of four days dance parties or concert took place after medal ceremonies.
"I like dragon boat races mainly because I started with my teammates in 2004 and they are still my best friends. And I can help them here," Jaroslav Radoň, double C2 bronze medalist from the 2013 Canoe Sprint Seniors World Championships, said. "I take it a bit like vacation. Dragon boat races totally differ from sprint canoe races, they are much more relaxed. I am happy to be among my friends and I enjoy it."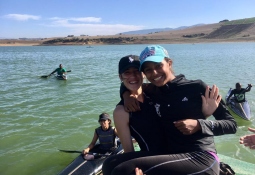 Canoe Slalom Canoe Freestyle