The ICF's John Gregory updates us on the progress of Canada's C1 and C2 Olympic gold medal favourites, Laurence Vincent-Lapointe and Katie Vincent
Declaring gold medal favourites is usually fraught with danger, especially so far out from an Olympic Games. But for this Canadian duo, we're prepared to put our necks on the line....
I believe we are on the right track towards qualification for Tokyo. We had a lot of really positive performances during 2018 in both C1 and C2.
That's Canada's Katie Vincent, one half of the women's canoe super duo who have been pencilled in as gold medal favourites from the day it was announced the C1 and C2 disciplines will be introduced at Tokyo 2020.
I don't think there have been any surprises for me this [last] year, our training has been going according to our plan, and the results have followed our hard work.
And that's Katie's partner, Laurence Vincent-Lapointe, indisputably the greatest female canoe paddler on the planet right now.
Vincent-Lapointe holds the official ICF world best time in women's C1 200m of 44.504 seconds, a sizzling time she posted at the second ICF canoe sprint world cup in Duisburg in 2018.
Don't expect that record to stand for long. Almost every time the 26-year-old gets on the water, she goes faster.
Vincent-Lapointe and Vincent also hold the official ICF world best time in women's C2 500m of 1:51.428, set in Szeged, Hungary, also in 2018.
Canoe Kayak Canada's team motto leading into 2020 is Together to Tokyo. Vincent-Lapointe and Vincent have met every challenge presented to them in 2018 and no-one has changed their mind about the Canadians' chances of Tokyo gold.
World Cup races
The world cup races of 2018 provided a glimpse of what we may expect for the 2019 sprint worlds. Vincent-Lapointe celebrated her 26th birthday in Duisburg, winning gold in the C1 women's 200.
"It feels great, one of the strong points for us is that we are able to push each other in the C1," she said. New world best times in C1W 200 and C2W 500 were set in Szeged and Duisburg respectively.
Szeged WC1
Gold - C2 Women 500 Vincent-Lapointe/ Vincent 1:53.513
Gold – C1 Women 200 Vincent-Lapointe 44.504
Duisburg WC2
Gold - C2 Women 500 Vincent-Lapointe/ Vincent 1:51.428
Gold – C1 Women 200 Vincent-Lapointe 45.885
Gold – C1 Women 500 Vincent 2:06.482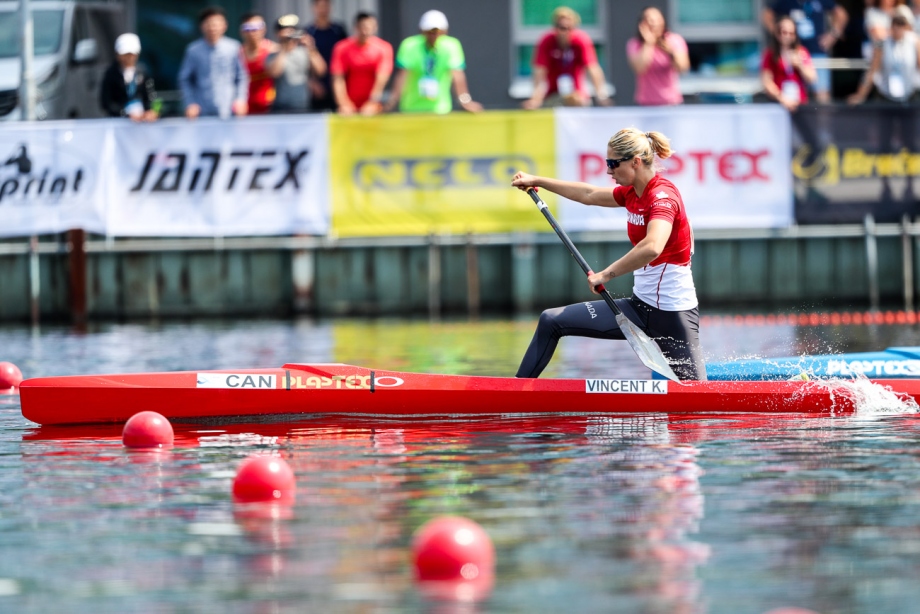 Montemor-o-Velho World Championships
Canoe Kayak Canada arrived in Montemor-o-Velho for the world championships as favourites. Vincent-Lapointe was already a ten-time senior world champion and the holder of the world best times.
The 500m C1 women's category was introduced into the ICF World Championships for the first time. Katie Vincent has revealed subsequently that she was not in the best health arriving in Portugal. Nevertheless, she still took bronze.
While the first half of the C2 500m saw the Hungarian women in touch, by the end Vincent-Lapointe/Vincent had pulled out their characteristic lead.
"I think what we enjoy most is being able to push ourselves and if that is an inspiration for other people, I cannot hope for better," Vincent-Lapointe said after the race.
Vincent described the thrill of being part of the national team.
"I mean it's the first time we've gone through something like this," she said.
"We are lucky. There are so many great athletes on our team that have been through this before. That helps you get through it.
"It's one of those special things about the sport, sport in general, is you train so much that hopefully it works, but it's a dream for us." notes Vincent.
http://paddlesup.canoekayak.ca/there-is-nothing-cooler-than-the-national-team/ >
Vincent-Lapointe capped off an incredible world championships with gold in the 5000 metres. The mass start and multiple laps of this popular 5,000m race attract a significant number of spectators and online viewers.
Gold - C2 Women 500 – Vincent-Lapointe/ Vincent 1:56.395
Gold - C1 Women 200 – Vincent-Lapointe 45.567
Gold – C1 Women 5000 – Vincent-Lapointe 27:59.547
Bronze - C1 Women 500 – Vincent 2:12.148
It is no surprise that Canada topped the points table in women's canoe at the 2018 ICF World Championships in Montemor-o-Velho.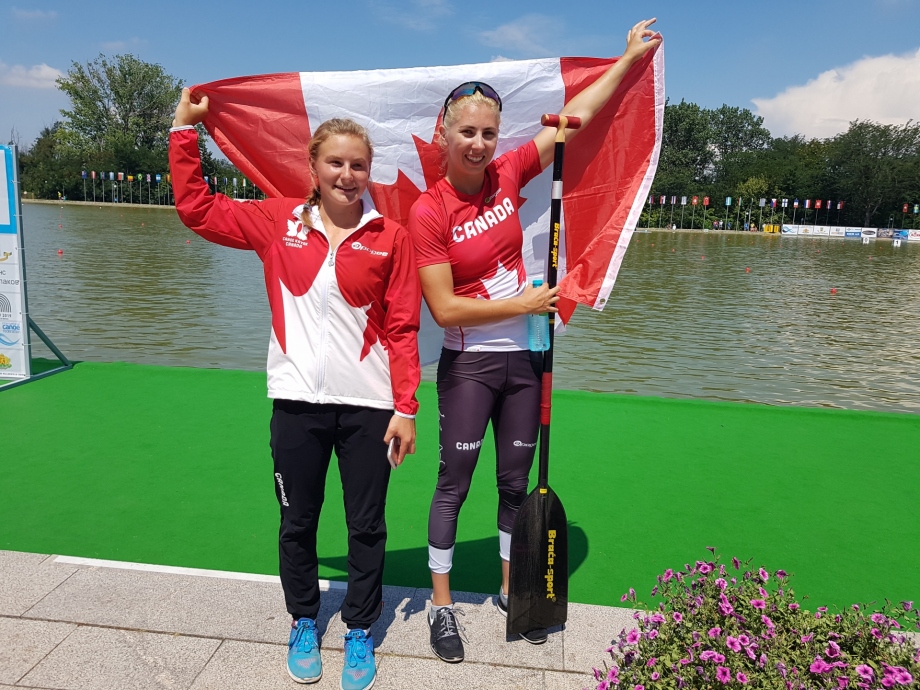 Junior/U23 Worlds
The depth of the team became even more apparent at the 2018 ICF Junior/U23 World Championships in Plovdiv, Bulgaria. Katie Vincent took her first C1 women 500 U23 title and gold in C1 women 200, edging out Alena Nazdrova (BLR) in the final. The junior world championship title went to Vincent's younger team-mate, Sophia Jensen from Quebec.
"I've come second and fourth before, so to finally be in the middle of the podium, I'm really happy with that," Vincent said.
"I felt really good. It's nice to be with the juniors and the U23. We've got a really good mix. It's always a new game every weekend, so to come out and execute the plan the way I wanted to and go home with two gold medals, I'm ecstatic now."
16-year-old Jensen showed in Plovdiv that the future for women's canoe in Canada is healthy.
"Yesterday considering it was the first A final, I was pretty stressed," she said. "Today it was more of, just go and do the same thing, just rip and have fun."
U23 Worlds
Gold - C1 Women 500 Vincent 2:09.559
Gold – C1 Women 200 Vincent 45.593
Bronze – C2 Women 200 Crossman-Serb/ MacIntosh 45.461
Junior Worlds
Gold - C1 Women 500 Jensen 2:19.006
Gold – C1 Women 200 Jensen 46.873
Gold – C2W 500 Jensen/ Lilley Osende 1:58.306
Olympic qualifying year
The 2018 season has set the scene for the Olympic qualifying year. The world championships return to Szeged in August 2019.
"Performance goal wise, it's pretty much been my dream ever since I've been a little girl to do a world championships in Szeged," Vincent said in an episode of the Paddle Pod with Andrew Russell.
https://anchor.fm/paddlepod/episodes/Episode-4-with-World-Champion-Katie-Vincent-e2ieah/a-a6clrh
Both paddlers pay respect to the many trailblazing women who have preceded them and paved the way in pioneering women's canoe.
The team are again building their training based in Indian Harbour Beach in Florida through a series of camps.
"One of my first coaches, Dean Oldershaw, always said, medals are earned in the winter and awarded in the summer," Vincent said.
"We need to keep putting in the work this offseason to make sure we keep competitive come the spring and summer."
Selection for the 2019 Canadian senior team takes place in the Olympic Basin in Montreal on May 10-12. The world cup series begins in Poznan, Poland, on May 23-26. It is followed by world cup two a week later in Duisburg, Germany.
Words John Gregory, photography Balint Vekassy and Canoe Kayak Canada.
#WePaddle #ICFsprint @gregiej