The Hungarian paddlers were as hot as the searing weather as they dominated the opening day's action at the ICF Canoe Marathon World Championships in Pietermaritzburg, South Africa, on Thursday.

The Hungarian team started the championships with a perfect clean sweep of five victories from the opening day's five races and notched up an almost perfect tally of seven medals – four gold and three silver – from the four medal races on Thursday.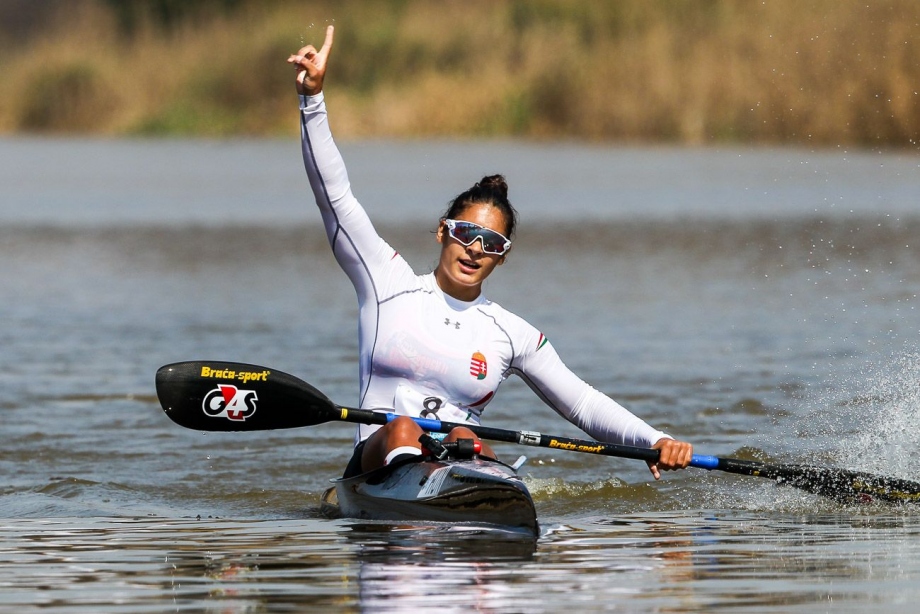 In the opening event, the junior women's race, the Hungarian duo of Zsóka Csikós and Dorina Fekete secured a Hungarian one-two. That was followed up by an identical result for their compatriots Sára Anna Mihalik and Zsófia Czéllai-Vörös in the U23 women's battle and the junior boys C1 where Balázs Adolf and Sebestyén Simon led the field home.

In the final event of the day, the junior men's race, it looked to be heading for another Hungarian one-two when Ádám Varga and István Lukács broke away early, but Varga was in a class of his own and raced away by himself on the third lap of six for a convincing win.

That meant Lukács dropped back to form a three-man group with Briton Charlie Smith and South African Sifiso "Alex" Masina to fight for the silver and bronze medals, and the Hungarian finished behind them in the final sprint to spoil Hungary's perfect day.


Speaking through an interpreter, Varga spoke about his tactics going into the race.

"I did not want to be portaging with other people," he said.

"I was only going to be happy with myself or two of us on the portage so decided to paddle away on his own."

And paddles away he did as he opened up a massive lead of almost three minutes.

Earlier, in the opening event, Csikós and Fekete set the tone of the day when they broke away on the first lap and were left to fight for the gold and silver medals between them. After calmly working together to open a big lead, Csikós was too strong at the finish and Fekete could not come over her wake in the end sprint, giving Csikós a half-boat-length victory.

Behind the two Hungarians, it was a case of good luck and bad luck for the South African pair of Mackenzie cousins. After Caitlin Mackenzie was knocked out of her boat in a clash of paddles at the start, her cousin Christie claimed what ended up to be an easy bronze medal when Italian Teresa Isotta fell out and blocked Mackenzie's rivals.

Running just behind Christie Mackenzie in the chase group at the end of the final portage, Isotta fell out while getting back into her boat at the end of the portage and blocked everybody else just long enough to provide Christie Mackenzie with an easy paddle home to third position.

The U23 women's race was virtually a carbon copy of the girls' race with Zsófia Czéllai-Vörös and Sára Anna Mihalik setting up the Hungarian dominance early as they came off the first portage with a lead. From there, the two simply worked as a team to paddle off into the distance.

At the final turn about 500m from the finish, Mihalik, who recently competed in the U23 World Sprint Championships, unleashed an awesome kick and powered away to open up a deceptively big lead by the time they crossed the line.

Mihalik put her victory down to hard work since the sprint championships.

"This the first time I have won a world championship, I am so happy!"

"I put in a lot of work to get this win. I was in the U23 World Sprint Championships about four week ago so I did not have a lot of time, but I put in a lot of work over the past few weeks and hard work always pays off."

Rounding off the podium was Briton Alex Lane who broke away from the chasing group on the final portage and held on over the final kilometre to claim the bronze.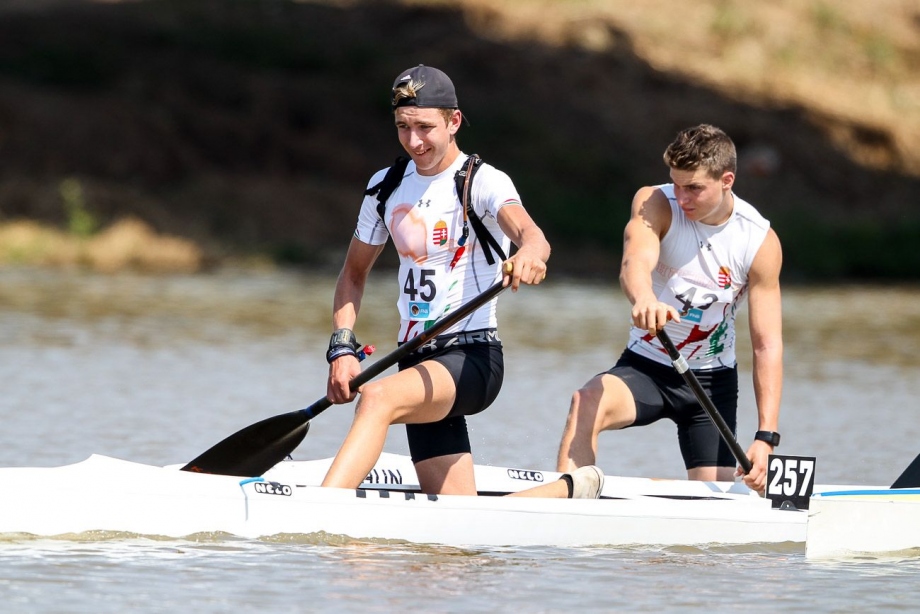 The boys C1 race saw Sebestyén Simon and Balázs Adolf dominate from the start, and it was soon evident they would add to Hungary's growing collection of gold and silver medals. When Adolf opened up his finish sprint with 200m to go, his compatriot had no answer and drifted over the line in a distant second. Duarte Silva from Portugal claimed the bronze.

In the non-medal junior women's C1 event, Giada Bragato of Hungary finished 15 seconds ahead of Frenchman Mathilde Troncin with Poland's Maja Szajdek third.

SUMMARY OF RESULTS - 2017 ICF Canoe Marathon World Championships Day One

K1 juniors women
1. Zsóka Csikós (HUN) 1:35:45,39
2. Dorina Fekete (HUN) 1:35:45,95
3. Christie Mackenzie (RSA) 1:37:30
4. Nora Rey (ESP) 1:38:04,33
5. Erin Blanch (AUS) 1:38:05,63

C1 Junior Women (non-medal event)
1. Giada Bragato (HUN) 1:36:46,64
2. Mathilde Troncin (FRA) 1:37:01,67
3. Maja Szajdek (POL) 1:44:00,74

K1 women under 23
1. Sára Anna Mihalik (HUN) 1:49:43,12
2. Zsófia Czéllai-Vörös (HUN) 1:50:11,90
3. Alexandra Lane (GBR) 1:52:15,92
4. Tania Álvarez (ESP) 1:52:30,25
5. Emilie Rosenkilde (DEN) 1:53:04,08

C1 men junior
1. Balázs Adolf (HUN) 1:40:53,67
2. Sebestyén Simon (HUN) 1:41:07,70
3. Duarte Silva (POR) 1:43:18,76
4. Yaroslov Shelestenko Ocuneva (ESP) 1:47:25,59
5. David Blanco (ESP) 1:49:47,53

K1 men junior
1. Ádám Varga (HUN) 1: 41:35,66
2. Charlie Smith (GBR) 1:44:17,03
3. Sifiso "Alex" Masina (RSA) 1:44:20,89
4. István Lukács (HUN) 1:44:29,49
5. Ronan Foley (IRL) 1:45:49,98

Schedule – Friday
09:00 - K2 Women Junior
09:05 - C1 Men Under 23
11:50 - K2 Men Junior
11:55 - C2 Men Junior
14:45 - K1 Men Under 23

The ICF Canoe Marathon World Championships will be held at Camps Drift in Pietermaritzburg from 7 to 10 September 2017. More information can be found at www.wmc2017.co.za.
ICF Canoe Marathon World Championships on social media:
Facebook: https://www.facebook.com/WMC2017/ 
Twitter: @WMC2017
Instagram: @marathonworlds
Hashtag: #WMC2017
Tim Whitfield. Pics by Balint Vekassy