Host nation Hungary snapped up nine gold medals on the opening day of the ICF Junior and U23 canoe sprint world championships in Szeged, including six titles in Olympic-distance events.
The Hungarians won more than half the 16 gold medals on offer on Friday in cold and wet conditions, and also won three silver and one bronze medal. They missed the podium in just three races.
Among the Olympic distance winners was Balazs Adolf, who survived a mid-race challenge to win the C1 1000 U23 gold medal.
"I kept calm during the race and stuck to my plan," Adolf said.
"I knew that if I was with the rest of the field at the 500 then I would have a much stronger second half."
Hungary also won the women's C2 women's U23 and junior 500 metre golds, the men's junior C2 500, and the K4 500 junior women and men.
Germany's David Toepel led throughout to take the men's C1 1000 junior gold medal.
"It's very cool, it was a hard race, but I had a good heat race and now I'm a world champion," Toepel said.
"I did a lot of training since last year. My time was really good."
Italy's Gabriele Casadei and Dawid Szela took gold in a hotly contested men's U23 C2 500 final.
"We feel so good, it was a hard race because of the conditions," Casadai said.
"We did a great job in the first half, and then the second half we just had to resist all the challenges."
Poland picked up its two medals in K4 boats, winning the U23 K4 women and men's races.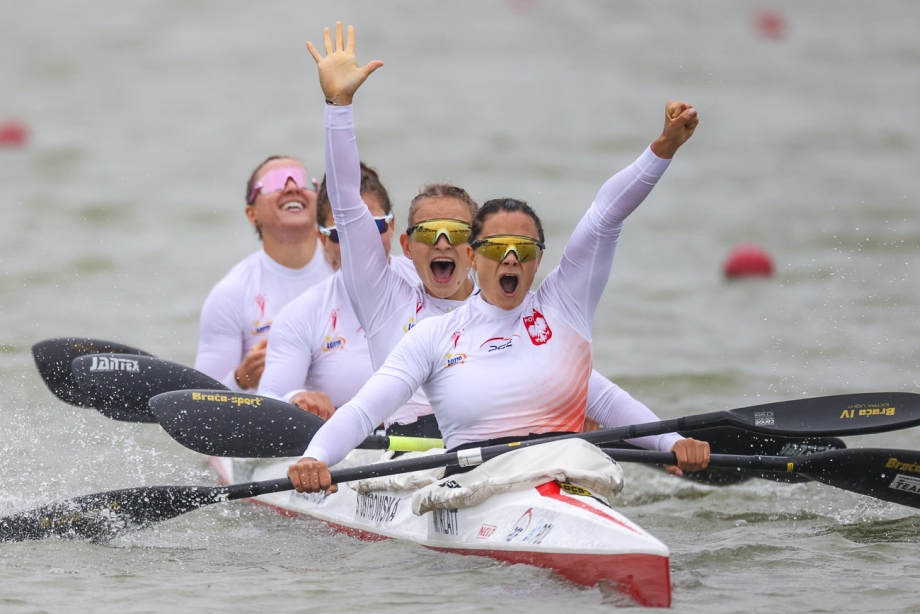 In non-Olympic races Hungary's Anna Lucz brought the curtain down on a successful U23 career, winning her third K1 200 title.
"I had my first win in U23 in the K1, so I'm really happy to finish off my U23 with another win in this race," Lucz said.
"Maybe I will feel sad later that it is all over, but now I'm just happy that it's come to an end and I can celebrate."
Hungary also won the men's junior and U23 K2 1000 races.
Germany's Chelsea-Lynn Roussiekan successfully added the junior K1 200 title to the European gold she won earlier this year, Kazakhstan's Mariya Brovkova defied running down in the women's C1 1000 junior final, while China's Yajue Zhang took gold in the women's U23 C-1 1000.
The 2022 ICF Junior and U23 Canoe Sprint World Championships continue on Saturday, with another 18 gold medals to be decided.
Pics by Bence Vekassy