Host nation Hungary sent out a strong reminder to the rest of the global canoeing community of their athlete depth by winning two key Olympic-distance events on the final day of the International Canoe Federation's Canoe Sprint and Paracanoe World Cup in Szeged on Sunday.
The Hungarians, who picked up gold through Olympic silver medalist Adam Varga in the men's K1 1000 on Saturday, added the men's K2 500 and C2 500 titles to their list in bitterly cold conditions on the last day of competition.
Five-time Olympic gold medalist Lisa Carrington teamed up with Alicia Hoskin to win gold in the other Games-distance event, the women's K2 500.
In the men's K2 500, Bence Nadas teamed up with Tokyo 2020 200 metre gold medalist Sandor Totka to take gold, just ahead of the reigning Olympic K2 1000 champions, Jean Van Der Westhuyzen and Thomas Green of Australia.
"We focussed mainly on the K4 here, so the K2 was our second focus, but every time when we raced we were getting better and better," Nadas said.
"We were a little bit surprised, but it is always good to win."
Portugal's Joao Ribeiro and Messias Baptista took the bronze.
The Hungarian national anthem was dusted off again just minutes later when David Korisansky and Adam Fekete teamed up to win the men's C2 500, a race which will replace the C2 1000 on the Olympic program in Paris.
"It was a very tough race, but I think that we controlled it throughout," Fekete said.
"It's very important to win today for this year, it's a good sign for the world championships."
Poland's Aleksander Kitewski and Norman Zezula took silver, with Gabriele Casadei and Carlo Tacchini taking the bronze.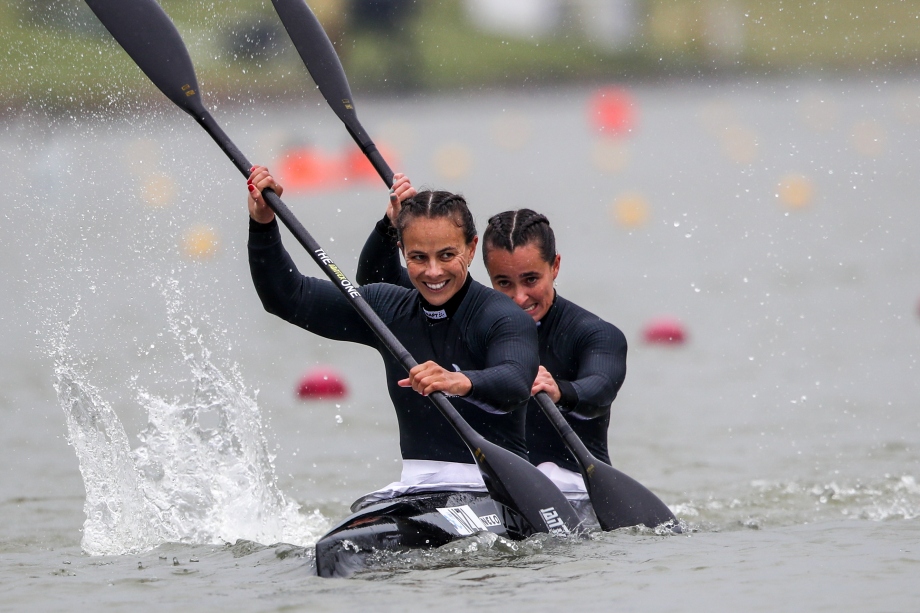 Carrington and Hoskin sent out an early warning to a very competitive women's K2 500 field with an all-the-way win in Sunday's trying conditions.
Hoskin said she is learning more every time she gets into the kayak with her experienced partner.
"For me it is such a great experience to get to race with Lisa, and today was such a good race for us," she said.
The silver medal went to Poland's Martyna Klatt and Helena Wisniewska, while Germany's Paulina Paszek and Jule Hake took the bronze.
Pics by Bence Vekassy