Most of the athletes competing at this week's ICF Junior and U23 canoe sprint world championships are at least six years away from making their Olympic debut, but after Friday's results one thing is clear – Hungary will continue to be a force for many more years.
The host nation won gold in six of the ten Olympic distance races at Szeged in cold and wet conditions, taking titles across the board in a powerful reminder of the depth in canoe sports in Hungary.
Worryingly for opponents, four of the six gold were in junior events, including the women's junior C2 500 crew of Agnes Kiss and Csepke Molnar. Molnar is 15, Kiss is 17, and they have another year of junior racing ahead of them.
"It was a good race, we had a good start and a good finish," Molnar said.
"I'm always nervous before a final, but I could stay focused. Hungary has a strong team and we support each other, which is why we are so strong. Hopefully we can race together next year as well."
Balazs Adolf is a C1 canoe marathon world champion and 5000 metre specialist, and on Friday he added a C1 1000 U23 world title to his trophy cabinet after surviving a mid-race challenge.
"I kept calm during the race and stuck to my plan," Adolf said.
"I knew that if I was with the rest of the field at the 500 then I would have a much stronger second half."
Hungary also won the women's C2 women's U23 and junior 500 metre golds, the men's junior C2 500, and the K4 500 junior women and men.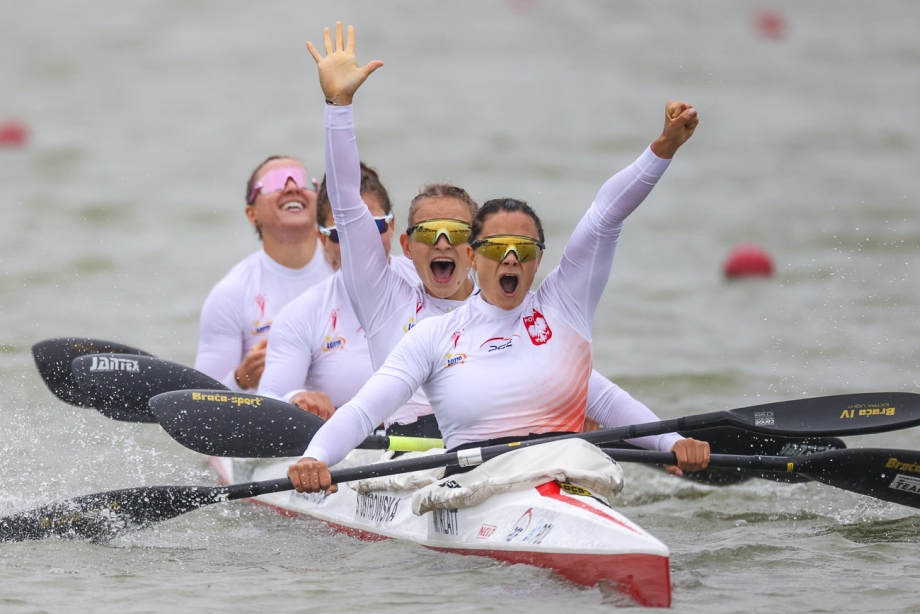 Poland picked up two gold medals, winning both the women's and men's K4 500 titles. The women's victory over Hungary was one of the few occasions where the hosts were beaten.
"We had a good plan, and it was supposed to be like that," Poland's Julia Olszewska said.
"A strong start and a stronger finish. We felt relaxed this morning, we had a lot of motivation."
Germany's David Toepel led throughout to take the men's C1 1000 junior gold medal.
"It's very cool, it was a hard race, but I had a good heat race and now I'm a world champion," Toepel said.
"I did a lot of training since last year. My time was really good."
Italy's Gabriele Casadei and Dawid Szela took gold in a hotly contested men's U23 C2 500 final.
"We feel so good, it was a hard race because of the conditions," Casadai said.
"We did a great job in the first half, and then the second half we just had to resist all the challenges."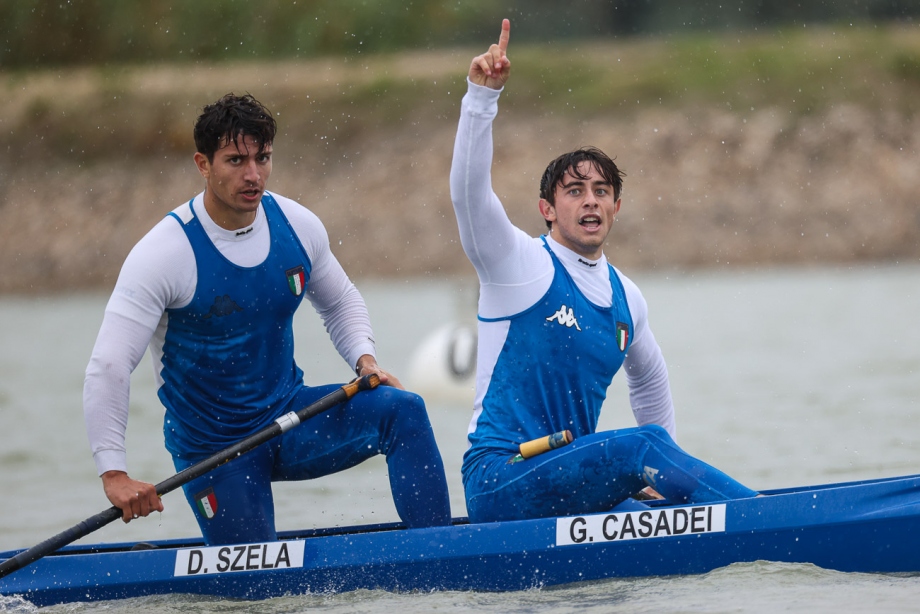 RESULTS – OLYMPIC DISTANCES
K4 MEN JUNIOR 500
HUNGARY 1:22.42
GERMANY 1:23.72
BELGIUM 1:24.44
C2 MEN U23 500
CASADEI/SZELA (ITA) 1:41.33
DOMINGUEZ/DOMINGUEZ (ESP) 1:42.04
MIAO/JI (CHN) 1:42.58
C1 MEN JUNIOR 1000
TOEPEL David    (GER) 3:56.15
SIERADZAN Kacper (POL) 3:56.98
CULCEAC Mihail (MDA) 3:57.63
C2 WOMEN U23 500
BRAGATO/NAGY (HUN) 1:56.28
LI/WAN (CHN) 1:56.56
JENSEN/OSENDE (CAN) 1:56.79
K4 WOMEN JUNIOR 500
HUNGARY 1:34.47
GERMANY 1:36.39
POLAND 1:38.97
C2 WOMEN JUNIOR 500
KISS/MOLNAR          (HUN)  2:00.30
KLIEMKE/JAKOB (GER)  2:02.40
WOJTYK/SOUILLIERE (CAN) 2:03.59
C2 MEN JUNIOR 500
MOLNAR/JUHASZ (HUN) 1:42.99
KRALIK/HARDY (CAN)  1:45.43
VERBLIUD/PRYSTAI (UKR) 1:46.35
K4 WOMEN U23 500
POLAND 1:31.22
HUNGARY 1:32.91
ITALY 1:33.79
C1 MEN U23 1000
ADOLF Balazs     (HUN)  3:50.32
CASADEI Gabriele (ITA) 3:53.40
CHIHAIA Mihai (MDA) 3:54.10
K4 MEN U23 500
POLAND
HUNGARY
AUSTRALIA
Pics by Bence Vekassy