ICF joins Paddle for the Planet to raise global awareness
The International Canoe Federation is urging paddling enthusiasts to put aside some time on Saturday, June 3, to take to the water to help Paddle for the Planet.
The ICF is proud to once again support Paddle for the Planet in the important cause of raising awareness of marine conservation and water quality issues around the globe.
"The ICF is absolutely thrilled to once again be involved in this important event for a fourth year," ICF President Jose Perurena said.
"Anyone who has ever been in a canoe or a kayak knows first hand how fragile our oceans and waterways are. Whether they be Olympic athletes, or recreational paddlers, they all want to do their bit to raise awareness for this cause.
"And now paddlers and the paddling community can do their bit, and have fun at the same time."
Paddle for the Planet, or P4P as it is known, is collecting facebook posts of the simultaneous paddling events around the globe on Saturday, June 3. The events will happen sequentially, in every time zone and in as many countries as possible around the world, forming a paddling relay.
P4P, now in its seventh year, aims to raise awareness and financial support for marine conservation, specifically in the area of reserves and "no take zones".
In 2011 enough money was raised to purchase a new patrol boat for the Raja Amat Reserve in Indonesia, but there are so many more important causes that need our help.
Paddle for the Planet wants to create an opportunity to make a difference. Often, when faced with the magnitude of environmental issues, a person is left feeling overwhelmed and as if there is nothing that can be done. We want to allow all paddlers the opportunity to help.
Paddle for the Planet will raise money through donations in the following way:
Through the website (donations)
On the day of the Paddle by charging a small participation fee to paddlers
Corporately through partnerships
Via the sale of T-shirts and other merchandise
Sponsorship on the day of the event (charging a fee for corporates to be involved)
For more information, visit the event website.

Don't forget to post pictures and information about your Paddle for the Planet activities on the P4P Facebook page!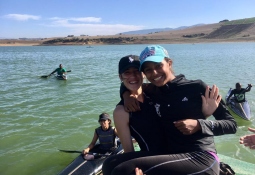 Canoe Slalom Canoe Freestyle