Canadian teenager Sophia Jensen won her third gold medal and Hungary picked up five titles on the final day of competition at the 2018 ICF U23 and Junior Canoe Sprint World Championships in Plovdiv, Bulgaria.
Jensen teamed up with Julia Lilley Osende to win the C2 women's junior 500, adding to the C1 500 and 200 medals she won earlier and making her the most successful athlete at the World Championships.
But there were several athletes picking up second gold medals on Sunday, including German U23 C2 500 pair Tim Hecker and Conrad-Robin Schneider.
16-year-old Jensen had the biggest workload of the week, and did not disappoint.
"I knew we had medal potential for sure, we've trained really hard and I knew we could do anything if we just put our heads down," Jensen said of her C2 win.
"I'm a little bit tired today, so I'm glad this is the last one and I'm excited to be going home."
Hungary's Tamara Takacs celebrated her birthday by storming home over the final 100 metres to snatch the U23 K1 500 gold, overrunning New Zealand's Aimee Fisher in the shadows of the finish line.
"It was a very hard race," Takacs said.
"Aimee Fisher was very strong and very fast in the first 200 metres, but I think I have the best supporters so my last 100 metres was very fast.
"I didn't look at anyone else, I just focussed on my lane and tried to do my best."
SLOVAKIA K4
The men's U23 K4 500 gold went to the Slovakian team of Samo Balaz, Milan Frana, Csaba Zalka and Adam Botek.
In one of the closest finishes of the day, Slovakia pipped Russia by just 0.035 of a second.
"I thought we got second, but it was unbelievable that we won," Zalka said.
"This has been an unbelievable feeling, and we want to repeat it. We have two more years in U23."
There was double gold for Hungary's Karina Biben, who teamed up with Olga Bako to win the women's junior K2 500.
Bako said it was special to paddle in the same boat as Biben in the final.
"I'm really happy to have a partner like Karina, we are best friends on and off the water," Bako said.
"We are always on the same wavelength. I hope we can paddle together with each other in the next years."
Also landing a second gold was Hungary's Benedek Tibor Kos, adding the U23 K1 500 to the K1 1000 he won on Friday.
"This day is so crazy," he said.
"My favourite event is the 1000, because the 500 is so fast. My start was bad and the end was so difficult."
GERMANY C2
Hecker and Scheibner gave Germany its only gold medal on Sunday, and revealed they only came together because of an injury to another paddler.
"This was actually the plan B, but we thought we would try it out, and it worked out quite nicely," Scheibner said.
"I thought we could paddle for a medal, but that we could win? I could not have imagined it before the race.
"But by the middle of the race it felt so good, so we just went for it."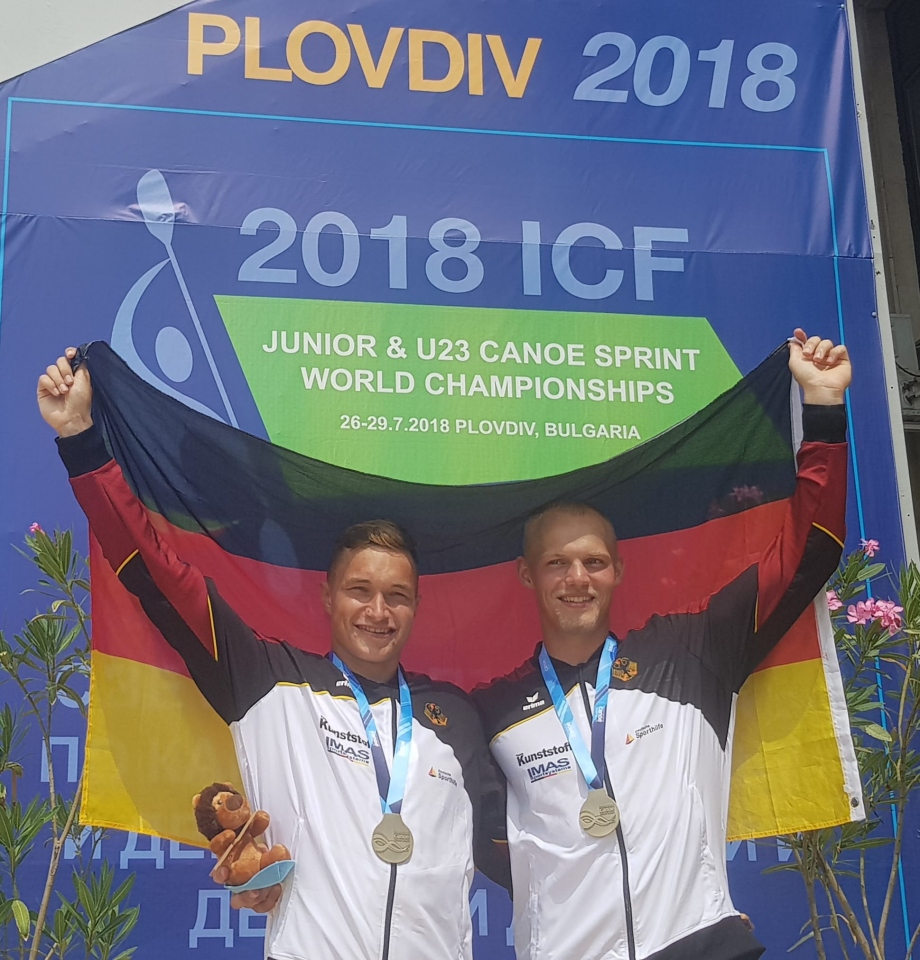 The men's junior K4 500 gold went to the Czech team of Tomas Sobisek, Ondrej Masek, Vilem Kukacka and Jakub Brabec.
"We thought we had a chance, but in the heats we were second and did not have the best time," Masek said.
"We only trained together for two weeks. It is an unbelievable feeling."
15-year-old Eszter Rendessy stamped herself as a star of the future by winning the junior K1 500.
The Hungarian teenager finished ahead of Belarus's Ina Sauchuk.
RUSSIAN C4
The C4 men's junior 500 metre gold was won by the Russian crew of Sergei Nemov, Kirill Romanov, Mikhail Egorov and Artem Piskun.
"We won the C2, and now we have won the C4 so I am really happy," Romanov said.
"We tried to show our best. Of course we focussed more on the C2 because it is an Olympic event, but we also put a lot of effort into the C4."
The final gold medal of the World Championships also went to Hungary, with Rita Katrinecz and Eszter Malcsiner winning the women's U23 K2 500.
The pair first came together in a K4, but have spent the past five years as a K2.
"We worked really hard for this, and the race was perfect for us," Katrinecz said.
"It was not an easy race, but I think we managed it well."
Belarus picked up the gold in the women's U23 C2 500 through Volha Klimava and Nadzeya Makarchanka, while Ukraine's Oleh Kukharyk won the men's U23 K1 500.
"I was feeling quite confident today," Kukharyk said.
"I knew what I had to do to win. The conditions were good for me."