Hungary's Balint Kopasz and Ukraine's Liudmyla Luzan made up for the disappointment of finishing desperately close seconds in their main events by winning gold in non-Olympic races on day two of the ICF canoe sprint world cup in Szeged.
Both Kopasz and Luzan went within centimetres of winning the K1 1000 and C1 200 respectively, but turned their form around one hour later to take gold medals in the K1 and C1 500 metre races.
Kopasz left his final burst just a fraction of a second late in the K1 1000, but made his intentions clear in the 500 when heburst clear of the field at the half-way stage. He successfully withstood a strong finish from his nemesis in the 1000, Portugal's Fernando Pimenta.
"It was a strong headwind, and I like a good headwind," Kopasz said.
"It was a good race, and very good opponents, especially Pimenta who is my main challenger here. I love the atmosphere of Szeged."
Exciting Hungarian teenager Eszter Rendessy timed her race perfectly to win the women's K1 1000, confirming the potential which was first recognised when she won gold at the 2018 Youth Olympic Games.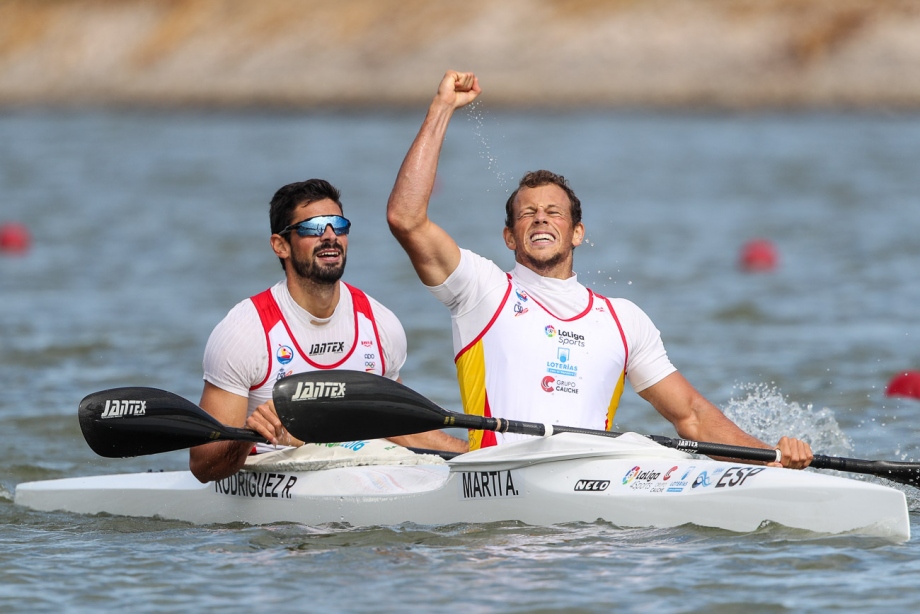 One of the best stories of the day came in the men's C2 500, where Italy's Nicolae Craciun and Daniele Santini were reunited for the first time since before the Rio Olympics, and celebrated by winning gold.
"We had a really good feeling today," Craciun said.
"We've only trained together for a week, and we last raced together five years ago, so this is a great result for us."
Spain's Albert Marti and Roi Rodriguez just edged out teammates Pelayo Roza and Pedro Vazquez Llenin in the men's K2 500.
"It was a very hard race," Rodriguez said.
"The other Spanish K2 was ahead of us, but at the end we were able to step up. We were first for the last 100 metres, but it was very very hard. We strained our muscles to get to the finish line, and managed to make it."   
Ukraine's Liudmyla Luzan fell agonisingly short of gold in the women's C1 200, but made certain there would be no 0.02 second margin to contend with when she waltzed her way to gold in the C1 500.
Pics by Bence Vekassy