Hungary picked up another two gold medals while there were also wins for France and Spain on the final day of competition at the ICF canoe marathon world championships in Romania on Sunday.
France's Quentin Urban and Jeremy Candy defended their K2 world title, Spain's Manuel Antonio Campos and Diego Romero retained their C2 world crown, Emese Kohalmi and Eszter Rendessy kept Hungary's incredible record in the women's K2, while Csanad Sellyei and Bruno Kolozsvari won the junior K2 to add to Hungary's gold medal tally.
Two years after being crowned junior K2 marathon world champions, Hungary's Emese Kohalmi and Eszter Rendessy were celebrating becoming senior world champions after a perfectly timed race on Sunday.
Kohalmi and Rendessy were in a breakaway group of three for most of the race, with defending champions Renata Csay and Zsofia Czellai-Voros heading the chase group. At the final portage Kohalmi and Rendessy broke clear of Spain's Tania Fernandez and Tania Alvarez, with South Africa's Jenna Ward and Saskia Hockly fighting on for the bronze.
The result continued a run of seven consecutive women's K2 titles for Hungary. Csay and Voros, winners of the past two world titles, finished fourth. It was the first time in 21 years that Csay, a K2 world champion on 13 occasions, did not win a medal.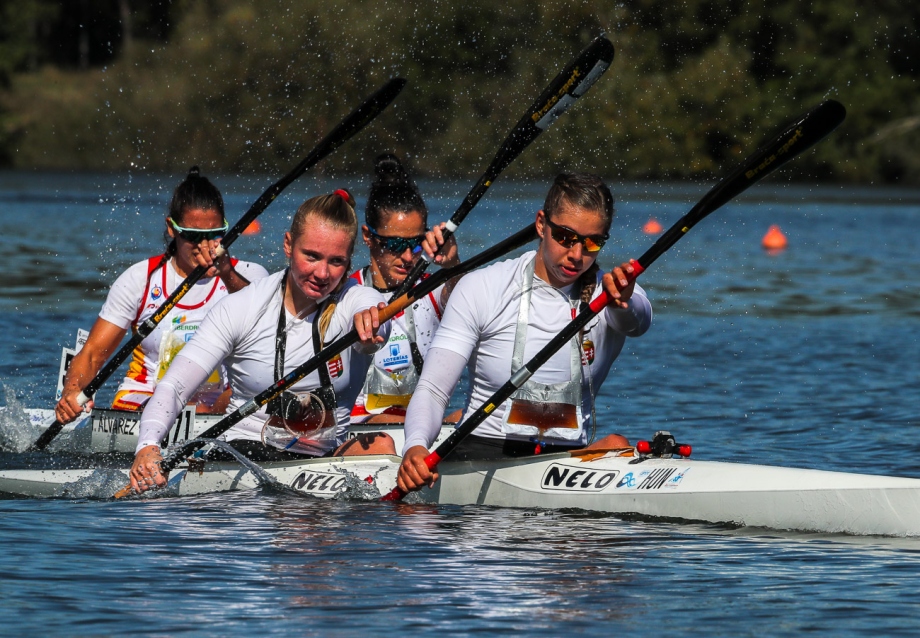 Frenchmen Candy and Urban found themselves in trouble early in the men's K2 final, before finding their rhythm after two laps to control the race. With one lap to go there were still five boats in the lead group, but Candy and Urban felt confident they had the stronger finish.
"We were confident about that, I had some hesitation at the beginning because at the first portage we were stuck in the second group, but I had confidence in Jeremy and I knew we would catch them," Urban said.
"By the third portage I saw the time, and then I felt good and ready to start the race. We were confident about the speed we had."
"Today was a little bit harder because there were plenty of strong boats, but we felt better and better during the race, just like in Shaoxing, and everything went well," Candy said.
"We paddled for two years just for this year, we were very sad that the world championships last year couldn't be held, so we really wanted to race and really wanted to do it well, and I think today we answered some questions that we had."
Spain made it three in a row in the men's C2, with Manuel Antonio Campos and Diego Romero defending the title they won in China in 2019.
Spain and Hungary have dominated the men's C2 in canoe marathon, winning every title since 1999. Sunday's win was the second for Campos, but the third in succession for Romero. It was also Spain's first gold medal for the championships.
"Everything went to plan for us, at the end of the race we wanted to make a break," Campos said.
"Sometimes it is more difficult and takes more time to find these gold medals, but today everything went well and we can in the end find the gold medal."
"We have a very long experience working together, we are very co-ordinated and work well together," Romero said.
"Yesterday I did not have a good day, but today I needed to check everything that went wrong and it went much better today.
Poland's Mateusz Borgiel and Mateusz Zuchora stuck alongside the Spaniards until the final sprint, while Hungary's Marton Kover and Marton Horvath took the bronze.
The depth in Hungarian junior paddling was on show again, with Csanad Sellyei and Bruno Kolozsvari winning the junior K2. Sellyei and Kolosvari finished first and second in the junior K1 24 hours earlier, and were far too strong as a combination for Denmark's Nikolaj Bryde and Jeppe Maretti, with Argentina's Baltazar Josue Itria and Franco Marchetti taking the bronze.
RESULTS
K2 MEN
URBAN/CANDY (FRA) 01:59:03.21
BOROS/ERDELYI (HUN) 01:59:04.30
CARRE/BOULANGER (FRA) 01:59:04.85
K2 WOMEN
KOHALMI/RENDESSY (HUN) 01:55:07.33
FERNANDEZ/ALVAREZ (ESP) 01:55:12.59
WARD/HOCKLY (RSA) 01:55:21.68
C2 MEN
CAMPOS/ROMERO (ESP) 01:56:34.95
BORGIEL/ZUCHORA (POL) 01:56:44.68
KOVER/HORVATH (HUN) 01:57:11.80
K2 MEN JUNIORS
SELLYEI/KOLOSVARI (HUN) 01:35:05.69
BRYDE/MARETTI (DEN) 01:35:12.16
ITRIA/MARCHETTI (ARG) 01:35:19.28
Pics by Balint Vekassy